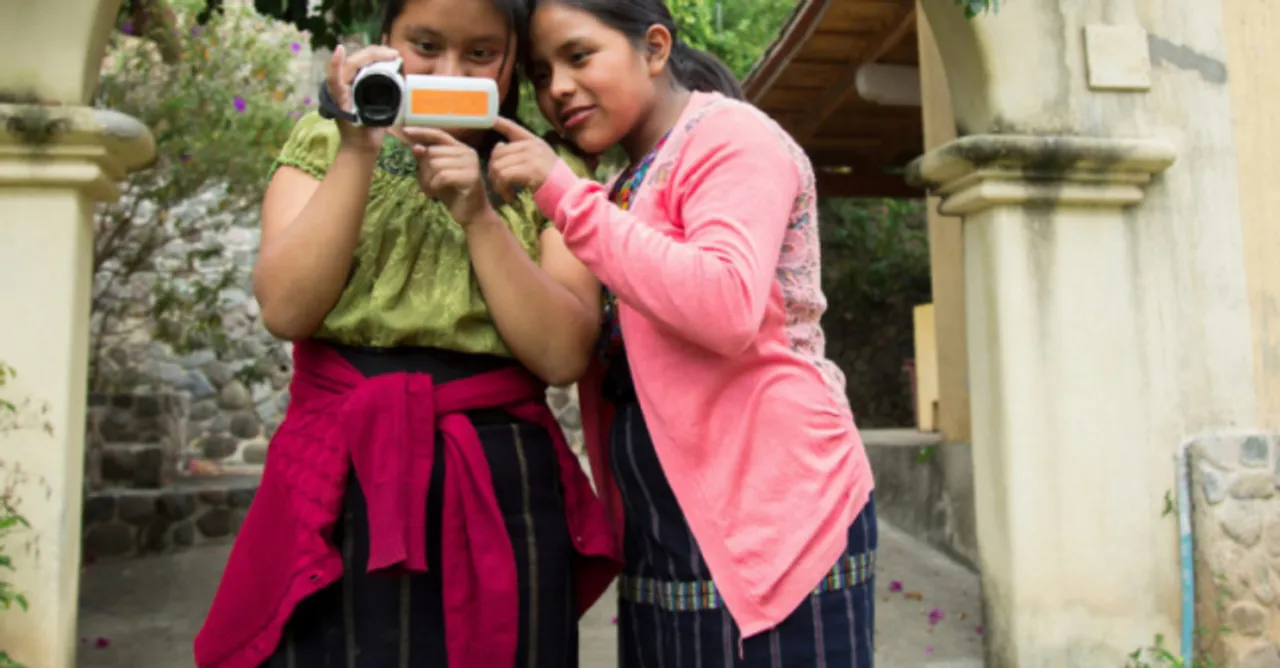 Digital media has the power to unite people from diverse backgrounds, empower those who create, and even raise funds for people in need. Global charity GreaterGood.org is harnessing that power to fuel its new Girls' Voices for Change contest in an effort to help build confidence in young girls, while raising funds to support their education.
The Girls' Voices for Change contest is an initiative in which 100 girls with barriers to their education from eight countries, including Bonaire, Haiti, India, Jordan, Nepal, Sri Lanka, Uganda and the United States, were invited to create digital media—both video and photography—demonstrating personal triumphs, solutions to gender disparity, and vision for a more empowered education for girls.
"GreaterGood.org has a deep commitment to supporting girls' education, and we are excited to be creating more opportunities for learning and creative expression, while giving donors a greater view into the lives of the girls they are supporting," says Liz Baker, Executive Director of GreaterGood.org.
From June 7 – 21, 2017, the public will vote for their favorite photo submission and video submission through the Girls' Voices for Change Facebook application. Voting will take place at GirlsVoicesForChange.org, and users must have a Facebook account to participate. The winner in each category will be awarded a $500 educational scholarship. The videos will also be reviewed by an independent panel of judges who will select one "Big Idea Prize" winner—the participant who created a piece that best demonstrated a local solution to gender disparity in education—who will be awarded $1,000 for a community project. In this contest, however, every participant can win. Through Girls' Voices' partnership with GreaterGood.com, each vote cast will help fund girls' education—GreaterGood will fund a day of schooling for a girl for every 300 votes the contest receives.
"In addition to receiving a quality education, it is important that girls have the opportunity to express their point of view about the issues that affect them most. Some, like the girls from Syria, are from conflict areas where they have been out of school for nearly four years," explains Patricia Cogley, Girls' Voices Program Director. "This program helps them express their goals for their education, while gaining the financial support to enable them to continue to go to school."
The Girls' Voices for Change contest is an expansion of the Girls' Voices pilot program, which launched in 2016. The signature program from GreaterGood.org included 35 girls from Guatemala, Haiti and Uganda, who created compelling digital media through the program and raised money for their education.
"This is more than just creating a video so the girls can earn money for their schooling," says Maureen Plaisimond, Girls' Voices facilitator in Haiti. "There is a lot of progress and personal growth that comes from creating the projects that will help the girls continue to stay in school."
Currently, more than 62 million girls are not in school, and 32 million secondary-aged girls are missing out on their education. This is the direct result of cultural, social, and economic barriers that stand in the way of girls who want to learn. Supporting adolescent girls' education in particular can have significant effects in transforming not only one girl's life, but her community's as well. The Girls' Voices program hopes to serve as a catalyst for change on this social issue.
In addition to voting through GreaterGood.org's Facebook page, the public can help Girls' Voices participants by viewing their contest entries and donating directly to each girls' education fund at GirlsVoicesForChange.org.
Public to vote in digital storytelling contest that addresses gender disparity in education
Girls' Voices participants during a video workshop for girls from the Tohono O'odham nation, Arizona. There is a 50% high school dropout rate among girls on the reservation, and girlswant to change that with their inspirational videos.
Girls' Voices participant, Ana after a video workshop. Panajachel, Guatemala
Girls' Voices empowers girls to be the narrators of their own story. Ana Mara, Girls' Voices participant in Panajachel, Guatemala
Girls' Voices participants in Haiti, making videos about their lives using tablets.
Girls' Voices participants in Kolkata, India – discussing street harrasment and other barriers girls face to pursuing their education.
Morah – a young photographer in Jordan, documenting the realities and daily life of her Syrian community. Girls' Voices will support her in receiving tutoring to complete secondary, after four years of being out of school.
Girls' Voices collaboration with
Girls' Voices participants in Uganda, participating in a story circle to document the story of one girl commitment to finish high school
About GreaterGood.org
GreaterGood.org is a 501(c)(3) charitable organization that works to improve the health and well-being of people, pets, and the planet. It accomplishes this mission by partnering with charitable organizations and administering programs worldwide that address hunger and illness (particularly in women and children), promote education and literacy, feed and care for rescued animals in shelters and sanctuaries, and protect wildlife and restore the environment. A suite of internally funded Signature Programs staffed by experts in their respected fields, furthers the mission of Giving Where It Matters.
Over the last 10 years, GreaterGood.org has worked with more than 3,000 charitable partners worldwide and created and operated several Signature Programs including Rescue Rebuild, Rescue Bank, Girl's Voices and GROW. You can learn more about GreaterGood.org on our website or by following us on Facebook, Twitter or Instagram.
Source: GoodCrowd.info as part of CSRlive's collaboration with Your Mark On The World