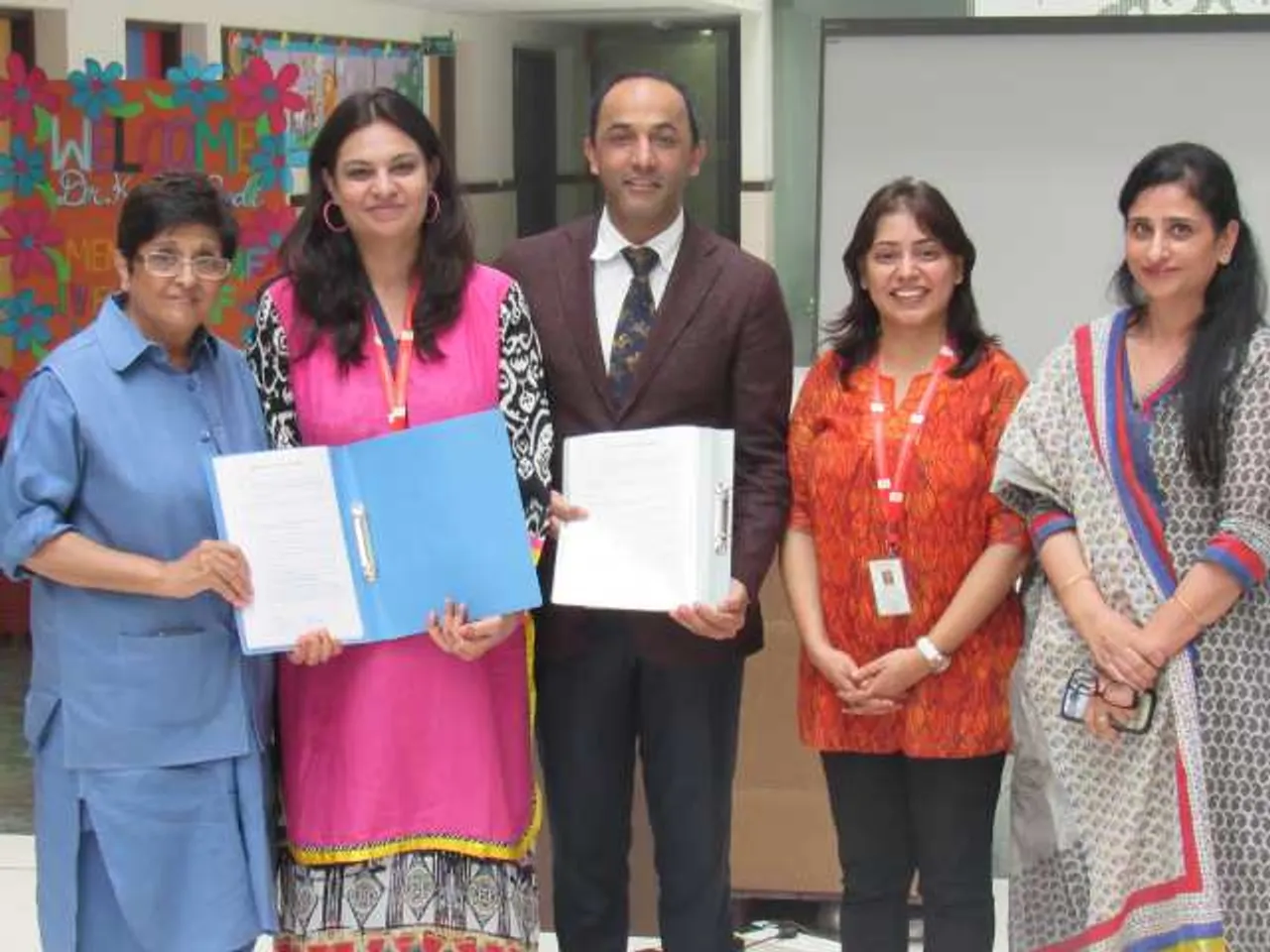 NEW DELHI (November 2015): Navjyoti India Foundation, a not-for-profit organization working in Delhi and Haryana has recently signed an MoU with Avteg Private Limited to offer comprehensive skill training to under-served youth. As per the agreement, Navjyoti will work to facilitate skill training of around 1000 youth in industries such as Electronics, Hospitality, Banking, Consumer Goods and Manufacturing. Avteg will offer training resources and assessment tools for all programs offered and will be aligned to the National Skills Qualification Framework (NSQF).
Speaking about the collaboration Dr. Kiran Bedi, Founder member of Navjyoti India Foundation said "It is this collaborative spirit which is the need of an hour in our public service."
Mr. Parampreet Singh, Managing Director at Avteg Private Limited said "We are very excited to sign this strategic MoU with Navjyoti India Foundation which shares similiar values and philosophy to AVTEG. We are honored to have the opportunity to work closely with Dr Bedi and senior leadership team of Navjyoti India Foundation. I look forward to growing this partnership to nationally in India and later extending to Australia."
About Navjyoti India Foundation
Navjyoti India Foundation is a not-for-profit organization founded by 16 serving officers of Delhi Police with a mission to work with the vulnerable sections of the society. Operational in parts of Delhi and Haryana since 1988, Navjyoti has impacted more than 4,30,000 lives by enabling them towards the goal of self-reliance through its interventions in areas of Child Education, Skills Upgradation of Youth and Community Development. Under its Skills Upgradation initiative, Navjyoti facilitates job-driven, skill training in industries such as Retail, Automobile, IT, Beauty and Wellness, Stitching and Tailoring in conjunction with partners such as Yamaha India Motors, Tata Trust, Smile Foundation, Vedanta Foundation, VLCC and e-curriculum partners such as Wadhwani Foundation.