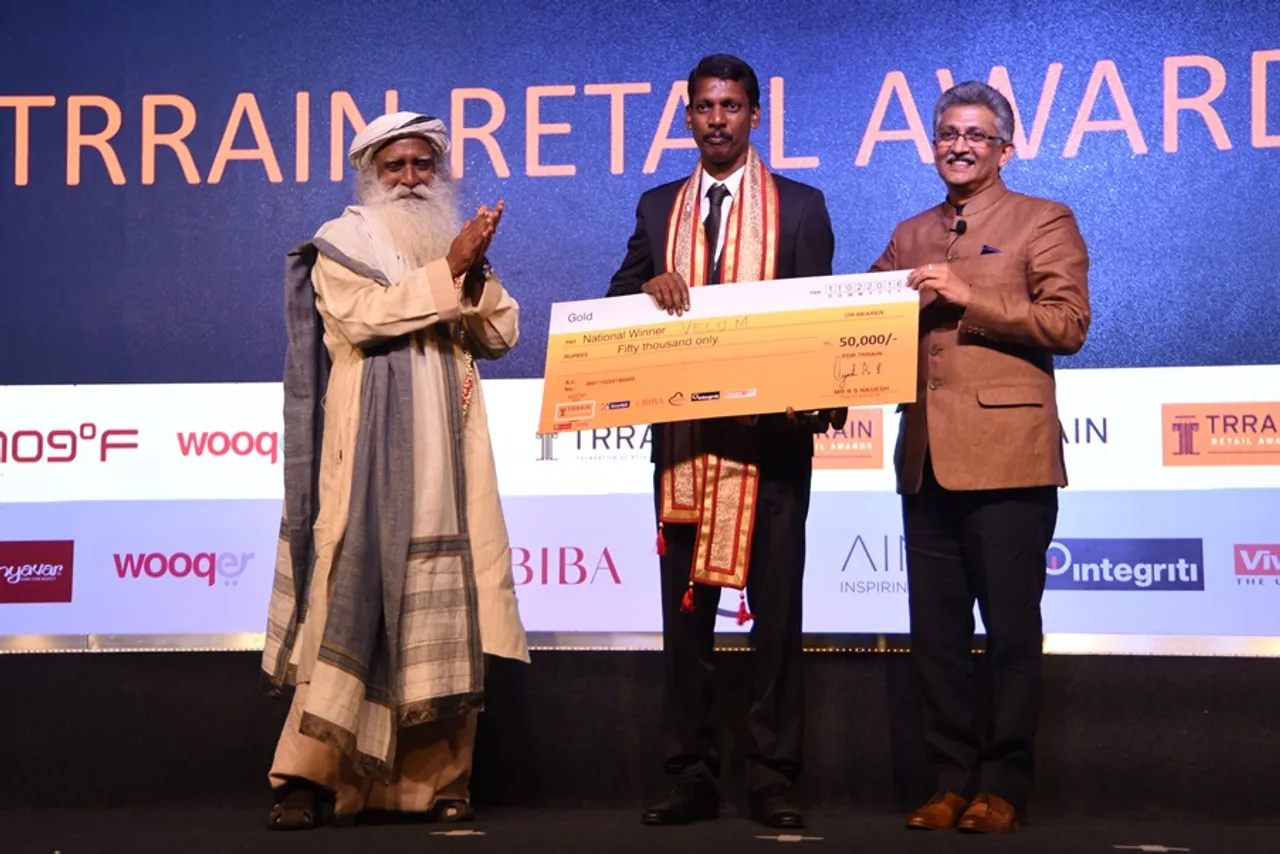 The TRRAIN Retail Awards, which recognises exemplary customer service by Retail Associates (sales staff), was graced by Sadhguru, Founder of the Isha Foundation. The award ceremony that was held on February 11, 2016, in Mumbai, recognised 6 Retail Associates as the National Winners out of the 15 Retail Associates who were awarded as the Category Winners at the Regional Level. The key highlight of the TRRAIN Retail Awards was an insightful discussion of Sadhguru with Padma Shri Awardee Piyush Pandey, on Customer Service Excellence. The awards ceremony saw the stalwarts of the Indian Retail industry in attendance and performance by the popular musical group Maati Baani.
The TRRAIN Retail Awards recognises and rewards customer service excellence (both modern and traditional retail), at an all-India level and creates industry case studies and benchmarks for customer service excellence in retail in India. The initiative judges the finest, excellent, enduring customer service story of retail associates (sales staff) in the industry.
The winners of the TRRAIN Retail Awards this year are National Winner Gold is Velu M, Marks & Spencer Reliance India – Chennai, National Winner Silver is Neelam Parmar, Star Bazaar – Mumbai, National Winner Bronze is Shradha Mangal, Godrej Nature's Basket – Mumbai, the Person with Disability (PWD) Award winner is Guru Francis R, Dominos – Chennai, Being Human Award winner is Satish Raut, Titan Eye Plus – Varanasi and Integrity Award winner is Pankaj Gurav, Godrej Nature's Basket – Mumbai.
A new category of 'HR Initiative' was newly introduced this year in the TRRAIN Retail Awards to recognise the retail organisations that have created a culture of service excellence and supported the sales associates to outperform and deliver excellence in customer service. The award for the 'Best HR Initiative for the Year 2015-2016' was awarded to Godrej Nature's Basket, Marks & Spencer Reliance India and Future Group- Big Bazaar & FBB.
Speaking about the importance of recognising excellence amongst sales staff, B.S. Nagesh, Founder TRRAIN, said "There is an urgent need to bring dignity and pride amongst the retail workforce and this forms the crux of the TRRAIN Retail Awards. Exceptional performances that are fulfilling customer expectations, commitment beyond duty, product knowledge, team-work and commercial results are identified and brought to light on this national platform."
He further adds, "Retail associates in India come from humble backgrounds and work relentlessly every day. They often look down upon by customers, they work long hours giving in their best to delight customers and making the retail business profitable, but are seldom recognised for their contribution."
Speaking about the TRRAIN Retail Awards, Ameesha Prabhu, CEO, TRRAIN, said, "We are thankful to the retail industry in India for their full-hearted support in our efforts to bring about a lasting change in the lives of retail associates in India. This year we have received over 800 compelling entries for the TRRAIN Retail Awards, from over 75 retailers across more than 100 cities and towns in India.  Out of these, 15 entries have been recognised in the regional rounds of which 6 National winners were awarded on February 11, 2016."
For more information on TRRAIN Retail Awards and the winning entries visit www.trrain.org
Press Release Source: