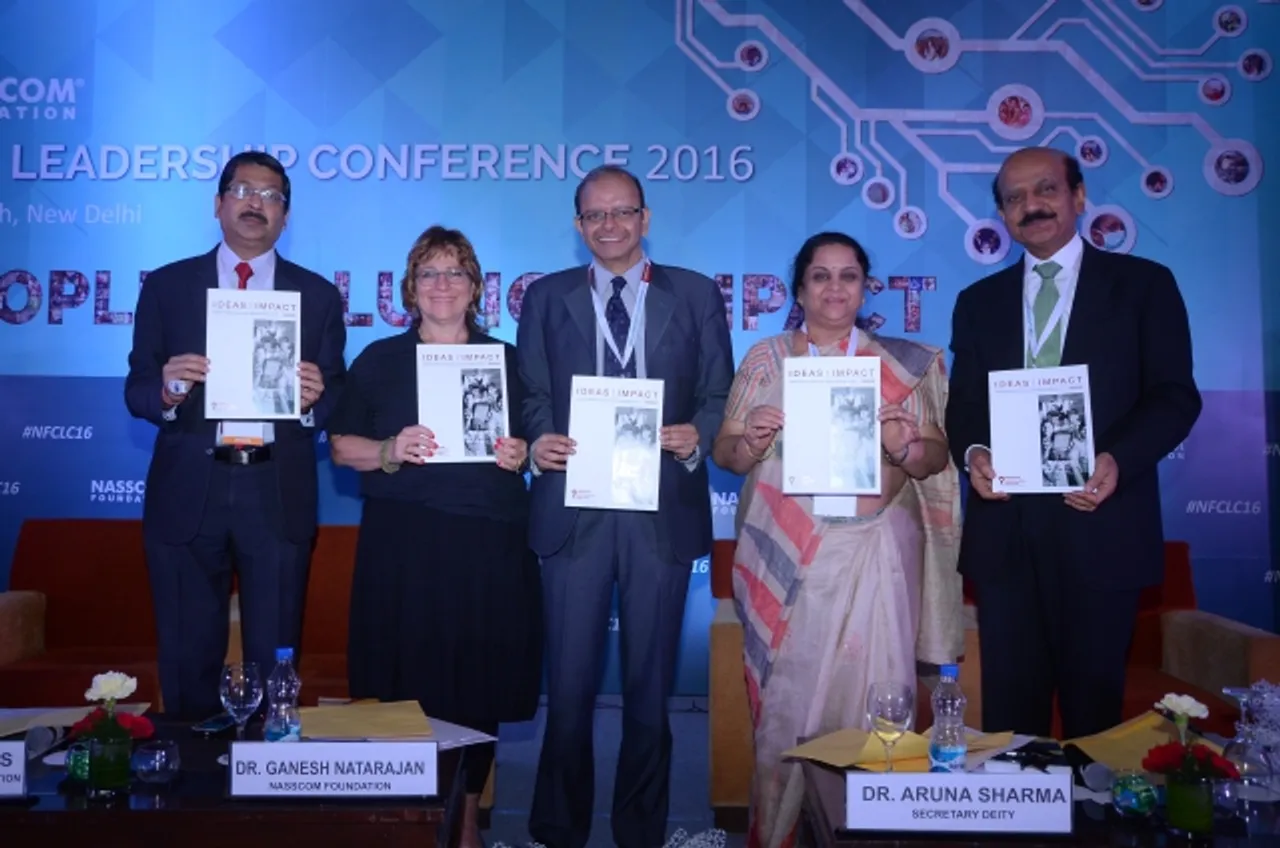 NEWD DELHI, March 2016: NASSCOM Foundation recently announced, that it has secured grants in excess of INR 50 Crore for the coming financial year 2016 -17 at its flagship CSR Leadership Conference 2016.
The Foundation has been growing at a rapid pace, mobilizing over 10 crores worth of grants  in the year 2015-16 vis-à-vis the last year where it stood around 4 crores and is now creating a positive impact in the lives of roughly 50 Lakh people through its programmes in Digital Literacy, Employability based skills development, Inclusion of Persons with Disabilities, encouraging social innovations, providing software and hardware support to NGOs and supporting in national emergencies like the Chennai floods.
In Presence of Dr. Aruna Sharma, Secretary, Department of Electronics and Information Technology (DeitY), The CSR Leadership conference also saw a landmark deal between the Government of India and NASSCOM Foundation, wherein the Foundation has been entrusted upon the responsibility of sensitizing citizens across the country on E-waste, its health and environmental hazards and its responsible disposal.
Speaking on the occasion, B.V.R. Mohan Reddy, Chairman, NASSCOM, added, 'As much as Rs.20,000 Cr is  to  be spent in CSR this year.'
NASSCOM Foundation, also being the industry partner to the Government of India for the National Digital Literacy Mission, has been able to successfully reach its target of 100+ centres across India for the year and aims to make over 75000 households become digitally literate, giving them a chance to be a part of the India growth story in the booming digital economy and creating myriad heart-warming, human interest success stories on how digital literacy can change lives.
NASSCOM Foundation is also working with the Government of Telangana to retrofit the IT Parks in Cyberabad region to make them inclusive of Persons with Disabilities. It is also working with the IT companies in the region to help them manage their e-waste responsibly.
In addition, NASSCOM Foundation has been working with various corporates using their CSR funds to train people from underserved communities on employability driven skills and has signed various MoUs with the governments of Maharashtra, Jammu and Kashmir and Haryana among others bringing about a positive change towards financial inclusion and simultaneously enhancing the talent pool, for the industry to hire from.
Speaking at the occasion, Dr. Ganesh Natarajan, Chairman, NASSCOM Foundation, said, "NASSCOM Foundation is aware of the responsibility entrusted to it by the industry and the government and is taking all the steps in the right direction to enable the best use of the industry CSR funds. I am proud to state that the coming year will see the foundation spend increase five folds in its attempt to come closer to its goal of creating a truly inclusive India by using technology for creating a positive social change." 
Shrikant Sinha, CEO, NASSCOM Foundation said," Our ongoing partnership with so many  corporates  is a great example of how CSR money can be used for the benefit of millions across the country – improving their livelihood and income prospects, creating a real impact in the community. It's a great way to achieve inclusion in society."
NASSCOM Foundation announced that on the back of its successful partnerships with corporates like Amdocs, Aricent, Atos, Cisco, Capgemini, Cognizant, Cyient, Ericsson, Exl, Genpact, Google, HP, Intel, Infosys, Microsoft, Mothercare, Mphasis, Persistent, SAP, Sears, Symantec, Syntel, Wells Fargo and Zensar Technologies among others which has been growing year on year.