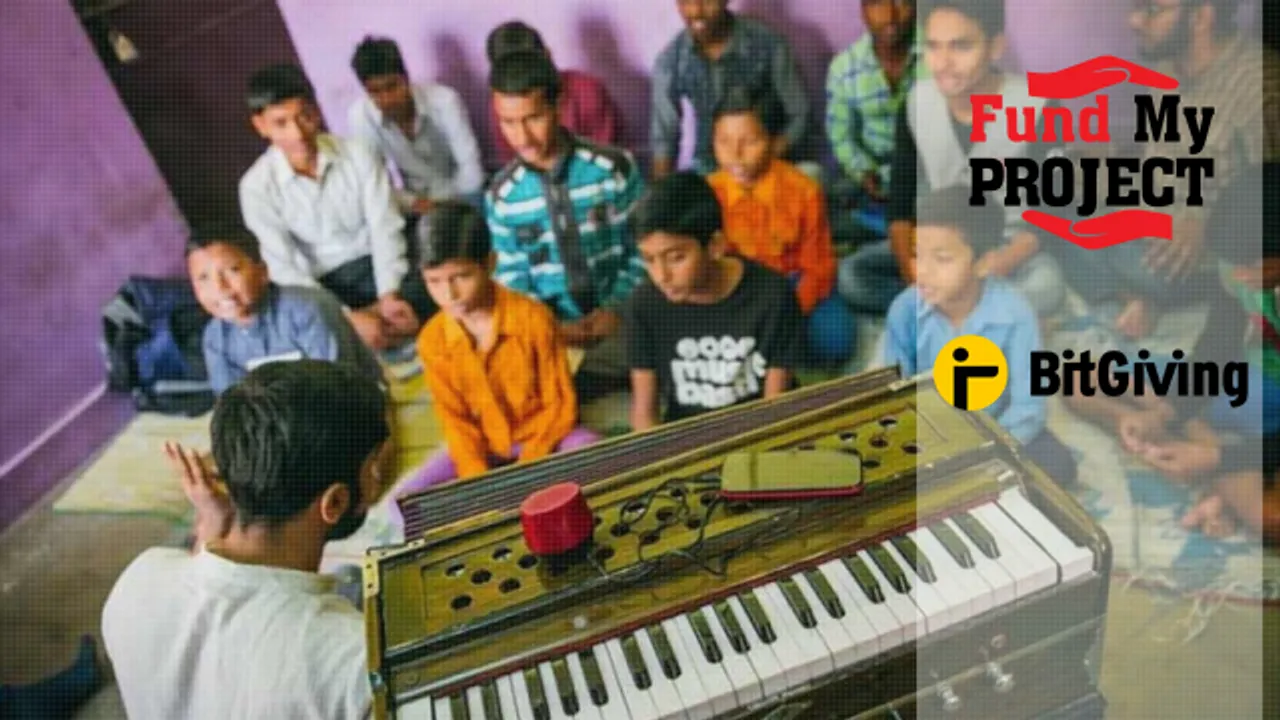 Here's how your CSR funding can help in cultivating life-skills including confidence, creativity, collaboration, community building, leadership and overcoming a child's dis-empowerment in society - through music interventions in education.
This cause is featured on Fund My Project as part of
CSRlive.in
's collaboration with
BitGiving.com
Project by:
 Madhuri Zutshi (Music Basti)
Location:
 New Delhi
Category:
Eligible CSR activity as per Companies Act 2013, Schedule VII
(ii) promoting education, including special education and employment enhancing vocation skills especially among children,...
Funding required:
INR 3 Lacs
Here's what the folks at Music Basti have to say about this project.
We believe EVERY child deserves an inspiring education. 
In India today, 90% of children do not make it to a higher education. 50% drop out by age 14. 40% of children in Standard 3 cannot recognise numbers until 100, and 52% of children in Standard 3 cannot read a Standard 2 textbook. 
We believe EVERY child should have access to arts and music learning. Music Basti's pedagogical approach and bespoke educational methods are unique in India. These methods recognize that Indian children need more than to be taught how to learn and remember facts.
More than ever before, there is now compelling evidence about the positive and wide-ranging developmental impacts of music interventions in education. Music Basti's program approaches music lessons differently, with an explicit focus on cultivating life-skills including confidence, creativity, collaboration, community building and leadership. Above all, the development of these life skills is crucial to overcoming a child's dis-empowerment in society. Students of music have consistently shown a greater capacity for: language and reading skills; improvements in cognition and the development of fine motor skills; and managing anxiety, having control over difficult emotions and demonstrating empathetic interpersonal skills.
Most children, especially those living in adversity, access a very poor quality of education. The achievement gap between children from poorer social and economic situations and their richer peers is widening. As a result, they are stuck in a cycle of poverty and disempowerment.
To make matters worse, the education system is also not teaching the fundamental skills and values children need to succeed in today's world. These "life-skills" or psycho-social competencies such as creative and critical thinking, confidence building and problem-solving, help children to be successful in any domain.
They form a foundation for children to be successful in school, in their careers, and in life. Not only have activities like music learning shown improvements in test scores and attendance, they have been shown to increase pro-social behaviors such as empathy and sharing, and even reduce stress and depression among students. They are essential for a well-rounded development, radically improving a child's chance to secure future employment and participate meaningfully in society.
Also watch:
Music Basti's ReSound program
In 2013, Music Basti launched an annual community music- learning program for children called "ReSound". ReSound was designed to encourage children to develop the skills they need to achieve their best. ReSound has worked directly with over 850 students in community-based NGOs and schools and trained over 100 musicians as teachers. The program has three key components, namely, music in classrooms, teacher training and curriculum development. Music in Classrooms Each year ReSound has expanded to include more students in its program through partnerships with NGOs and schools.
In 2016, the program was launched in classrooms in government or low-income private schools, offering bi-weekly lessons. The content of the lessons includes a combination of musical training and song-writing, culminating in the annual ReSound concert, a public performance for all the program's students. Teacher Training Each year, ReSound recruits and selects musicians who are then trained as part of a two-week program on how to teach effectively, using ReSound's curriculum and teaching approach. Teachers then go on to receive teaching placements with identified partner organizations or schools. Curriculum Development Music Basti's curriculum works with school-going students to build key life-skills and help them achieve their best.
Through ReSound, more than 850 students have created and composed their own original songs about their aspirations, ideas and communities. Some of the most remarkable changes or achievements that have been observed in the program are the students' confidence and teamwork. Our teachers have also observed positive growth in areas of leadership, discipline, responsibility and respect for others.
Budget 
Through this campaign, we are looking for crowdfunding support for 15 instrument kits of new instruments for classrooms in our program. Access to instruments is a very important tool to help children understand and experience the enjoyment and benefits of learning music.
Each instrument kit on average costs INR 20,000. These are the contents of each kit based on the classroom requirements and storage feasibility: 
25 Egg Shakers INR 2,000/-
20 sets of Drum Sticks INR 3,000/-
Keyboard & Stand INR 7,000/-
Xylophone INR 4500/-
Portable Speaker INR 1,500/-
Tambourines INR 500/-
Storage Box-Trunk INR 1,500/-
Please note: While we also welcome donations of used instruments in excellent condition, to ensure the standard and quality in the instrument kits for the students we prefer support to buy new instruments. Please contact us separately if you would like to donate a used instrument from our list which is in excellent condition.
Want to Fund this Project?
Visit BitGiving.com
here
 and support the cause.
Looking for funding?
If you have a social project that's high on innovation and impact, but running low on financial fuel, do write in to Nidhi Singh at nidhi@csrlive.in with your proposal, and we'll feature it on FUND MY PROJECT.