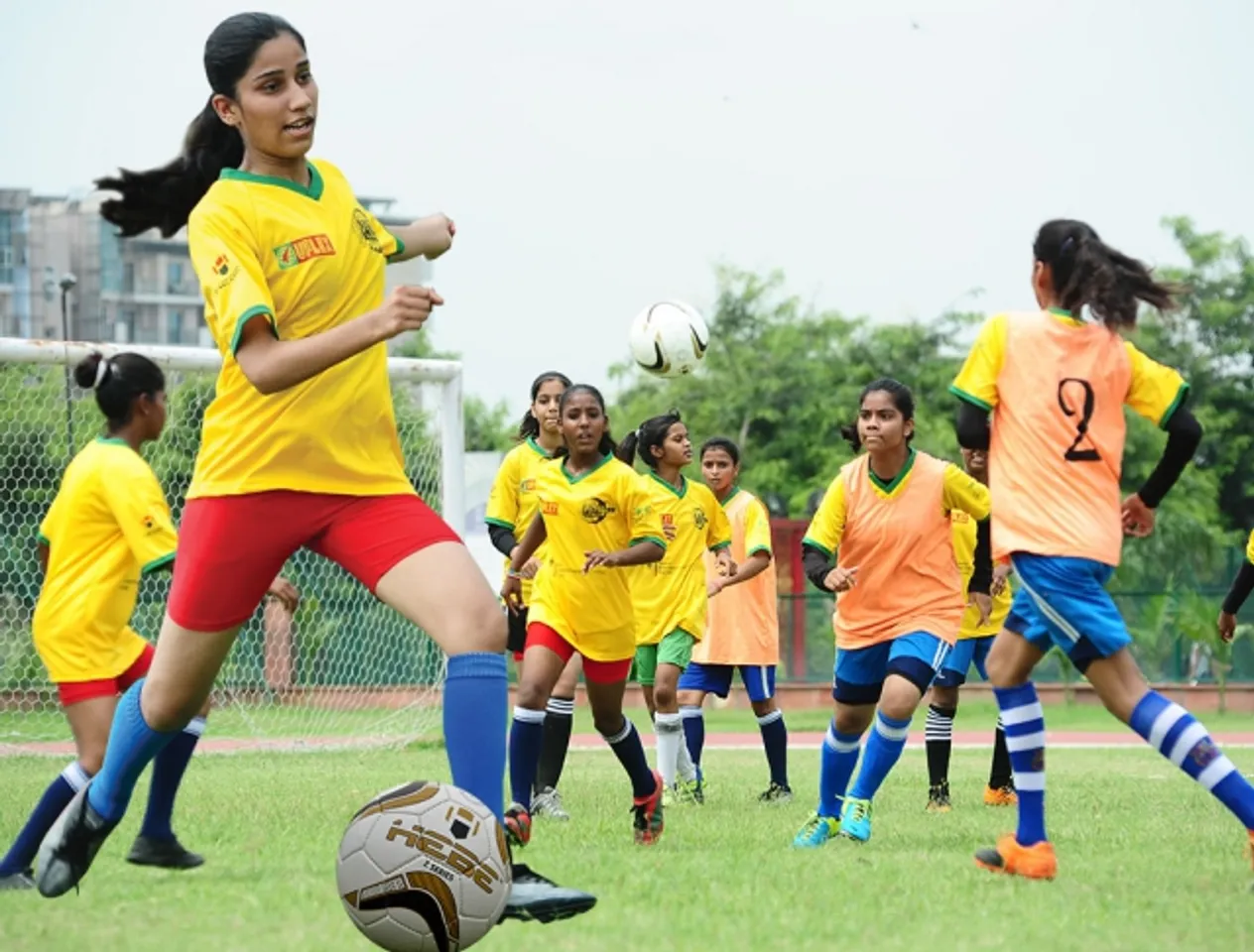 Ashok Chaturvedi, Chairman and Managing Director Uflex Limited shares his vision of 'Sports for Growth' - a CSR intervention that gives impetus to Sports in India by providing an accessible platform for the underprivileged children and youth to exhibit their talent and sportsmanship
Energy is infectious, and I love to be surrounded by energetic people all the time. This keeps me active and agile. When I am not thinking about flexible packaging and the plausible ways to enhance the shelf life of products or calibrating barrier properties for that matter, I am for sure thinking about Sports. I have always believed that Sports is by far the most effective instrument fostering national integration. Nothing bonds people better than Sports is what I have grown up believing. When Virat Kohli smashes a century, entire country feels the adrenaline rush. It is difficult to differentiate the exhilaration of one Indian from that of the other when M S Dhoni finishes the game in style. Every goal that Lionel Messi scores over the rival team leaves his fans and countrymen on a high. It wouldn't be an exaggeration to credit Sports as a reservoir of immense energy that can charge and steer anybody to new heights of positivity and productivity.
I have a strong sense of belonging for Sports. Earlier in 2010-11 when my team at Uflex was deliberating upon ways for bringing about a meaningful difference to the communities and society at large, we unanimously decided to promote "Sports for Growth". We partnered with a non-profit organization Society for Transformation, Inclusion and Recognition through Sports (STAIRS). We have been supporting STAIRS in creating multiple platforms for the not so privileged children across India to play with the best possible equipment with the best possible infrastructure, without having to pay for any of those. Our interventions are seamlessly integrated with proper mentoring, coaching and training so that children can be honed and groomed to showcase their talent not only in India but globally, so much so that they could even consider choosing sports as a 'Lucrative Career Opportunity'. In doing this we place special emphasis on inclusion and participation of girls to quell gender disparity.
In Uttar Pradesh, Uflex also supports STAIRS for ABILITY program that reaches out to the specially-abled youth (Stairs4Ability Match in Progress)
There are so many sports that often go unsung. Our model of "Sports for Growth" gives impetus to most of such sports. Our interventions Uflex Khelo Dilli, Khelo Himachal, Khelo Haryana and Khelo Uttar Pradesh provide an accessible platform for the underprivileged children and youth to exhibit their talent and sportsmanship. Tens of thousands of children play several sports like volleyball, sepak takraw, cricket, kabaddi, athletics, kho-kho, wrestling, football and many more every day at various STAIRS centres supported by Uflex. On several occasions these children have risen above all odds winning accolades and doing their states and country proud. In Uttar Pradesh, Uflex also supports STAIRS for ABILITY program that reaches out to the specially-abled youth. The overarching objective of this intervention is to assist and empower people with disabilities and their families to acquire new skills and knowledge to become fully participating members of the society and gain equal access to inclusive education, employment, recreation and sports.
It was absolutely heartening to hear our Hon'ble Prime Minister, Shri. Narendra Modi calling upon the countrymen particularly our youth to turn focus on football. One of the most important pillars of our 'Sports for Growth' intervention is 'STAIRS SCHOOL FOOTBALL LEAGUE (SSFL)' which is the newest and by far largest initiative by STAIRS that started earlier in 2014. SSFL is solely meant for the children under 14 years and under 17 years of age and exactly follows the FIFA World Cup format. It begins with league matches while the semi-final and final games are played at a central venue. All school teams intending to participate mandatorily have to go through the qualifier rounds.
Uflex has been supporting SSFL since its inception. The league in a short span of two years has emerged as the biggest talent spotting platform in the country all geared to churn out quality Indian footballers year after year. SSFL has been conceptualized to identify football talent at early adolescence so that India could get some of the best players to take the country and the sport to the next level.
SSFL has been especially conceptualized for:
Transforming the sporting scenario at the grassroots;
Uprooting all obstacles confronting sporting talent at the hinterland;
Nurturing future champions and creating opportunities for them to excel
STAIRS School Football League 2014- Inaugural Ceremony
Several national and international clubs and associations keep a close watch on SSFL matches to identify the budding football champions. From my experience with SSFL I can tell you that while many officials and individuals from professional bodies keep their eyes on the budding players during the matches, selectors from international foreign clubs watch 'live streaming' of important matches and even call for recorded videos to assess the performance of promising players.
After its whopping success in the first season, the Delhi Chapter of SSFL witnessed active participation from over 6,000 children across 288 schools in the National Capital Region in its second season. 592 matches were played in a span of 100 days engaging 288 teams. In a first, 32 girls' teams also participated in SSFL Delhi Season 2 squaring up the gender diversity. In this process STAIRS shortlisted over 350 promising footballers for professional training. Over 150 underprivileged children including 52 girls were spotted and trained by STAIRS through the widely spread grassroots camps across Delhi.
Following the stupendous success of the Delhi Chapter of SSFL in the second consecutive year, Uflex has additionally pledged support to the Ahmedabad and Gandhinagar Chapters of SSFL till 2020 and the going has been great.
Today, I am glad to say that STAIRS SCHOOL FOOTBALL LEAGUE is looked up to as the tournament for spotting talent for Under-17 FIFA World Cup that will be hosted by India in 2017. Football as a sport beholds tremendous potential and infinite possibilities. With none other than Hon'ble Prime Minister of India making a strong pitch for the game, it will surely gain the momentum that it truly deserves.
My adulation for sports receiving corporate patronage dates back to quite before The Companies Act coming into force on 01st April 2014. Through our "Sports for Growth" intervention, Uflex along with STAIRS is looking at the larger picture of realizing the Universal Right of every child in India to play freely irrespective of caste, creed, gender, religion or socio-economic status. This right is invariably conferred upon each child and is enshrined in the UN Convention on the Rights of the Child.
Today it is more important than ever to work towards institutionalization of sports and giving it impetus right at the hinterland where some of the best sportspersons originate from. In doing this Corporate can play a pivotal role by seeking support from Constitutional Bodies like Village Panchayat and other Government Agencies both at the Central, State and Regional Levels. One of the most important points that I always advocate for is the inclusion of girl child in Sports. In fact it is the cornerstone of an egalitarian, inclusive and a strong society.
In the larger interest of the communities and the society as a whole it is important to efficaciously channelize the energies of our children and youth through Sports. These children when honed, trained and mentored properly can win laurels not only on our soil but on the global turf as well. Sports can impart a whole new dimension to the personalities of these enthusiasts and accentuate the image of Brand India. Sport therefore is the perfect concoction for a physically fit and mentally alert India.
I stand committed to Sports for the Growth of my great motherland because for me it is much more than just a responsibility. It's a calling from my deep within that intensifies with each passing day.
Ashok Chaturvedi, Chairman and Managing Director Uflex Limited, is a first Generation Entrepreneur. He paved the way and assumed leadership position in the flexible packaging industry developing innovative packaging solutions over the last 30 years. He transformed a small business to a Global Enterprise with revenue of around USD 1 Billion and has several accolades to his credit.