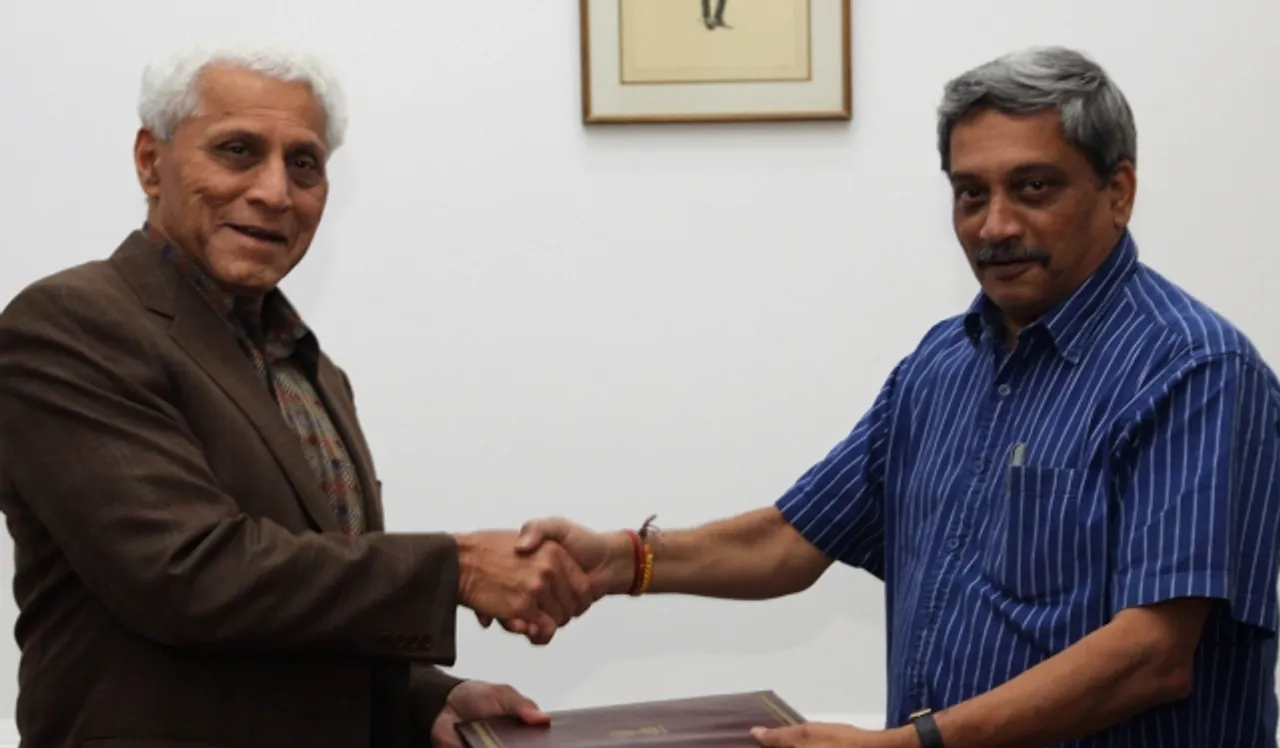 Mumbai, (February 23, 2016): Ministry of Defence (MoD), Government of India and Skills Development Network Trust (SDNT) of Wadhwani Foundation announced a strategic partnership aimed to catalyze the Skill Development Mission of MoD. The partnership aims at using technology through integrated e-content in the curriculum to create scalability for training and employment of 300,000 ESMs and their families in five years. Minister of Defence Manohar Parrikar and Dr. Romesh Wadhwani, Founder & Chairman, Wadhwani Foundation exchanged the MoU in presence of Prabhu Dayal Meena, Secretary, Dept. of Ex-Servicemen Welfare (ESW), Ashok Kumar Gupta, Secretary, Dept. of Defence Production, Surina Rajan, Additional Secretary, MoD, and Smt. K Damayanthi, Joint Secretary, Dept. of Ex-Servicemen Welfare (ESW).
In line with Ministry of HRD's Vocationalization of School Education Scheme, this partnership will also introduce vocational education in Army/Air Force/Navy Schools, DPSUs, OFB, and other defence establishments from class 9th – 12th at NSQF level 4. In order to achieve this goal, Skills Development Network Trust (SDNT) has committed to provide program management and e-content development for activities in this MOU and leveraging the Ministry of Defence funding towards skill and entrepreneurship development initiatives and schemes.
"Skill development is an important aspect of the overall policy of the Government of India" said Manohar Parrikar, Minister of Defence.
As part of this partnership, SDN will co-ordinate with all the program stakeholders – MSDE, NSDC, SSCs and other agencies for effective design and implementation of NSQF aligned program. SDN will support in industry connect, identifying job-role demand and curriculum alignment, providing professional advice and inputs for effective implementation of the program and assist the State Rajya Sainik Board and Zilla Sainik Boards in skill development initiatives.
Speaking on this strategic partnership, Dr. Ajay Kela, President & CEO, Wadhwani Foundation said, "Our Ex-Servicemen , most of whom are in the age group of 35-45, represent enormous potential for Indian businesses. Every year 60,000 soldiers retire and most are pigeon-holed into informal Security jobs. The absorption level in the private sector is abysmal and a serious waste of disciplined talent. The strategic partnership between MoD and Wadhwani Foundation's SDN Trust will accelerate training and employment of this unique talent pool into formal jobs. When adequately skilled, ESM will make a smooth transition to a second career and also empower the corporate world".
SDN will provide dedicated professionals, resource materials, training modules, knowledge bank and will monitor & evaluate the overall program implementation to bring quality assurance and impact analysis for helping fulfill MoD's skill development objectives.