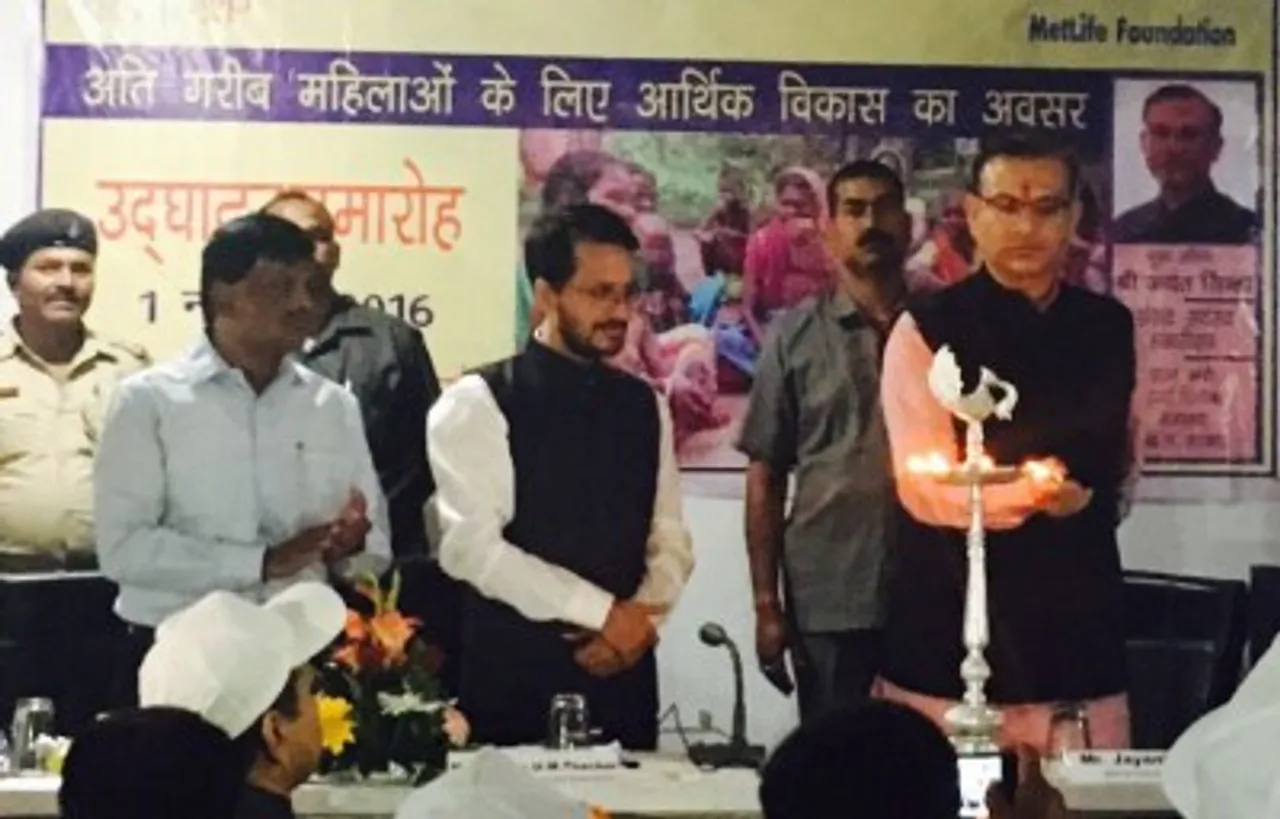 Mumbai (November 1, 2016): MetLife Foundation and Trickle Up, an international non-governmental organization (NGO), kicked-off its economic and social empowerment program, Graduation Approach, at an event in Jharkhand. The program was launched by Minister of State for Civil Aviation, Jayant Sinha, in Hazaribagh district, Jharkhand.
Graduation Approach is aimed at helping ultra-poor families move out of poverty in a sustainable and time-bound manner and further integrate them into the formal financial system. As a roll-out of the program, 20 Gram Panchyats have been identified across Mandu, Churchu and Dadi blocks in Jharkhand in addition to Manoharpur Block of West Singhbum District and Maheshpur Block of Pakur District. Under the three-year long initiative, women from ultra-poor households will be identified and organized into Self-Help Groups (SHGs) to promote women solidarity and empowerment. The alliance partners will provide coaching for skill development and work closely with the participants on their individual project. They will gradually be equipped with the required grants and further integrated into the financial system to enable them to gain access to government programs and benefit from its financial support schemes.
Launching the initiative, Mr Jayant Sinha said, "Financial inclusion, skill development and access to grants empower women with the means to improve their livelihoods and move their families out of poverty. TrickleUp's evidence based approach combined with MetLife's generous support could provide a transformative opportunity for the people of Mandu, Churchu and Dadi. I welcome their efforts and encourage thoughtful partnerships that invest in our communities over the long term."
Commenting on the initiative, Krishna Thacker, Director – Financial Empowerment Asia, MetLife Foundation said, "MetLife Foundation is proud to support Trickle Up's work in Jharkhand and across India. The Graduation Approach is an innovative program that will help the ultra-poor shift from limited survival opportunities to availing themselves of opportunities that promise a more sustainable livelihood. In addition to the Foundation's financial inclusion work, PNB MetLife also supports projects on education and development of underprivileged children across the country."
Amalendu Pal, Asia regional representative of Trickle Up said, "The ultra-poor have two primary issues: food security, and they do not have an economic situation where they can have continuous employment. Improving this can be challenging because they also lack access to productive assets and formal financial services delivered by regulated institutions. Through this program, we aim to help them take a transformative step to break this vicious circle of poverty and start an enterprise. Through this, the identified women participants from project areas will gain regular income, financial skills, confidence and social connections with one another, leading to respectful living for family and community".
MetLife Foundation awarded a three-year grant of U.S. $1.1 million to Trickle Up to help more than 100,000 households in Eastern India to overcome extreme poverty. The Graduation Approach initiative also aims to contribute in strengthening India's National Rural Livelihoods Mission, in providing financial education as well as skills and connections to formal institutions who they are not typically able to reach. Going forward, the initiative will cover Odisha and West Bengal to engage more than 100,000 rural households in consumption support, savings and credit activities, livelihood planning, skill training, asset transfer, regular coaching, individualized support and credit linkage with formal financial institutions.
The initiative will also provide significant support to the efforts for tribal development by the Government under the tribal sub- plan. The project will be implemented in alliance with 'Life Education and Development Support' (LEADS) in the selected blocks including Mandu in Ramgarh and Churchu & Dadi blocks in Hazaribagh.