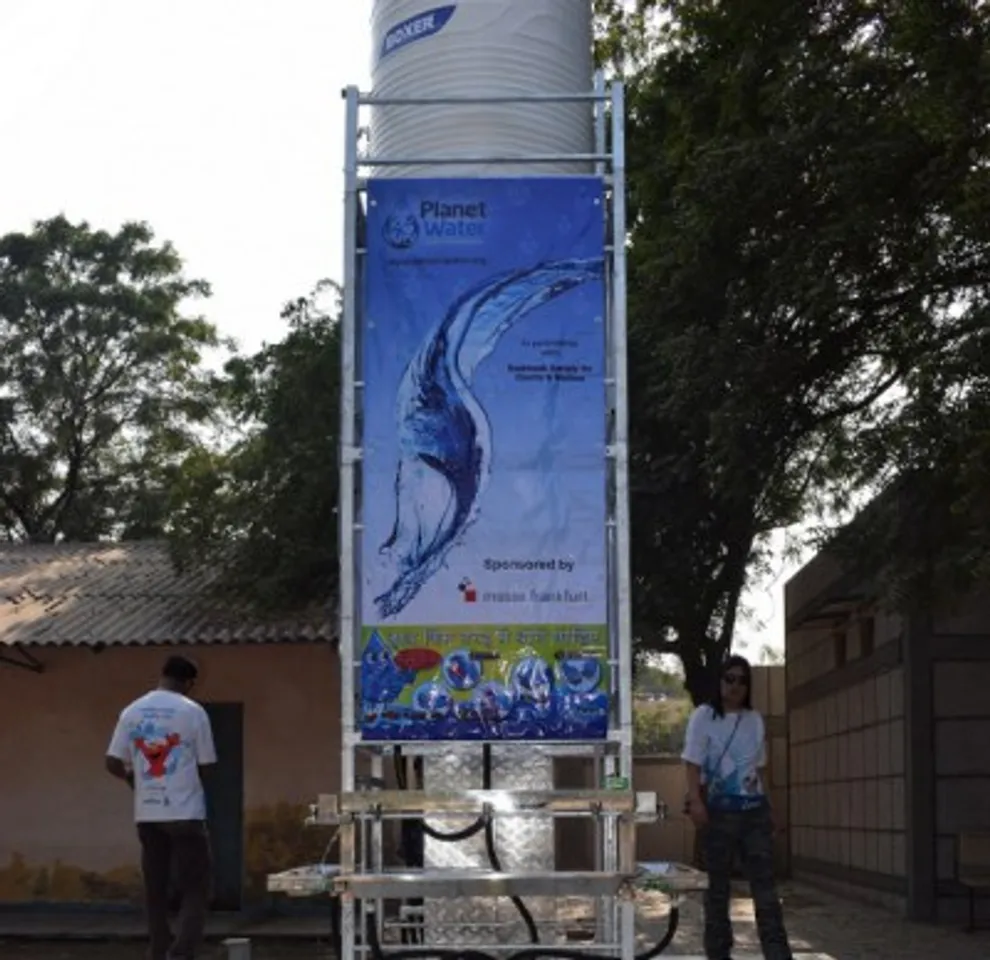 Mumbai (November 21, 2016): Messe Frankfurt Trade Fairs India Pvt Ltd in association with Planet Water Foundation unveiled a 'Water Tower' to provide access to clean drinking water to residents of Jaunti village in New Delhi today. The development of the tower, which started in February this year, was commissioned following a water shortage and high risk of water borne diseases in the capital during scorching months.
The national capital has been facing severe water scarcity since a very long time which aggravates during peak summers. Most parts of the city and adjoining villages have poor pipeline connectivity. In the village of Jaunti, water is being supplied by Delhi Jal Board through pipeline and tankers covering almost all the population of the village. However, water meters are not available and need to be installed in every house to maximise the proper use of water. Moreover, with poor sanitary and hygiene facilities, people in rural and peri-urban settlements are often vulnerable to waterborne diseases.
Channelising funds towards this initiative, Messe Frankfurt India initiated the development of a Water Tank early this year which will facilitate clean drinking water to inhabitants of Jaunti village over the long term. The project encompassed laying down a water tower to reserve water for distribution, installation of filters and accessories and an awareness and education programme for villagers through cultural activities.
For Ms Kamlesh Devi, a 40-year-old mother of two who lives in Jaunti, regular bouts of illnesses are a common phenomenon in the family and feels that the water tank has not only benefitted in providing clean drinking water but also ensuring everyone learns about hygiene. She said: "We have been using the water supplied through bore wells for our household chores, cleaning utensils and personal hygiene all these years. I am very happy that the water tower has been set up as it will provide clean drinking water to our children and the hygiene education will reach every family in the village."
Messe Frankfurt  has been consistently implementing programmes towards the development and benefit of Jaunti village and its citizens. Last year, the company conducted a skill development drive as part of its corporate social responsibility in the village, training and supporting a number of people to secure financial freedom. The programme was later extended to residents of Sunder Nagri slums in New Delhi. This year, through the "National Summit on Water, Wastewater treatment, Solid Waste Management and Solar Energy" the company brought key leaders and regulatory bodies together to highlight issues pertaining to sanitation and water treatment in India.
Raj Manek, Executive Director and Board Member of Messe Frankfurt Asia Holding Ltd said: "The topic of sanitation and acute water problems in rural areas was often discussed at our Summit and we have deliberated ways of implementation at the ground level time and again. While we were engaged in our skill development programme at Jaunti, we learnt that the government is undertaking measures to adopt Jaunti as the model to ensure that the village gets all basic amenities and we wanted to be associated with it. It is a small step that can make a difference towards the sanitation, development and health of the village."