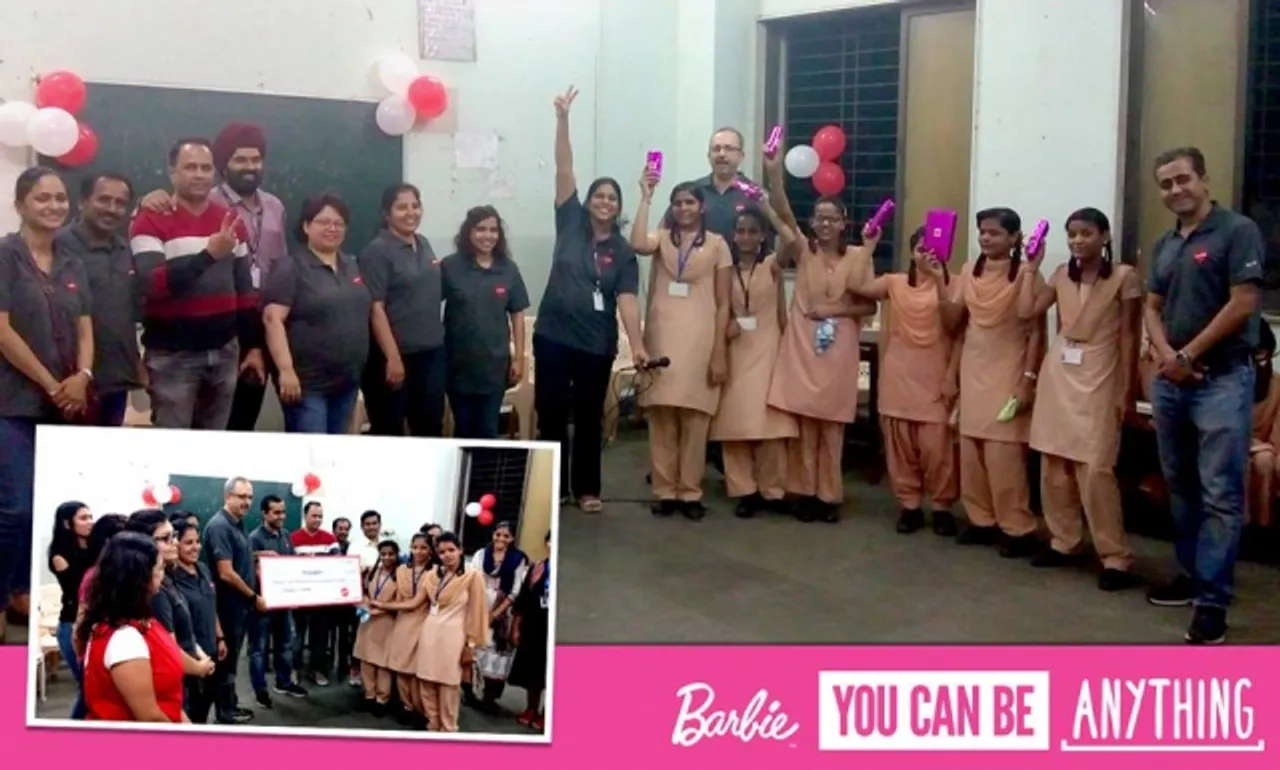 Mattel Children's Foundation has awarded a grant to launch Project Udaan under the aegis of Barbie brand, in association with Masoom, an NGO that offers quality education in night schools for girls from marginalised sections of society.
This initiative is a comprehensive three-fold programme that will emphasize on leadership skills, feminine hygiene program and vocational training basis participants' interest mapping. Designed to equip 106 girls, aged between 14-18 years, this programme is aimed to build confidence, self-expression and enable effective learning and development that can present the girls with a chance to a better life.
Mattel Children' Foundation has presented Masoom with a grant of INR 15 lakhs to create the program that will run over a period of one year. The program will deliver soft skills training through Masoom's in-house Shakti Leadership program, while Project Udaan will collaborate with Eco Femme for training on feminine hygiene. Employees of Mattel India will also receive volunteering opportunities including contributing to sessions to enhance soft skills or helping tutor the students in preparing for academics. An independent impact assessment will be undertaken at the end of the year to measure progress.
Ishmeet Singh, Country Manager - Mattel Toys (India) Pvt. Ltd, said, "At Mattel, we are committed to enabling Play with Purpose. Our brand, Barbie, is not only a much beloved brand for young girls but is also a cultural icon and inspiration, representing evolving times and attitudes. The brand ethos represents empowering the aspirations of young girls. Our partnership with Masoom in launching Project Udaan represents a step in ensuring that we are able to ease access to education and training in an effort to uplift and inspire girls from marginalized sections. Through these measures of confidence building and training, Mattel hopes that these girls too can believe 'You Can Be Anything' and build fulfilling careers for themselves."
"It is great to get support from Mattel for around 100+ night school girls. We are excited about this partnership and look forward to lighting up the lives of the girls," added Nikita Ketkar, CEO, Masoom.
About the Mattel Children's Foundation
The Mattel Children's Foundation was established in 1978. With a vision of "making a meaningful difference, one child at a time," the Foundation provides cash grants through domestic and international grantmaking programs, as well as international scholarships to children of employees, matching gifts and volunteer grants for Mattel employees. In addition, the Foundation continues its tradition of partnering with exemplary nonprofit partners. In 2005, Mattel will partner with Special Olympics, Save the Children, the Mattel Children's Hospital at UCLA, the National Association of Children's Hospitals and Related Institutions (NACHRI) and the Children Affected by AIDS Foundation (CAAF). The Mattel Children's Foundation is funded exclusively by cash donations from Mattel, Inc.
About Masoom
Masoom is a not-for-profit organization with a passion for establishing quality education in night schools. Set up in 2008, pioneering night schools in India, Masoom has developed a "Night School Transformation Programme" - a unique model of secondary education operational in Maharashtra. Masoom is founded by Ms. Nikita Ketkar an ex IAS officer.