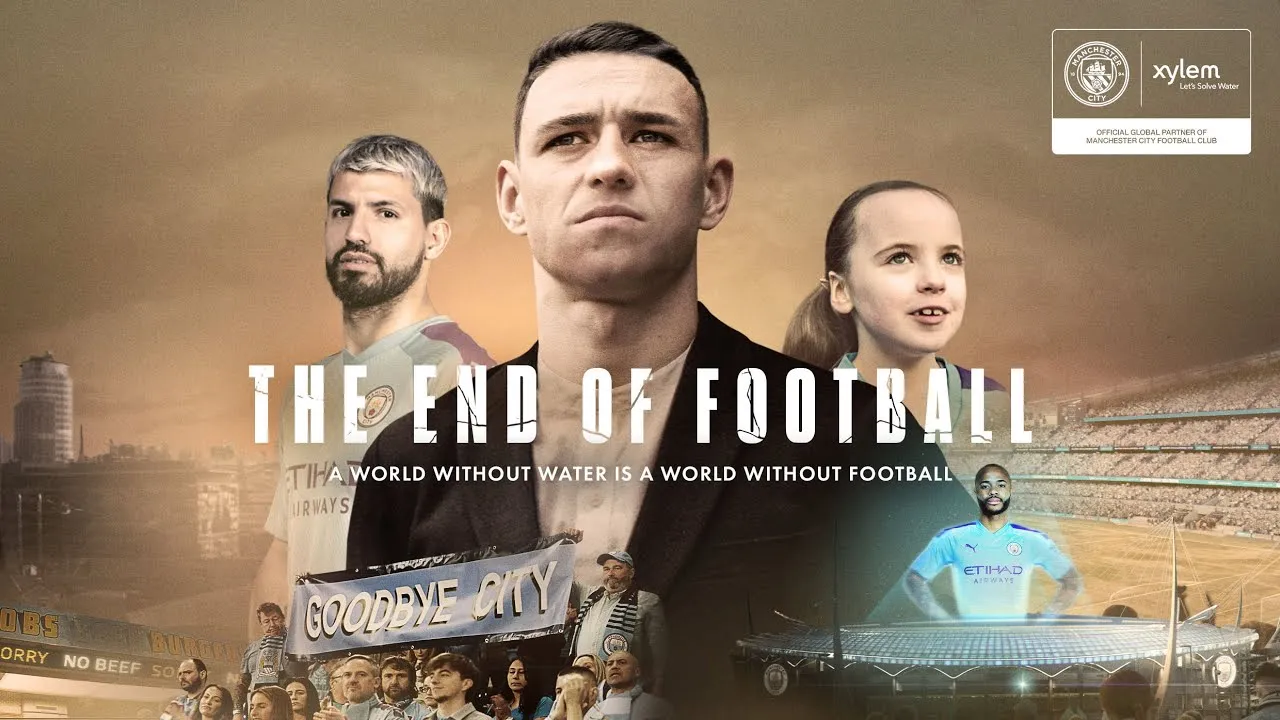 Manchester City stars Sergio Agüero, Phil Foden and Raheem Sterling all feature in an emotive new short film that aims to bring home the reality of the global water crisis to football fans across the world.
Released on World Conservation Day, 'The End of Football' is the latest campaign by global water technology company, Xylem and Manchester City, to drive awareness of escalating water challenges among the Club's huge fan base.
For many football fans the reality of living with extreme water scarcity is now just one generation away. The latest UN data estimates that almost 5 billion people globally could be living in areas of water scarcity by 2050. The UK Environmental Protection Agency forecasts that, due to mounting pressures such as increased demand, ageing infrastructure and climate change, parts of England could run out of water by 2045 – a warning echoed in a recent UK Public Accounts Committee report on the country's water supplies2.
The End of Football film, featuring multiple Manchester City footballers, aims to capture the imagination of football fans by depicting a world without water. Filmed in the Club's iconic Etihad Stadium, the video highlights the detrimental impact that water complacency can have on society, including football, as it tracks one girl's journey as a Manchester City fan.
Patrick Decker, Xylem President and Chief Executive Officer, said: "Water sits at the heart of human health and the sustainability of our planet. Through our partnership with City Football Group, we're focused on mobilising the global community to actively join us in safeguarding this precious resource. Together, we have a powerful opportunity to turn the tide on challenges like water scarcity and flooding and build a water-secure future."
Pete Bradshaw, Head of Sustainability at Manchester City, said: "Xylem is doing incredible work to address water sustainability issues and Manchester City is proud to support them in this new campaign."
Joseph Vesey, Senior Vice President and Chief Marketing Officer at Xylem, added: "Though the End of Football campaign was conceived and shot before the coronavirus pandemic brought a temporary halt to football, the message behind the campaign has never been more appropriate. With the support of the Club and its legions of fans, we have the power to elevate the conversation on water conservation and create a more sustainable future for all." Fans can learn more about water conservation through the Manchester City 'Water Hero Playbook', which contains simple, everyday actions on saving water – along with advice from public officials and industry – to protect our future and the future of football.
As part of its multi-year partnership with Manchester City, Xylem has partnered with the Club to deliver clean water towers, WASH education, and sports and leadership training to communities around the world. In less than two years, the partnership has already directly provided access to clean water and WASH education to over 10,000 children across India, Thailand, China, Australia and the United States.
Global sports marketing agency SPORTFIVE and its creative agency partner Brave developed and produced the End of Football campaign. As Xylem's retained agency, SPORTFIVE has been helping the global water technology company and Manchester City FC to raise awareness of water complacency since 2018.
Disclaimer: This story has not been edited by CSRLive Staff and is auto-generated from news agency feeds | Source: New feed |