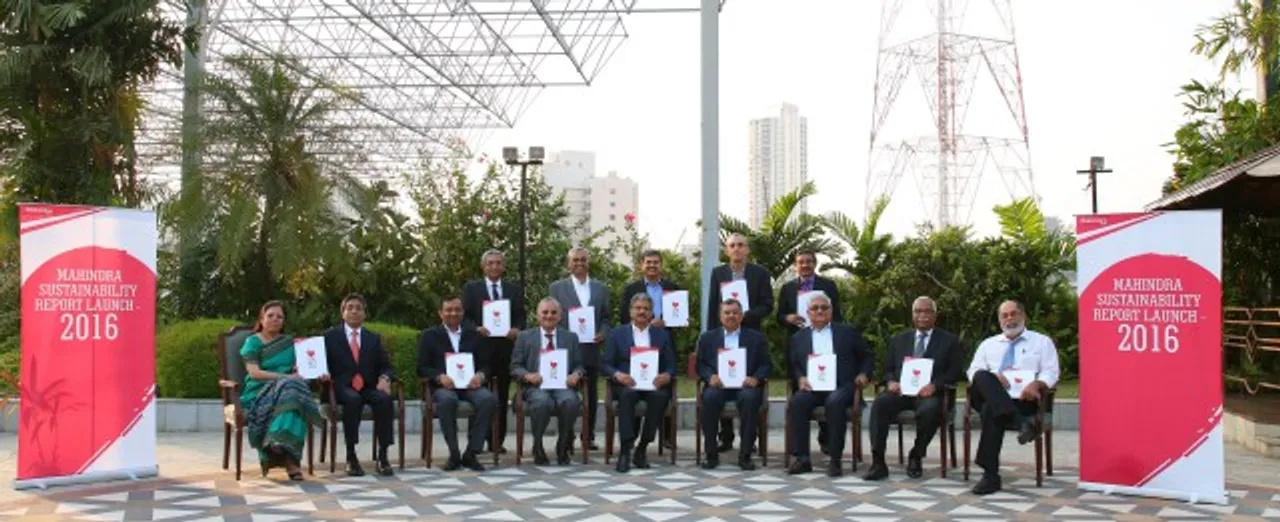 Mumbai (November 24, 2016): Mahindra Group launched the 9th edition of its annual Sustainability Report at their General Executive Board Meeting. The report, conforming to the GRI G4–Core guidelines, the fourth generation in transparent Sustainability reporting, has also reported on the 10 point India Business & Biodiversity Initiative (IBBI) declaration for the first time.
The theme, 'We love positive disruption' takes its inspiration from the idea that sustainability lies in developing a feasible alternative to conservation, to ensure that we do not paralyze progress by the scare of scarcity, but go in hot pursuit of plenty.
According to Anirban Ghosh, Chief Sustainability Officer, Mahindra Group, "The success of sustainability lies in rejuvenating our natural resources and our businesses in the new context of climate change. Our experience with multiple programs in renewable energy, energy efficiency, integrated watershed development, afforestation and bio-diversity strengthens this belief. Sustainability must lead to better livelihood for the people, only then will it be sustainable."
The sustainability report includes the important milestones achieved by the company for 2015-16. Mahindra and Mahindra Ltd, became the first company in the world to join The Climate Group's worldwide program, EP100, a commitment to double energy productivity by 2030. In addition, Mahindra & Mahindra Ltd. has announced an internal carbon price to work towards reducing its carbon footprint. Actions like these have consolidated the company's leadership position in the sustainability space. Mahindra & Mahindra, Mahindra Finance and Tech Mahindra feature on the Carbon Disclosure Leadership Indices with Tech Mahindra being one of only two Indian companies in the A List. Tech Mahindra is also listed on the World Leadership Index of the Dow Jones Sustainability Index while Mahindra & Mahindra and Mahindra Finance are listed on the Emerging Market Index for the fourth year.
Diverse initiatives were taken in the year across all sectors to achieve cumulative energy savings of 150,578 GJ. With water security posing a risk to India's economic growth story Mahindra has undertaken aggressive actions on the water conservation front. The Group consumed 6, 67,505 million m3 of water less than its previous year's consumption. Additionally, the micro-irrigation systems installed by the company in the state of Gujarat alone saved 8.4 million m3 of water in a year and thus the Mahindra Group continues to be Water Positive.
Mahindra has spent INR 1,851.10 million on social initiatives, which is above the 2% mandated by the Company Act, in corporate social responsibility projects.  Some of the programs by which Mahindra gives back to society are Nanhi Kali, Lifeline Express, watershed development, Hunnar, amongst others. In the past year, 120,466 Nanhi Kalis got access to education. Over 38,862 employees across the Group contributed more than 253,119 person hours towards employee-driven social initiatives under the ESOPs program (Employee Social Options).
The report can be downloaded here.