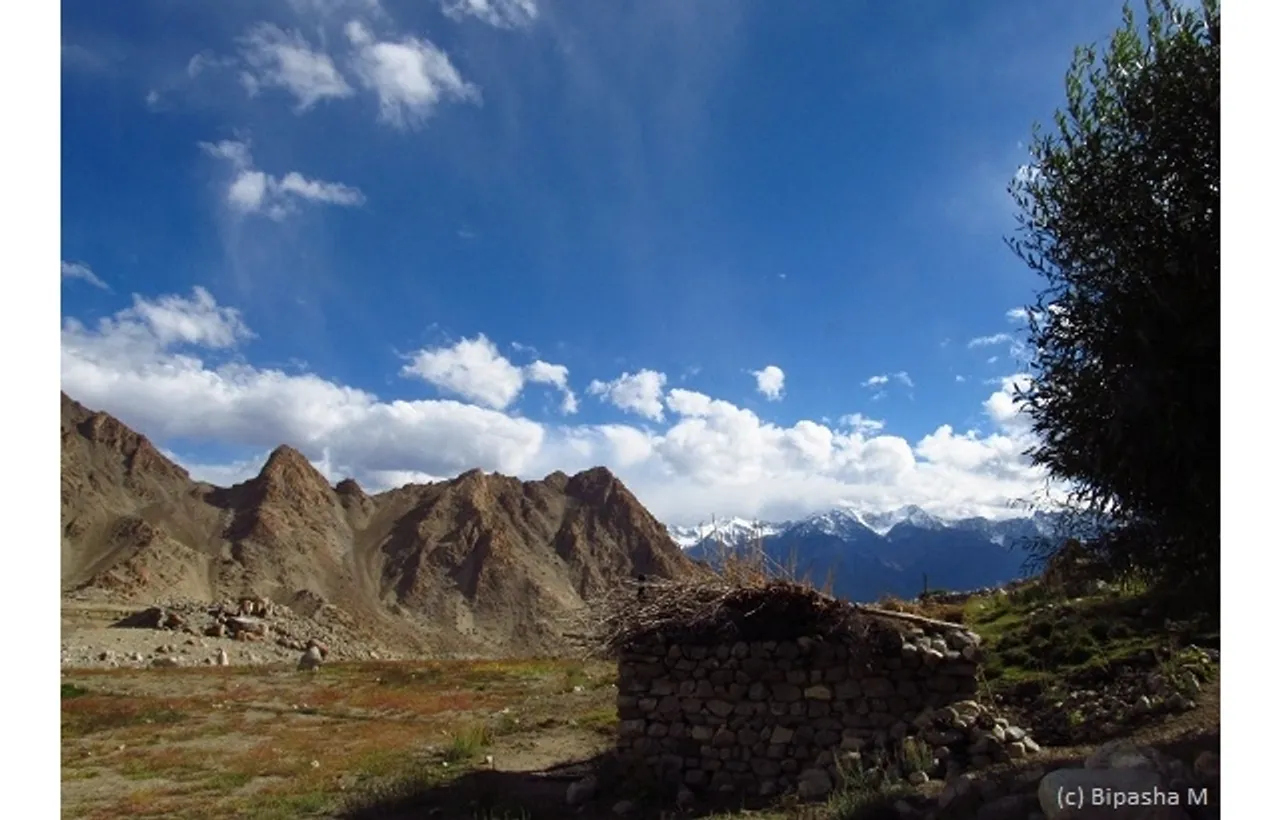 Awareness and economic incentives can not only mitigate human-wildlife conflict but can also change people's attitude towards predators from being a threat to that of an asset
As a child living in the fantasy world of forests in Rudyard Kipling's Jungle Book, I never questioned the possibility of any co-existence issue between humans and wildlife. It took me many years to realise that modern humans have largely been in conflict with wildlife and nature. Whether it's the remaining forests of Central India, the home of Mowgli, or the semi-arid high altitude region of Ladakh, various reasons like urbanisation and shrinking habitat range etc. are bringing wildlife increasingly closer to communities. But the story here is not that of conflict. It's a story of how communities who once considered snow leopards as a threat, now see them as the 'Ornament of the Mountains'.
The elusive and solitary snow leopard, found in the high altitude Himalayan and Trans Himalayan regions in India, is one of the most endangered cats in the world. With an estimated population of merely 500 in India and between 3500-7000 across the globe, it is in IUCN's (International Union for Conservation of Nature and Natural Resources) red-list of highly threatened species. In India, they are threatened largely due to poaching, decline of their prey base (Blue Sheep and Asiatic Ibex) and retaliatory killing by village members due to livestock loss. In Ladakh, which forms the largest snow leopard range in India (a count of 150), communities tend to keep their livestock in poorly constructed open corrals which then become vulnerable to predator attacks. When a snow leopard attacks a corral/pen, it can sometimes kill more than 30 livestock at one time in the ensuing chaos. For communities that are largely dependent on agriculture and livestock for sustenance, any livestock loss due to depredation can be a huge economic setback. In the absence of any supplementary income or compensation by the government, the anger of the communities get directed towards the predator who is then killed to stop further loss.
Ladakh was opened to tourism in the 70s, but it's only in the past two decades that inflow of tourists has gained momentum. In the early 2000s, Snow Leopard Conservancy India Trust (SLCI), a Leh based organisation, observed that though more than 5000 tourists visited the Hemis National Park every year, the benefits of tourism did not percolate down to the community who continued to face livestock loss due to depredation. The Himalayan Homestay Programme was developed in 2002 as result of a discussion with the community who felt the need for practical solutions rather than awareness campaigns. Through eco-tourism, this community based model focussed on bringing conservation, income generation and tourism on one platform. The chosen homestay owners were given initial investment support like buckets, blankets, toilet rolls etc. and training in hospitality, skill development and basic English for communicating. A rotation system, supervised by a member of the community, ensured equal participation of all homestays. Tie-ups with private tour operators helped spread the word of a local experience. For those who could not start a homestay, other avenues were opened to help them earn supplementary income such as nature guides, solar showers, eco-cafes etc. In return, the community assured to end retributive killing of snow leopards and other predators. The homestay owners also contributed 10% of their income to a community-conservation fund which was used to clean the village, restore old stupas and forts and also create grazing reserves for wildlife etc.
Barley harvest time at Likir, Sham Valley
To reduce attacks and loss of livestock, night-time corrals were predator-proofed with sturdy doors and mesh-wired impenetrable roofs. This helped reduce killing of livestock by more than 90%, thereby saving snow leopards from being killed. A livestock insurance programme was introduced later where interested people insured their livestock by paying an annual premium as decided by the community. This amount was matched by SLCI which helped in building a corpus. Any economic loss by attacks could therefore be mitigating through the insurance. This initiative ensured that no false claims were made which is the primary reason for non-action by the state Wildlife Department. As tourism, trekking, and snow leopard/wildlife expeditions increased, more trekking routes connecting villages were opened up in different regions to reduce pressure of pack animals on pasture lands.
I was part of a survey conducted by the SLCI team in Aug-Sept 2014 in Sham Valley to evaluate the economic, socio-cultural and ecological impact of the HH programme. For most homestay owners, the annual income increased from Rs.10,000/- to as much as Rs.50,000/- . The extra income helped the families spend more on education, health, clothes, and maintenance of homes. Socio-culturally, people understood the importance of conserving their cultural heritage, met new people and developed friendships, learnt new languages, cleanliness, and hospitality etc. Ecologically, they welcomed wildlife including snow leopards and recognised all flora and fauna of the region. Some even named the big cat, the 'Ornament of the Mountains'. The details of the findings can be read in a chapter on the HH programme in the soon-to-be published book on snow leopards of the world, edited by Tom McCarthy and David Mallon.
Due to its success, the award winning Himalayan Homestay programme was taken over by the state Wildlife Department in Hemis National Park and the model is now also replicated across Himalayan regions. SLCI is currently running the programme in 27 villages in Sham and Rong Valleys and Zanskar.
Although economic incentives have helped in reducing conflict with predators and transformed the attitude of these communities towards the snow leopards, there are far more complicated challenges that lies ahead. Urbanisation and infrastructure development are slowly making inroads into the snow leopard habitat range. It is also changing the social fabric of Ladakh where the younger generation is not interested in labour-intensive traditional livelihoods but 'jobs', which might impact the business of homestays, in turn impacting conservation. The huge growth in tourism in the last few years has given rise to many me-too-homestays/ guest houses which are not part of the conservation discussion. And lastly, climate change is set to effect changes in the extremely fragile ecology of Ladakh impacting humans and wildlife including snow leopards.
To keep the conservation dialogue in the forefront in future, SLCI stresses the importance of providing environmental education to the next generation. In a land which is unique both in terms of ecology as well as its people, SLCI has shown that given the right directions and solutions, people can co-exist with wildlife and even be part of the conservation process. Whether the rest of the country can follow their example and be a part of a larger conservation process is yet to be seen.
Bipasha Majumder shifted to the social sector after working in advertising and media for a decade. She loves traveling to the grassroot, talking to the communities, understanding their issues first hand and writing about her experiences. Currently she works as a communication consultant for various NGOs and CSR projects.