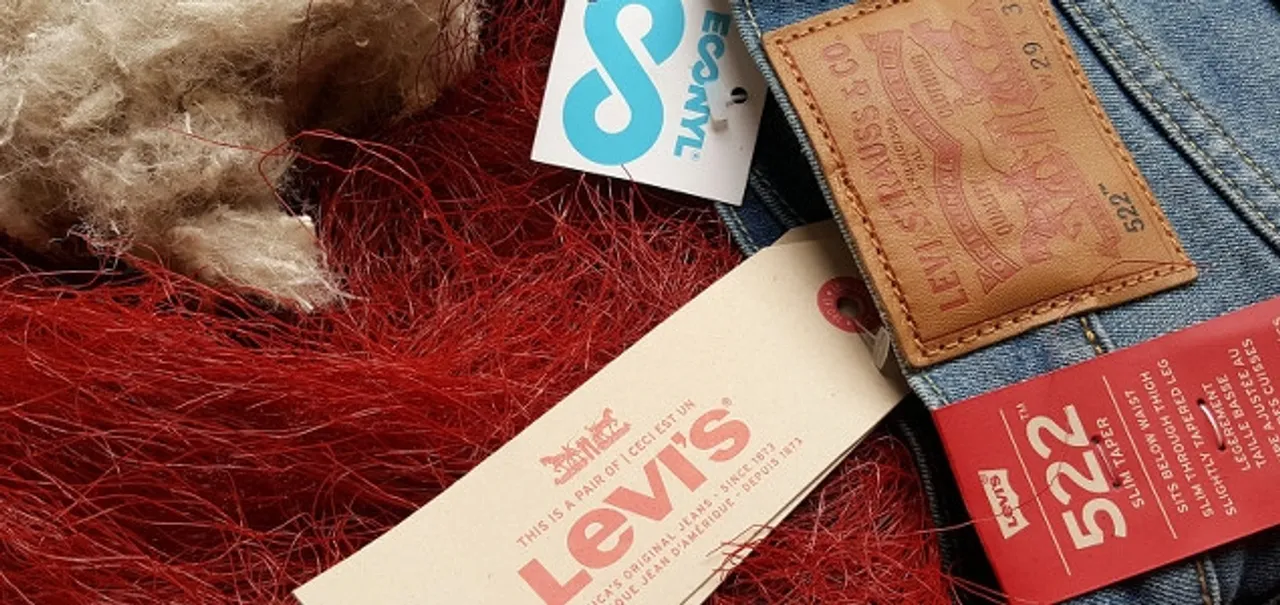 As Levi's VP of Social and Environmental Sustainability, Michael Kobori, said last year in a blog post, along with a long-standing partnership with Goodwill to divert clothing from landfill and take-back programs for apparel for recycling into everything from building insulation to cushioning material, Levi Strauss' circular economy ambitions include establishing an infrastructure that supports closed-loop products — recycling your old Levi's into new ones — by 2020.
In the meantime, and in addition to Levi's resource-conservation innovations such as its Water<Less and Wellthread collections, finding ways to incorporate alternatives to thirsty raw materials such as cotton is another critical component of the company's shift to a circular economy, and its sustainability in a resource-constrained world.
So last week, Levi's announced a new partnership with Italian upcyled fiber supplier Aquafil — maker of ECONYL®, a nylon made from waste materials such as used carpeting, discarded fishing nets and other marine plastics — to create a new men's collection incorporating ECONYL, starting with Levi's 522 men's tapered pant.
Thanks to smart partnerships such as this, it's been a busy few years for Aquafil as it continues to create a circular economy for textiles — we first heard of the company in 2013, when companies such as Interface joined Aquafil's Healthy Seas initiative aimed at tackling the problem of marine litter. In 2015, the company partnered with Kelly Slater's Outerknown label to incorporate ECONYL into its debut collection; and with Speedo USA on a take-back program for Speedo's post-manufacturing swimwear scraps, which will be upcycled into ECONYL; and in February, Aquafil and Milliken created a custom ECONYL "green carpet" that greeted celebrity guests at Global Green's 13th annual Pre-Oscar Party.
"We envision a world where everyday items don't have to come at the expense of the environment," said Giulio Bonazzi, Chairman and CEO of Aquafil. "This new partnership is further proof that sustainable materials can be used to reinvigorate products that have been traditionally made. Levi's is redefining the denim industry."
Meanwhile, an independent, public-private consortium led by MIT is poised to take textile innovation to a whole new level, thanks to an award of $317 million toward the advancement of next-generation fabrics. The Advanced Functional Fibers of America (AFFOA) Institute — a partnership between 32 universities, 16 industry members, 72 manufacturing entities, and 26 startup incubators, spread across 27 states and Puerto Rico — won a national competition for federal funding to create the latest Manufacturing Innovation Institute. It is designed to accelerate innovation in high-tech, U.S.-based manufacturing of "smart" fibers and textiles.
The proposal for the institute was led by Professor Yoel Fink, director of MIT's Research Laboratory of Electronics (RLE).
Fink says the Institute has the potential to create a whole new industry, based on breakthroughs in fiber materials and manufacturing aimed at creating fabrics with the ability to see, hear, and sense their surroundings; communicate; store and convert energy; monitor health; control temperature; and change their color.
Of the $317 million, $75 million in federal funding will come through cost sharing among the Department of Defense, industrial partners, venture capitalists, universities, nonprofits, and states including the Commonwealth of Massachusetts. The partnership, which will focus on both developing new technologies and training the workforce needed to operate and maintain these production systems, also includes a network of community colleges and experts in career and technical education for manufacturing.
"Massachusetts's innovation ecosystem is reshaping the way that people interact with the world around them," says Massachusetts Gov. Charlie Baker. "This manufacturing innovation institute will be the national leader in developing and commercializing textiles with extraordinary properties. It will extend to an exciting new field our ongoing efforts to nurture emerging industries, and grow them to scale in Massachusetts. And it will serve as a vital piece of innovation infrastructure, to support the development of the next generation of manufacturing technology, and the development of a highly skilled workforce."
"Through this manufacturing innovation institute, Massachusetts researchers and employers will collaborate to unlock new advances in military technology, medical care, wearable technology, and fashion," added Massachusetts Lt. Gov. Karyn Polito. "This, in turn, will help drive business expansion, support the competitiveness of local manufacturers, and create new employment opportunities for residents across the Commonwealth."
A new era of Fabrics?
For thousands of years, humans have used fabrics have been used primarily for aesthetic reasons and to provide protection from the elements. But Fink asserts that with the launch of the Institute, we may be nearing the dawn of a "fabric revolution."
MIT's David L. Chandler uses the semiconductor industry, which has shown how to combine millions of transistors into an integrated circuit that functions as a system, as an example; as described by "Moore's law," the number of devices and functions has doubled in computer chips every couple of years. Fink says the team envisions that the number of functions in a fiber will grow with similar speed, paving the way for highly functional fabrics.
As explained in the original call for proposals to create the Institute, the goal is to ensure "that America leads in the manufacturing of new products from leading-edge innovations in fiber science, commercializing fibers and textiles with extraordinary properties. Known as technical textiles, these modern-day fabrics and fibers boast novel properties ranging from being incredibly lightweight and flame-resistant to having exceptional strength. Technical textiles have wide-ranging applications, from advancing capabilities of protective gear, to ensuring that a wounded soldier is effectively treated with an antimicrobial compression bandage and returned safely."
A wide range of industries stand to benefit from the fibers and textiles developed by the Institute, including apparel, consumer products, automotive, medical devices, and consumer electronics. Warwick Mills, DuPont, Steelcase, Nike (which is also collaborating with MIT's Climate CoLab on materials innovation) and Corning are among the industry partners at the Institute, while academic partners include Drexel University, the University of Massachusetts at Amherst, the University of Georgia, the University of Tennessee, and the University of Texas at Austin.
Sustainable Brands®
 is a global community of brand innovators who are shaping the future of commerce worldwide. Since 2006, their mission has been to inspire, engage and equip today's business and brand leaders to prosper for the near and long term by leading the way to a better future. Digitally published news articles and issues-focused conversation topics, internationally known conferences and regional events, a robust e-learning library and peer-to-peer membership groups all facilitate community learning and engagement throughout the year. Sustainable Brands is a division of Sustainable Life Media, headquartered in San Francisco, CA.