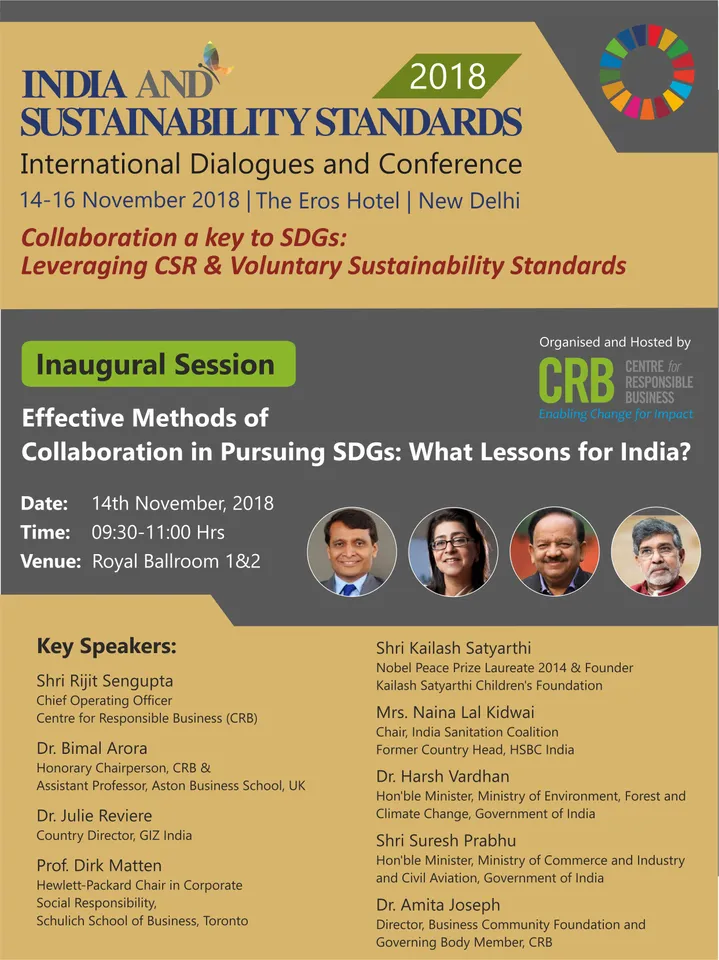 India, as a growing economy is moving upward on the 'ease of doing business' index and reached at 77thplace from 130 in two years butit still faces a lot of developmental challenges which hamper its pace of growth. The Canadian Development Agency – International Development Research Centre (IDRC) has partnered recently with Aston University of the UK to study such challenges and suggest more responsible ways of doing business in the largest economy of South Asia. The project will be launched on 14thNovember in New Delhi at 'India and Sustainability Standards 2018,' one of the most coveted International conference on sustainability in India designed and hosted by Centre for Responsible Business (CRB), New Delhi.
Birmingham based Aston University has roped in New Delhi based Centre for Responsible Business (CRB) to undertake the study and supervise the activities in India for the project called "Promoting responsible value chains in India for an effective contribution of the private sector to the SDG" (PROGRESS). This project will identify, explore and analyse the developmental challenges like employment opportunities for the youth, women's social and economic empowerment, and environmental destruction caused through unplanned and unchecked business activities.
The Indian government acknowledges that the private sector needs to play an active role in helping address some of these challenges. Global value chains (GVCs) have extensive footprints in India and Indian policymakers are keen that the Indian enterprises, particularly the small and medium enterprises (SMEs), enhance their capacities, productivity and efficiencies and become part of the GVCs.
The Pro Vice Chancellor of Aston University, Ms. Saskia Hansen says "The study may contribute a lot to help India grow more inclusively, by exploring and establishing alignments of private sector's business practices with the United Nation's Sustainable Development Goals (SDGs), which will, in turn, help businesses being more transparent and responsible towards community and environment."
According to the project lead and faculty member at Aston Business School Dr. Bimal Arora, 'Businesses are expected to contribute in tackling such mammoth challenges. Though they do contribute, but their role is becoming even more critical and important in the new global frameworks. Corporate social responsibility (CSR) and business sustainability are popular notions among policymakers, companies, and scholar's Community globally, and increasingly in India too.
The launch of the project PROGRESS will take place in the evening at the conference. On its 5thanniversary the theme of the conference is 'Collaboration a key to SDGs: Leveraging CSR & Voluntary Sustainability Standards.'The 5thedition of 'India and Sustainability Standards: International Dialogues and Conference 2018' will begin on 14thNovember with inaugural Plenary andHigh-level Panel discussions thereafter to elaborate upon the theme. On 15th November & 16thNovember, the conference will host more than 30 parallel sessions on different sectors and themes discussing sustainable development and Corporate social responsibility.
The 'India and Sustainability Standards: International Dialogues and Conference, has been looked at as the most coveted International conference on sustainability in India since 2013. Over the years, CRB has received a lot of encouragement and support for the initiative from large and small businesses, industry associations, public sector companies, government agencies, international and multilateral agencies, standard organisations, academia and civil society. This event has now emerged as a strong India-based international multi-stakeholder platform, attracting a large community of Indian and international participants. So far, the conference has received patronage from over 3300 delegates and more than 150 partners from across the world and created a benchmark of its ownsince its inception.