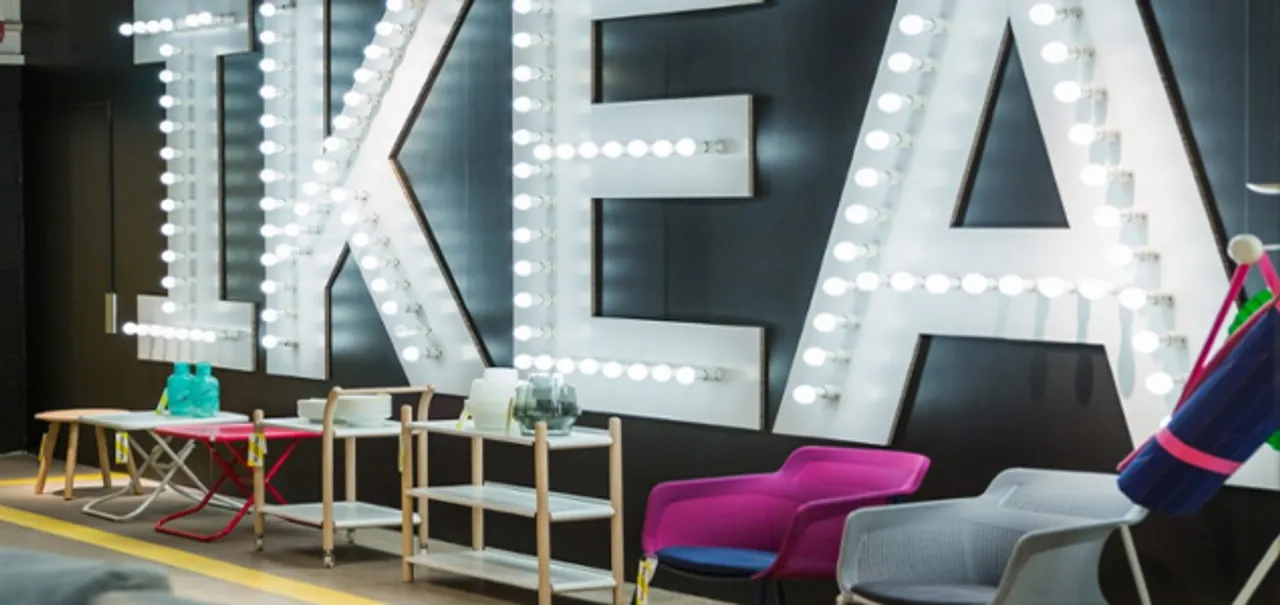 More and more companies are looking for ways to adopt circular models for their products, and some of the latest examples have been provided by industry giants. Furniture company IKEA, chemical firm Total, and Inditex, the parent company of apparel brands Zara, Pull & Bear, Massimo Dutti and Bershka, are all working to reduce their environmental footprint by changing how their products are made.
IKEA's PS 2017 Collection Includes "No Waste" Products
IKEA releases 'PS' collections every three years or so to complement its main catalogue, and the latest one includes several products made from recycled wood, plastic and glass, including some made from the company's own packaging and manufacturing waste. The PS 2017 range, which is aimed at young urban dwellers, includes 60 products and will begin to hit stores in February.
Twenty-one designers collaborated with IKEA on the collection, including Stockholm-based studio Form Us With Love to create the Odger chair using 70 percent recycled plastic and 30 percent renewable wood. The chair has a rounded shell and will be available in white, blue and brown, with wood flakes visible across the surface. Recycled plastic and wood will also be used in otehr items, such as Kungsbacka cabinet doors which will use recycled PET plastic bottles.
The marbled IKEA PS Vases and Skrutt desk pad "close the loop" even smaller by using the company's waste as a raw material. At IKEA's facility in China, glass that was rejected due to bubbles or defects created during production were being tossed. Now, they will instead be re-melted and used in the new collection. The marbled vases are mouth-blown using the same mould, but each has a unique look because of the various shades of leftover material from the glassworks, designer Iina Vuorivirta explained to Dezeen. The Skrutt desk pad is made from the plastic film that wraps IKEA's delivery palettes for stores in Italy and France that has been turned into granules.
The collection is expected to appeal to the younger generation not only because they are environmentally-conscious, but also because they are more likely to be renters living in smaller spaces. James Futcher, the creative leader for the collection, told Dezeen, "The idea to create a collection that is for the young, urban generation living in the city — a collection that could be moveable, adaptable, changeable, to suit their new needs at home."
"And then comfort becomes a crucial part — how can we create products that are not just about comfort, as in what you sit on, but comfort with products that feel good to use and give you added functionality?" Futcher added. This line of thinking resulted in a foldable table designed to be easily pulled out and used while seated on the floor or on a sofa, a quilt that can be folded up and used as a cushion, a loveseat that can instead by used as two chairs, and more multi-modal items. Ideally the added utility will also extend the lifespan of the products. As IKEA's Chief Sustainability Officer said earlier this year, we've already reached the point of 'peak stuff.'
Total's New Packaging Range
Total launched a new range of recyclable polymer packaging made from between 25 to 50 percent post-consumer recycled waste from Western Europe. The high-density polyethylene (HDPE) Circular Compounds range can be used for blow-molded bottles and heavy duty containers. The company claims the new compound will perform "equal to or exceeding that" of virgin resins.
"Total is currently extending the applications of the recycled compounds concept by developing additional new grades, since we believe it will be essential to place the European virgin plastics industry in a new yet essential role as 'circularity enhancer,'" said Total's European vice president for polymers Jean Viallefont.
Household waste plastic will be collected and decontaminated by recycling partners before being incorporated into the 'absolutely fragrance-free' resin. Total expects around 20 kilotonnes of the material will be integrated into packaging streams by 2017.
Inditex Partners with Cáritas, Lenzing to Pilot Collection, Recycling Scheme
Earlier this year with the release of its Environmental Strategy Plan, Inditex announced several initiatives to embed circularity in all phases of the product cycle. Starting in Madrid in September, Zara will offer shoppers free at-home collection of used clothing when delivering online orders. The pilot, which is being conducted in collaboration with the Spanish charity Cáritas and transportation firm Seur, will eventually roll out all over Spain.
Inditex will donate a total of €3.5 million over two years to modernize Cáritas' garment sorting and treatment plants, and will collaborate with the charity to install between 1,500 and 2,000 garment collection containers in the Spain's main cities. Furthermore, Inditex aims to have a collection container in each of its brick-and-mortar stores in the country by September.
The international retailer also signed an exclusive agreement with Austrian fiber supplier Lenzing for the production of "premium textile raw materials" from the fabric waste. Inditex provided Lenzing with roughly 500 tons of textile waste to kick off the project, with a goal to raise the amount to 3,000 tons within a few years. Lenzing expects to produce around 48 million garments with this material.
Inditex said it will also support research into textile recycling technologies in partnership with MIT and Spanish universities. Textile recycling is likely to become more crucial for fashion retailers' sustainability programs going forward, given the East African Community countries' recent decision to ban secondhand clothing imports.
Sustainable Brands®
 is a global community of brand innovators who are shaping the future of commerce worldwide. Since 2006, their mission has been to inspire, engage and equip today's business and brand leaders to prosper for the near and long term by leading the way to a better future. Digitally published news articles and issues-focused conversation topics, internationally known conferences and regional events, a robust e-learning library and peer-to-peer membership groups all facilitate community learning and engagement throughout the year. Sustainable Brands is a division of Sustainable Life Media, headquartered in San Francisco, CA.