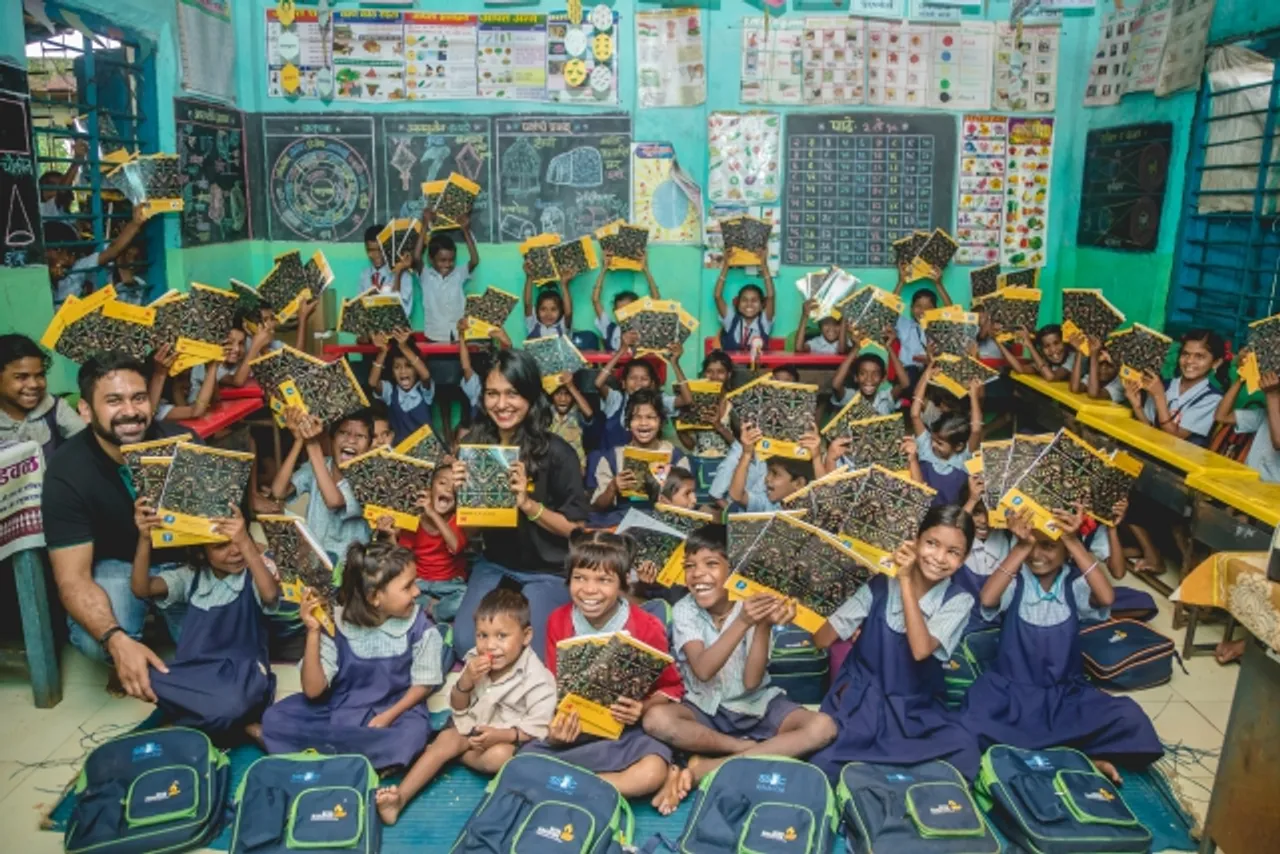 Kodak has teamed up with India's Youth for People and Aroehan, two local NGOs, to deliver 5,000 notebooks to children across schools in Mokhada in rural Maharashtra. Youth for People began its Notebook Donation program in 2014 to address the lack of affordable blank notebooks for school children in this rural community. In its first year, Youth for People and Aroehan delivered 65,000 notebooks to 10,000 children in 50 schools. In 2016, the program's success expanded to 200,000 notebooks in 300 schools for 40,000 children.
Kodak's support for this program in 2017 is part of the company's Print For Good initiative which is focused on promoting literacy around the world. The global program partners with printers and industry stakeholders to target high need areas with book drives, book donations and the printing of school materials and supplies to support literacy efforts on a global basis. For the 2017 Youth for People Notebook Donation program, Kodak worked with its local customer Nemlaxmi Books to print the 5,000 notebooks, using Kodak technology. Those looking to contribute directly to 2017 Notebook Donation Program can www.aroehan.org and also follow, post and support Youth for People on Facebook or Twitter with the #notebookdonationdrive2017.
The India notebook donation program is taking place in parallel to numerous Print for Good activities happening across the globe with support from Kodak employees who are raising funds, leveraging industry connections, donating books and connecting with their communities to get much-needed printed materials to children in need. This latest event in Kodak's Print for Good campaign follows several activations that have occurred worldwide, including:
Mumbai, India – Kodak partnered with Youth for People and Aroehan to support a tribal region on the outskirts of Mumbai (Mokhada, Palghar) with a supply of 5,000 school notebooks printed by Kodak's partner Nemlaxmi Books.
Houston, TX – Kodak partnered with its customer DiscPro to host a book drive. In addition, Kodak purchased and donated books by Tad Carpenter (host of Kodak's Press On video series and children's book author) to benefit high-needs Houston schools and communities, as well as an orphanage in Guadalajara, Mexico.
Tel Aviv, Israel – Kodak partnered with a local printer, Emanuel Print, to publish over 1,000 booklets, donated to La'Sova, a local non-profit providing food for those in need, and added those booklets to food packages distributed during the Passover holiday.
Dayton, OH – Kodak employees completed a book drive in support of a local organization, Hannah's Treasure Chest.
Memphis, TN – Kodak donated 1,000 books authored by Tad Carpenter to the Books from Birth Foundation. This donation will support two local initiatives including the Reach Out and Read Program at Le Bonheur's Outpatient Center and the LENA Start program.
Columbus, GA – Kodak is supporting the RiverCenter Readers program. Several activities are planned including a book collection this week with the local Chamber of Commerce Young Professionals group.
Croxley, United Kingdom – Kodak planning an employee book donation and a book-signing day with Ben Cort, illustrator of "Aliens Love Underpants."
Vancouver, BC – Kodak team will be hosting a spelling bee and bake sale to raise money to donate to a local organization.
Kodak's culture of giving dates back to our founder, George Eastman (1854-1932), inventor, entrepreneur and philanthropist. In the early 1900s, Eastman was one of the richest men in the world and one of the four largest donors in history to that point.  By his death, he would give away approximately $2 billion of his wealth to charitable causes (as measured in today's dollars).  Kodak's Print for Good campaign builds on this heritage by giving back and supporting the communities where we operate through meaningful programs.