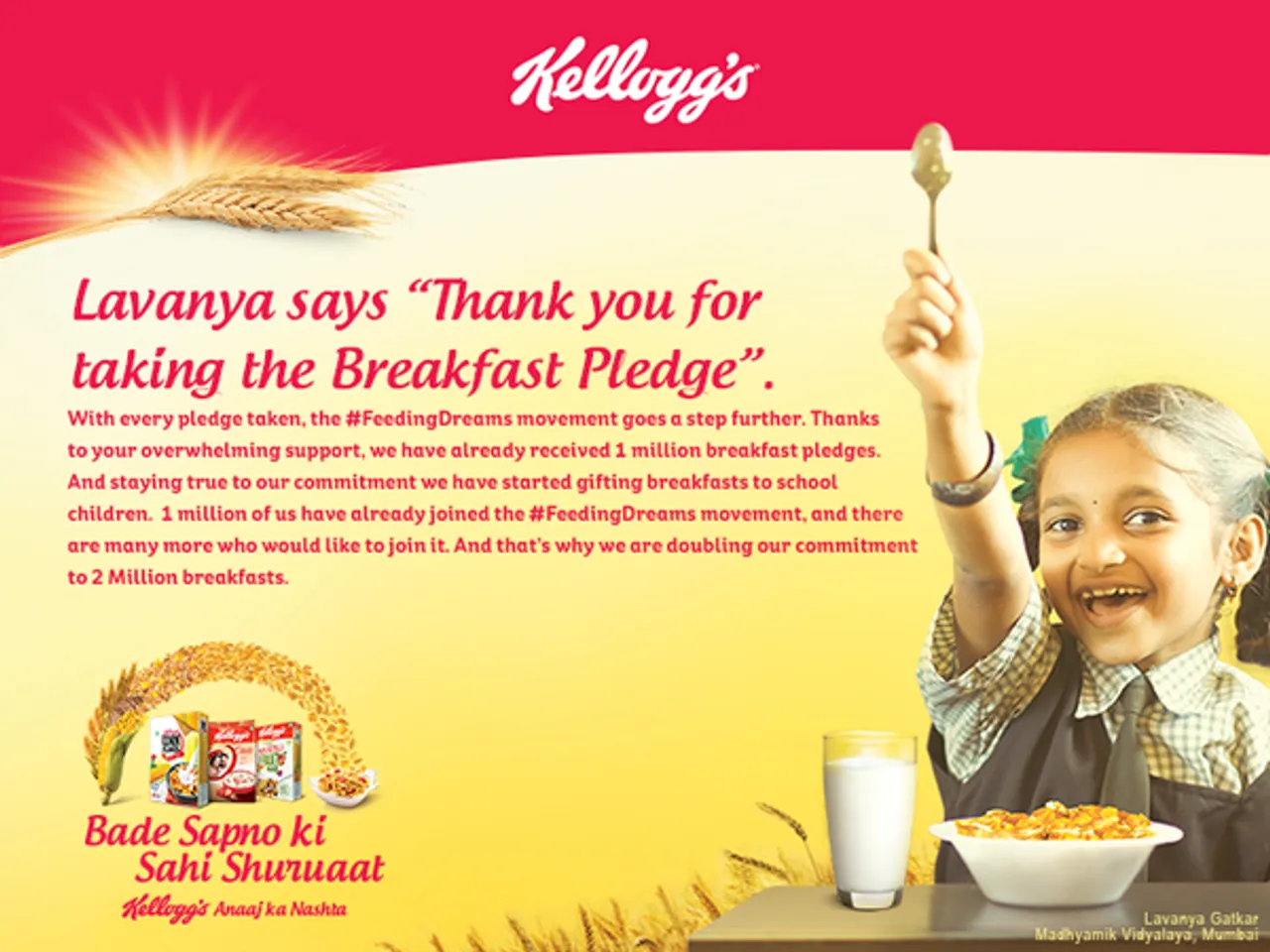 MUMBAI: Kellogg India's Breakfast Pledge 2015 initiative, which commenced in September 2015 called upon people through various touch points to take a pledge to eat breakfast every day; with every pledge, Kellogg's would gift a breakfast to a school child. Kellogg's launched their campaign earlier this year 'Bade Sapno Ki Sahi Shuruat' #Feedingdreams with Saina Nehwal as the brand ambassador.
Saina Nehwal kick started the breakfast pledge by flagging off the Kellogg's Breakfast Pledge van which travelled across the six metros, educating people about the Power of Breakfast and taking breakfast pledges. Though the target for this year was to gift 1 million breakfasts to school children, the campaign has reached a 2 million mark.
Speaking about the initiative and reaching the 2 million breakfasts milestone, Sangeeta Pendurkar, Managing Director, Kellogg India, said, "This initiative has gone from strength to strength since 2014, when we first began the Breakfast Pledge. It is a shining example of how businesses can make a difference in the local communities in which they operate. Our commitment to this program is deep rooted and we are grateful to all our supporters who have been a part of the Breakfast Pledge initiative and are helping us achieve the momentous milestone of 2 million. Kellogg India is proud to have inspired the development of such a worthwhile program and we hope to keep spreading the awareness about the importance of a balanced breakfast among Indians, to ensure that families are nourished so that they can flourish and thrive."
Kellogg's has already started gifting breakfasts to school children and more than 42000 breakfasts have already been gifted so far.
Press Release Source: