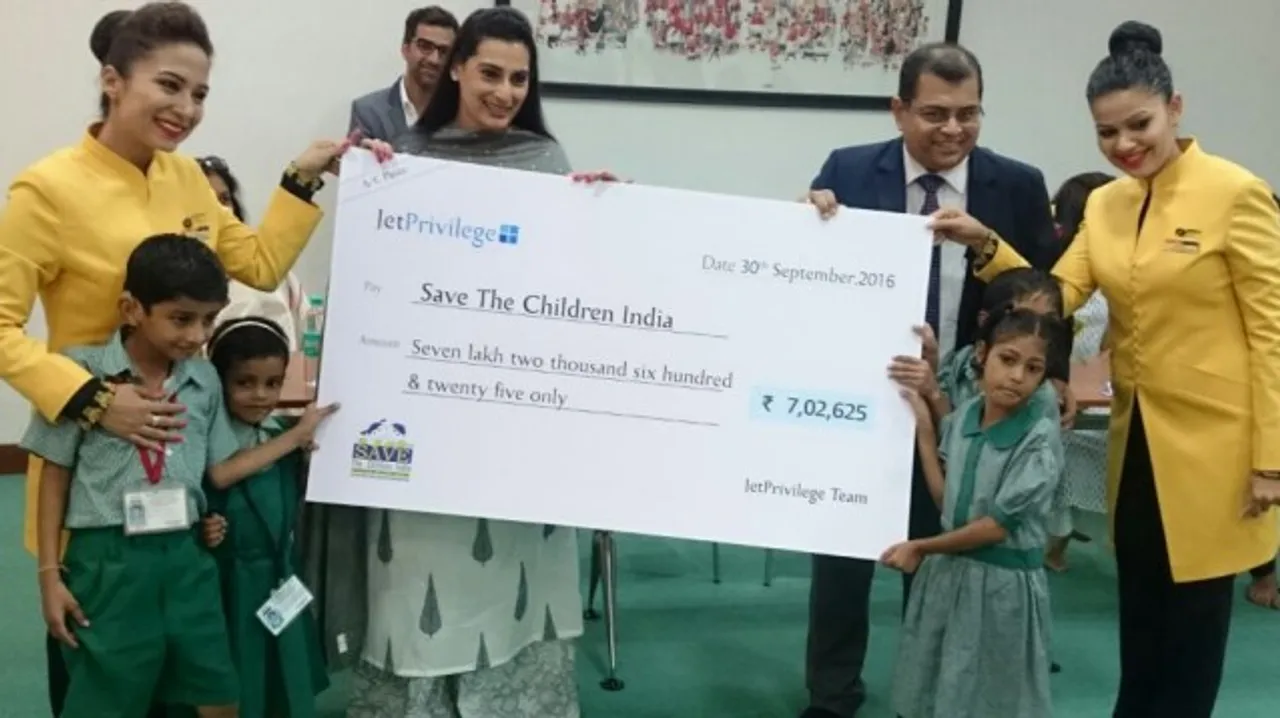 Mumbai (September 30, 2016): JetPrivilege, the loyalty and rewards management and frequent flyer programme of Jet Airways, made a monetary donation equivalent of five million JPMiles, to NGOs - Nanhi Kali and Save The Children India, in support of child development and education. An additional monetary donation equivalent of 6,08,000 JPMiles was made by JetPrivilege members for the two NGOs, through rewardstore.jetprivilege.com
Manish Dureja, Managing Director, JetPrivilege, said, "By collaborating with 'Nanhi Kali' and 'Save The Children India', we support their cause of providing education to children from weaker sections of the society and enabling them to achieve their dreams. To celebrate the milestone of 5 million members, we thought of partnering with 'Nanhi Kali' and 'Save The Children India' to prioritize the well-being of children in Indian communities and schools."
"We are extremely grateful to Jet Privilege and Jet Airways for their contribution to Project Nanhi Kali. The campaign has raised awareness about the cause for girl child education and will positively impact the lives of over 200 Nanhi Kalis from underprivileged families. These girls will not only get access to quality education but also receive material support in the form of uniforms, school bags and other school accessories including hygiene material." said Sheetal Mehta, Trustee & Executive Director, K.C. Mahindra Education Trust.
 Mana Shetty – Trustee , Save The Children India, said, "We are very appreciative of Jet Airways and their wonderful initiative, Jet Privilege of supporting the various projects  of Save The Children India. Through this campaign we have been able to give forty functional toilets to villagers in the interior of Raigarh District besides giving holistic education to 250 children with Special needs. Since these children excel in sports we provided them with quality kits and training , the outcome of which was the selection of two of our children to Special Olympics in Los Angeles where they did their country proud by winning gold medals in Baseball, coming first amongst 36 participating countries. Thank you Jet Privilege for your excellent and generous support!"
JetPrivilege and Jet Airways support various NGOs and social causes towards the betterment of vulnerable children in society. The airline regularly participates in 'Flights of Fantasy' operated for children from under-developed sections of the society, and the 'Joy of Giving Week' - educational excursions of the airline facilities.
Nanhi Kali supports the education of underprivileged girl children in India by providing academic, material and social support to enable the deprived girls to access good education.
Save The Children India is a non-governmental organisation that works towards the empowerment of underprivileged children and women, through health, vocational training and educational programmes.