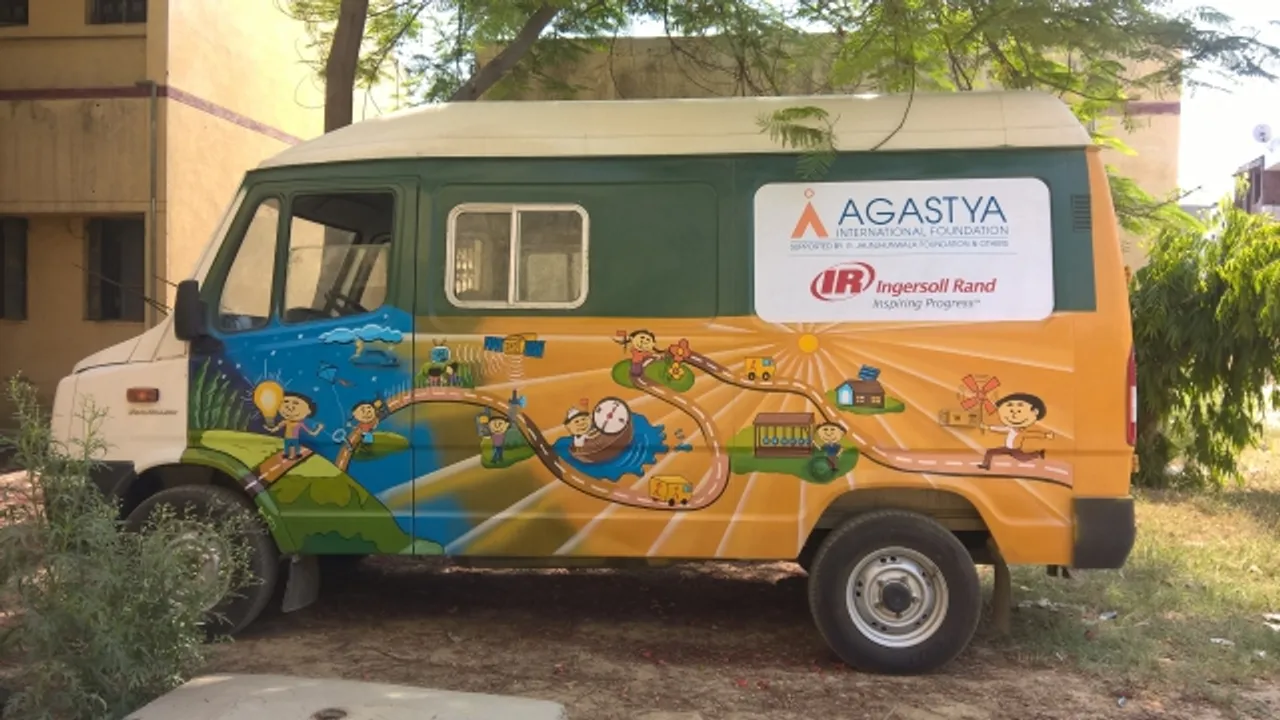 Sahibabad (May 24, 2016): Ingersoll Rand has partnered with Agastya International Foundation to launch a Mobile Science Lab in Ghaziabad, India. The Mobile Science Lab will help benefit economically disadvantaged government school children in remote, rural areas and train teachers from the government schools in hands on pedagogy. Children trained and educated by Agastya will get an opportunity to learn and understand the basic science principles through creative science models and interactive demonstrations rather than through rote learning.
Ingersoll Rand has now deepened its focus on spreading science education across India through one Science Centre at Government Girls Senior Secondary School in Jacobpura, two Mobile Science Labs in Naroda and one Mobile Science Lab at Chennai, Mumbai, Bidadi and Sahibabad each.
Each Mobile Science Lab travels to doorstep of remote schools with 100+ hands-on science models covering a wide range of topics in Physics, Chemistry, Biology and Math for Class 5 through 10. The teaching approach is consistent with the National Curriculum Framework and the topics overlap the NCERT syllabus.
The Mobile Science Lab will be of great impetus for students and teachers in the vicinity, and will aim to deliver to 16,000 children exposures in a year of its operation. Additionally, teachers will be trained with an aim to disseminate knowledge and propagate creative-thinking and problem-solving skills among government school teachers.
The Mobile Science Lab will also conduct Science Fairs and Summer Camps in which Young Instructors will be identified and trained to demonstrate science concepts to their peers through peer-to-peer learning.
Ingersoll Rand is supporting the Agastya Foundation team with essential equipment, training of staff, infrastructure cost and expertise for imparting science education through innovative means. Commenting on the initiative, Geetanjali Bhatia, Leader Corporate Relations & CSR, Ingersoll Rand India said, "At Ingersoll Rand, our key focus areas for CSR include Education, Healthcare & Sanitation, providing Livelihood and Sustainability. As an organization, we are committed to good corporate citizenship and believe that advancing the quality of life requires taking an active role in addressing social issues that impact our organization and the communities we operate in."
"With our long term successful partnership with the Agastya Foundation, we are taking steps to provide quality education to the economically disadvantaged in remote areas and further science literacy in the bright minds of this country. Through our programs, we aim to challenge rote-based classroom learning and spark curiosity, creativity and build leadership among these children", added Geetanjali.
"The Ingersoll Rand Mobile Science lab in Ghaziabad is the first Agastya project in the region and also the seventh Mobile Science Lab in India with our partnership. We are delighted with the response we have received so far from across the country.  With these projects, our aim is to provide teachers with tools and methodologies to explain concepts creatively and encourage curiosity and promote experiential learning", shared Ratish Pandey, Director North Region, Agastya International Foundation. "Agastya in partnership with Ingersoll Rand is committed towards spreading this science revolution to demonstrate to children that learning can be Fun, Useful and Accessible", added Ratish.