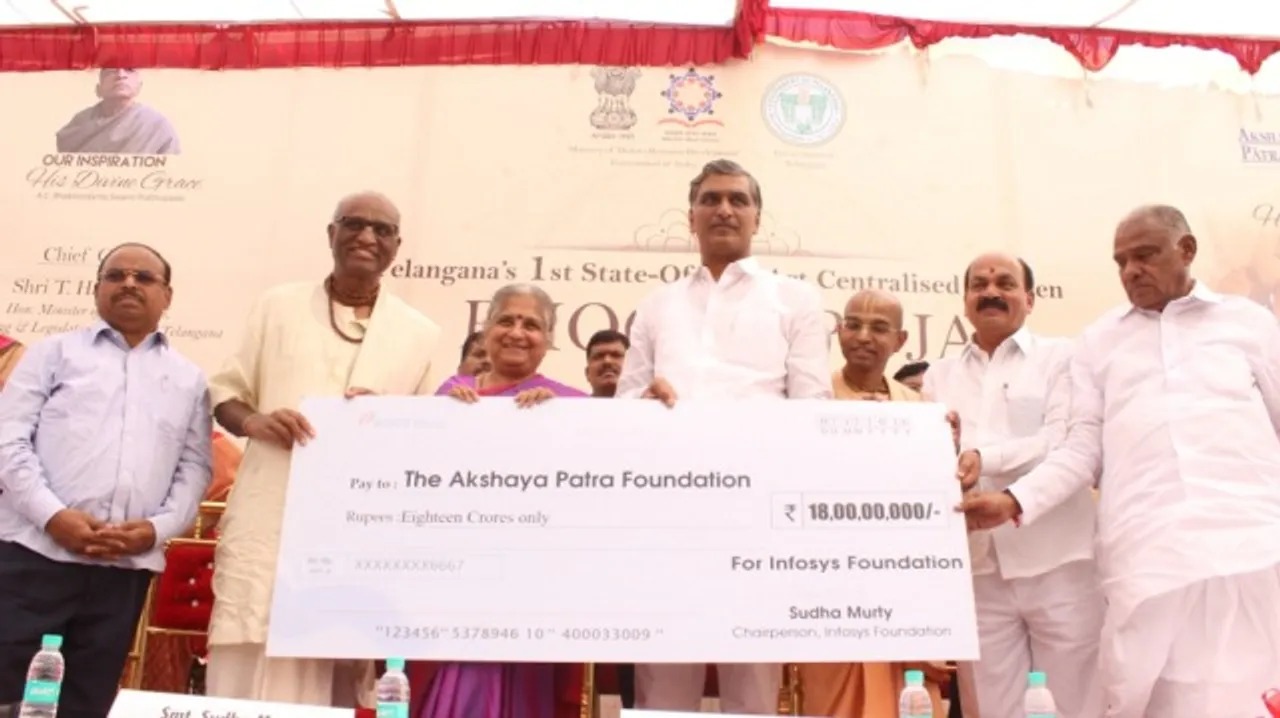 Hyderabad (December 7, 2016): Infosys Foundation, the philanthropic arm of Infosys has announced that it has partnered with Akshaya Patra Foundation for the construction of a kitchen at Kandi area near Hyderabad to provide mid-day meals for government school children.
As part of its partnership, the Foundation will offer a grant of INR 18 Crore towards the construction of an advanced technology kitchen. The kitchen will provide mid-day meals to a daily estimate of 1 lakh government school children in the surrounding areas and will also cater to the needy Anganwadi children. Known as the 'Akshaya Patra Foundation Kitchen Sponsored by Infosys Foundation', the kitchen will possess state-of-the-art technology and infrastructure.
By combining good management with the application of innovative technology and smart engineering, Infosys Foundation and Akshaya Patra aim to enhance the food safety and hygiene factors of the kitchen. At this to-be constructed kitchen, the target is to reduce the footprint and cost of construction up to 20 per cent while ensuring a clean, dust-free environment via air-lock mechanism and to save water by almost 75 per cent with the help of rice washing machines.
Speaking about the initiative, Mrs. Sudha Murty, Chairperson - Infosys Foundation said, "We are extremely fortunate to be associated with Akshaya Patra's mid-day meal scheme which is, without any doubt, a pioneering move to eradicate hunger among school going children in India. The positive impact of the scheme motivates us to enter into new phases with Akshaya Patra and continue our work towards freeing the society from classroom hunger and promoting universal access to education."
"We thank the Government of Telangana for giving us the opportunity to bring in this biggest social investment to Telangana. This will bring a meaningful change in the lives of school children.  We are honored to partner with The Infosys Foundation to build this mega kitchen. We look forward to advance the vision of Bangaru Telangana by providing mid-day meals to all the Government school children across the districts in the state. I also thank all the dignitaries whose unwavering support has been pivotal to The Foundation's success," said Shri Satya Gaura Chandra Dasa, President, The Akshaya Patra Foundation, Telangana & Andhra Pradesh.