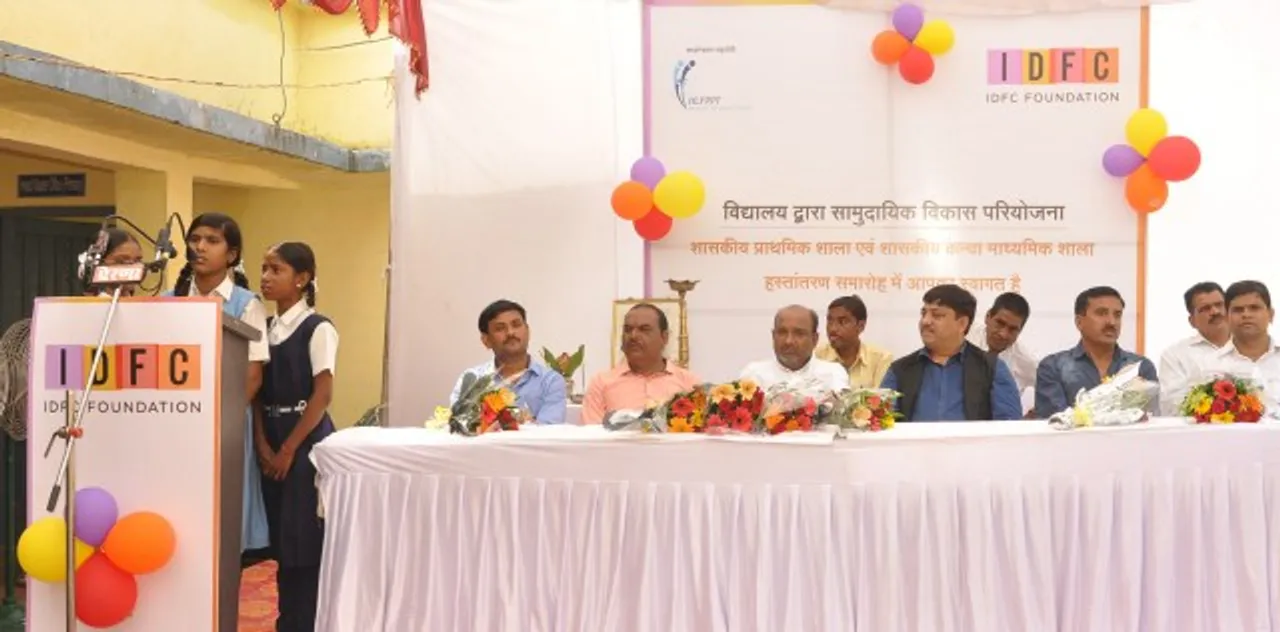 Bhopal/Hoshangabad: (September 19, 2016): IDFC Foundation announced the successful completion of the Sangakheda Kalan village school improvement project in Hoshangabad district, Madhya Pradesh. Sangakheda Kalan has been identified as an 'Adarsh Gram' or Model village, under the Centre's Sansad Adarsh Gram Yojana, a rural development programme aimed at improving the socio-economic and physical infrastructure of villages across India. IDFC Foundation has joined forces with Hindustan Latex Family Planning Promotion Trust (HLFPPT), to execute the school improvement project.
The Sangakheda Kalan school now wears a fresh new look with significantly better facilities, including Water, Sanitation and Hygiene (WASH) practices, and round-the-clock Electricity. The project is expected to benefit 500 children a year, 10 serving teachers and workers. Conservation practices such as water harvesting and renewable energy have been introduced. A herbal garden has been set up, as part of the anaemia awareness nutrition promotion among Angan Wadi Centre beneficiaries and adolescent girl students.
Elaborating on the project, Animesh Kumar, CEO, IDFC Foundation, said, "Education is a key element in transforming lives, especially in the interiors of Bharat. A school renovation project, as demonstrated in Sangakheda Kalan, has several dimensions. Aside from its powerful impact on the socio-economic development of a place, it makes school life memorable for children."
"We are pleased to be given an opportunity to contribute to the government's efforts in making Sangakheda a model village. We congratulate the teams from IDFC Bank, HLFPPT and local authorities for seeing this project through to completion, despite the challenges posed by heavy rains and floods. The project has enabled us to grow closer to the local community, understand their needs, and explore new ways to serve them."
IDFC Foundation, set up in 2011, is a wholly owned subsidiary of IDFC Limited and an implementing partner of the IDFC Group, to carry out the CSR activities in the areas of health, education & livelihood. The Bank's employees are closely involved in implementing the Foundation's projects at locations where the intervention is in the vicinity of its branches.
Sangakheda Kalan is a large village with a total of 1,108 households and population of 5,720, of which 3,031 are male and 2,689 are female. The 0-6 age group population is 918. As an effort to bring about behavioural changes, IDFC Foundation has also conducted community meetings. Participation of the local populace and students was sought in activities such as planting of saplings. Wall paintings within and outside the school have also been used for communication.
In the future, IDFC Foundation plans to enhance learning facilities by setting up a library for students and installing wall paintings.