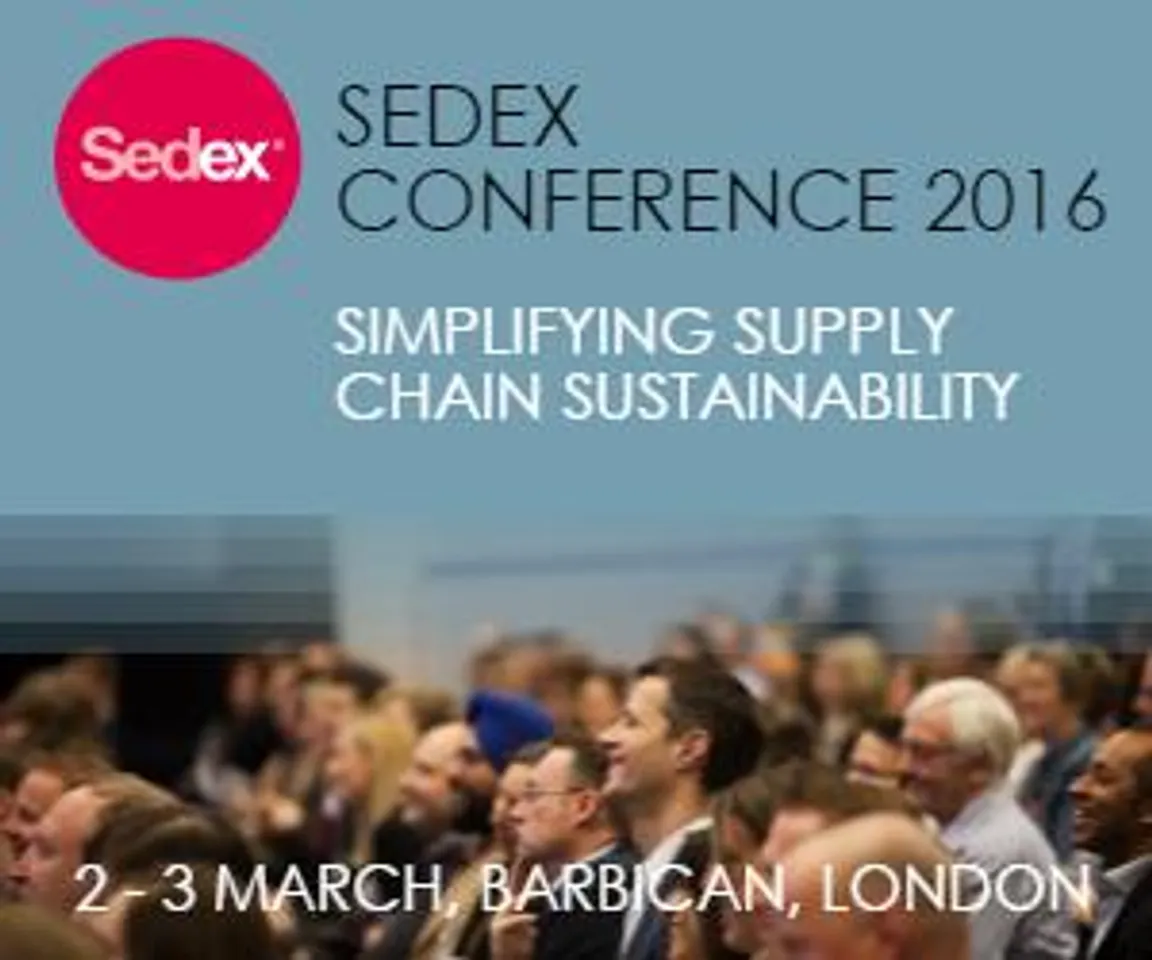 Here's a little one-question one-answer quiz.
Question: 
What's the second best thing you can do to mitigate supply chain risk in 2016? 
Answer: (please select one)
a) Attend the Sedex 2016 conference
b) Attend the Sedex 2016 conference
c) Attend the Sedex 2016 conference
d) Attend the Sedex 2016 conference
I grew up in the supply chain. In my formative years as a young manager with Procter and Gamble, I was responsible for logistics in Scotland and Northern Ireland in my very first management role, and then, over eight years until I decided to move on to pastures new, I took on successively diverse and challenging roles across different aspects of the supply chain in Europe including purchasing, customer service, distribution center management and more. And today, working with clients on strategy and reporting, I always feel at home discussing the opportunities (and risks) relating to ethical and sustainable supply. In that context, Sedex often crops up as one of the most influential players in the field of sustainable sourcing and responsible supply chain practice. I am looking forward to attending the 2016 conference, not only because I'll have the chance to speak (you all know how I love to talk), but mainly because I have the feeling that I am going to learn
a lot.
Sedex
is a not for profit membership organisation dedicated to driving improvements in ethical and responsible business practices in global supply chains. As the largest collaborative platform for sharing ethical supply chain data, Sedex is an innovative and effective supply chain management solution, helping companies to reduce risk, protect their reputation and improve supply chain practices.
I could write reams about the vital importance of ethical supply chain management and the increasing risk as businesses become more global in scope and more complex in scale. It's also a gobbler-upper of resources. Monitoring, audits, training, communications, evaluations, assessments in a context of increasingly strict regulatory requirements means that both customers and suppliers must invest significant resources to stay not only cost-effective but also low-risk. At the same time, the supply chain, if you treat it right, can be a fabulous source of innovation and creativity, enabling business expansion and growth. And of course, no
Sustainability Report
is complete without critical supply chain disclosures. It seems that Sedex is in the right place at the right time. And by attending the Sedex 2016 Conference (
#Sedex16
), you will be too!
Check out the agenda here
.
I posed a few questions to the Sedex CEO, Jonathan Ivelaw-Chapman,about supply chain sustainability and the conference. Check out his insights:
What's the most important aspect of your role at Sedex? What's most challenging and what's most satisfying? 
Jonathan: Since joining Sedex, what has struck me is our people and the passion they bring to the organisation. For me, it's our values and our people that are the most important aspect at Sedex. The most satisfying part of what I am doing is seeing our employees engage in future-thinking in fresh and innovative ways. They are all here because they care and are passionate, and the talent and energy we have seems endless. This is wonderful to observe and participate in.
Coming from the technology industry, where for nearly 30 years, hype, language and behaviors were all about self-justification and increased investment, I now sense an exit to the "hype" that we have all experienced. I want to help avoid any similarities to the IT industry, by bringing clarity and affordability into the sustainability industry. The challenge for Sedex is to help our industry and membership navigate in an increasingly complex sustainability world. We will do this by simplifying our language, facilitating opportunities to work collaboratively, and giving our members an industry roadmap, with a vision of the way responsible sourcing can work.
The Sedex Conference 2016 theme runs under the banner of simplification. Everyone seems to talk about the sustainability landscape becoming increasingly complex! How realistic is simplification? Jonathan: The business and sustainability landscape is rapidly changing. From natural resource scarcity to human rights, child labour to an evolving regulatory landscape, our industry is facing a range of challenges. With all these new topics coming up, sustainability is becoming a complicated space with new initiatives, frameworks, certifications, and schemes, creating silos in industries, countries, topic areas themselves.
Sedex is already looking at simplifying supply chains and recognising the interconnectivities between different issues such as bribery and health and safety and whether there could be more effective ways for companies and their suppliers to manage these issues as one as opposed to treating them in silos.
There is no need to re-invent the wheel but rather try to scale up – pick what's relevant to you and collaborate with other stakeholders. We might not have all the right answers just yet, but we are getting there. The conference will provide a great forum to discuss and address the challenges and hear from the industry leaders on how they are going about simplifying the challenging issues and approach to tackling them.
What's going to be different about the SEDEX Conference 2016? What highlights should we look out for? 
Jonathan: This will be our largest conference so far, bringing together around 1,000 leaders in responsible sourcing for two days of discussions. The conference will be live-streamed and for the first time, we will also have live interviews with conference speakers straight from the conference hall. The conference agenda will cover the most relevant topics for supply chain sustainability – from modern slavery legislation, how organisations can quantify, value, and improve their impact on society, to best practice in agricultural sustainability measurement and reporting tools and resources and much more.
We have an
exciting line up of speakers
– from multinational companies such as Kellogg and Mars, to organisations such as International Trade Centre and Thomson Reuters across plenary sessions, master-classes, workshops and spotlight talks.
For the first time ever we will also host the
VIP Networking Dinner
event at the Barbican's tropical plant conservatory in the heart of the City of London. Our conference delegates often ask for more opportunities to network and this dinner, designed for just 150 guests, will provide an exclusive opportunity to connect with industry experts and discuss hot sustainability topics. We are delighted to have
John Morrison, Executive Director of the Institute for Human Rights and Business
, speaking during the dinner. As a well-known and influential voice on business and human rights, and a highly engaging and knowledgeable speaker, John's speech will be a real highlight of the evening.
***********
And now another little one-question one-answer quiz:
Question: 
What's the first best thing you can do to mitigate supply chain risk in 2016? 
Answer: (please select one)
a) Attend the Sedex 2016 conference
b) Attend the Sedex 2016 conference
c) Attend the Sedex 2016 conference
d) Attend the Sedex 2016 conference
Look forward to seeing you there!
Elaine Cohen is a CSR consultant, Sustainability Reporter, HR Professional an Ice Cream Addict! Author of Understanding G4: the Concise guide to Next Generation Sustainability Reporting AND Sustainability Reporting for SMEs: Competitive Advantage Through Transparency AND CSR for HR: A necessary Partnership for Advancing Responsible Business Practices. You can follow her on Twitter @elainecohen