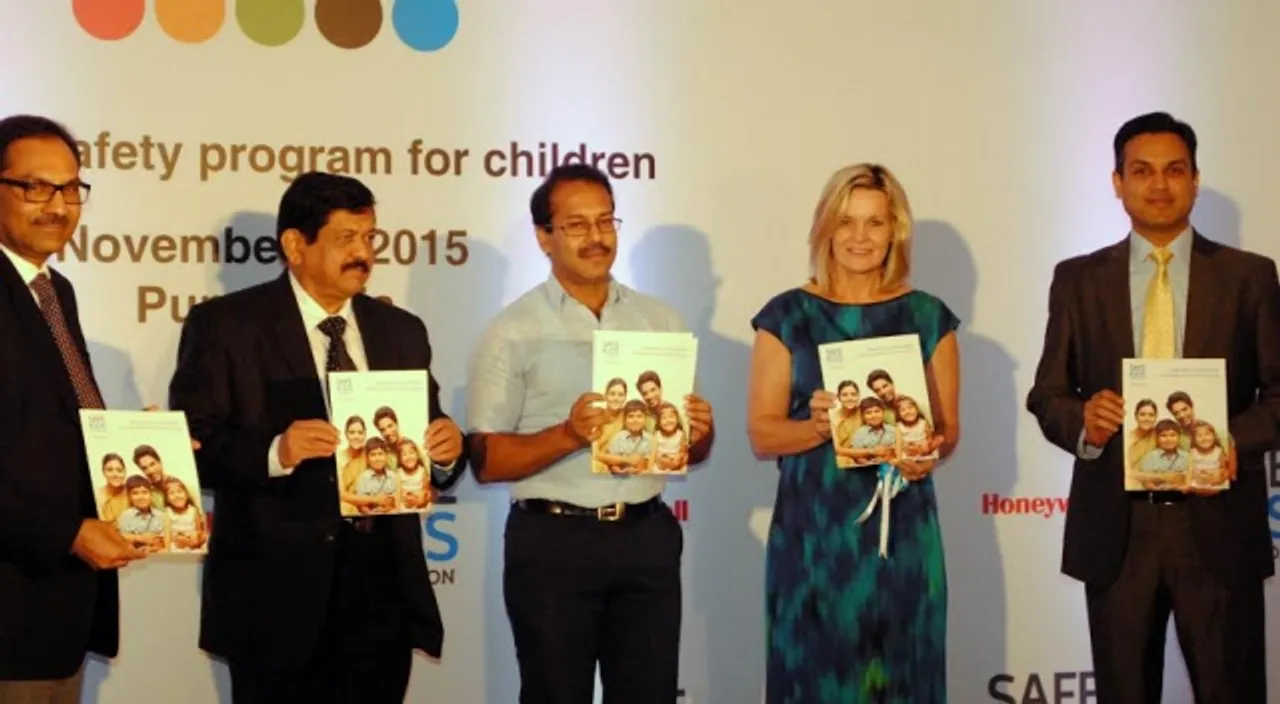 Safe Kids Foundation India (SKFI), Safe Kids Worldwide (SKW), and Honeywell India (NYSE: HON) recently announced the launch of Safe Kids at Home, a home safety program to help prevent and reduce burns and scalds among children under 14 years old. Funded by a Honeywell India grant to Safe Kids Foundation India, the Safe Kids at Home program will educate 325,000 students and 175,000 parents from 2015-2017, and aspire to bring together citizens and civic bodies who can lead the way in making Pune a model "Safe Kids at Home" city.
Safe Kids Foundation India worked with IMRB International to conduct a first-of-its-kind city-wide assessment of the incidence and severity of preventable injuries among children at home, to create this research-based and locally-relevant program. The research report was released by M.V. Deshmukh, Fire Advisor to the Government of Maharastra, in the presence of the city's stakeholders representing schools, law enforcement agencies, first responders, non-governmental organizations (NGOs) and prominent citizens.
The research revealed that burns from fire and scalds from hot liquids rank second among hazards in frequency, and first in severity of injury. In 2014, in Pune alone, approximately 76,000 Pune children under the age of 14 suffered burn and scald injuries. Of these, about 3,000, or an average of eight kids a day, suffered third-degree burns, the worst type of burn causing the most damage.
"Healthcare, education, law enforcement and fire safety agencies, families and the community are bringing a collective and focused effort and investment to the well-being of children by putting in place the means for reducing debilitating injury or death," said Anant Maheshwari, President, Honeywell India. "Safe Kids at Home will fill a major child safety need by providing easy-to-use tools for teachers and parents. Honeywell is proud to partner with Safe Kids Foundation India to create a program that builds a safe environment for our children."
The Safe Kids at Home program focuses on child safety as the catalyst for driving a culture of safety by teaching families and children and encouraging them to become safety ambassadors.
"Thanks to the grant from Honeywell India, we will be reaching families with vital information to protect children from the ravages of burns." said Kate Carr, President & CEO, Safe Kids Worldwide. With Safe Kids Foundation India as local implementation partner, Safe Kids Worldwide has been instrumental in bringing a global vision and experience in creating research-based educational programs that engage children in creative ways to help prevent unintentional injuries and deaths among them.
Some key findings of the IMRB survey:
49% children resorted to self-medication for burn injuries.
Fire safety training is part of the curriculum in only 20% of schools, and 69% of training is theoretical, pointing to the need for increased experiential teaching.
27% parents do not educate children about fire risks.
Usage (5%), and knowledge (2%) of firefighting equipment are dismally low.
Safe Kids Foundation India has developed age-specific educational resources and tools for children in grades 3 to 8 including free classroom lessons plans, printable materials for families and a safety checklist for children. Materials will be deployed across the city's government and private schools in collaboration with parents, teachers, various government departments, NGOs, and the community.
The Safe Kids at Home free educational resources and tools are available for download. For more information, follow Safe Kids Foundation India on Facebook and Twitter.