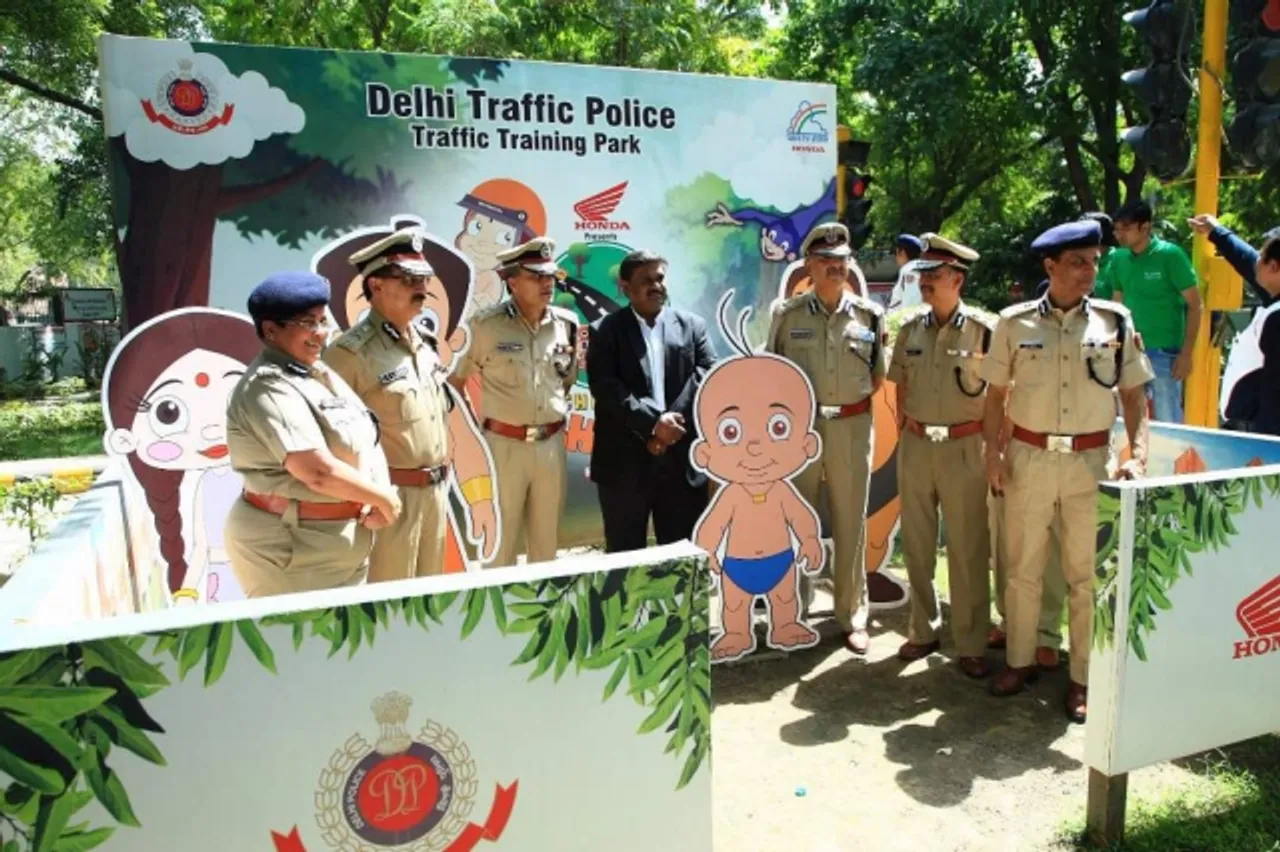 New Delhi (May 15 2017): Honda Motorcycle & Scooter India Pvt. Ltd. in association with Delhi Traffic Police inaugurated the third edition of Road Safety Summer Camp 2017 in Delhi recently. The Summer Camp aimed at engaging and imparting intricacies of road-safety in a fun way was organized for young school children.
The inaugural ceremony of the road safety summer camp witnessed participation of more than 200 children at Honda's Traffic Training Park at Baba Kharak Singh Marg. The Summer Camp was inaugurated by Amulya Kumar Patnaik - Commissioner of Police, Delhi and P. Rajagopi - General Manager, Honda Motorcycle & Scooter India Pvt Ltd in the presence of eminent dignitaries and senior officials.
The Road Safety Summer Camp will continue till 9 June 2017.
Elaborating on this occasion, Yadvinder Singh Guleria, Senior Vice President, Sales & Marketing, Honda Motorcycle and Scooter India Pvt. Ltd. said, "This summer, once again Honda in association with Delhi Traffic Police is organizing the Road Safety Summer Camp in Delhi. 'Safety with fun' being our priority, children will have an opportunity to learn through new exciting educational games on Road Safety Awareness. Attending this camp shall make these kids, safety influencers in their families today and responsible adult road users of tomorrow."
Honda's Road Safety Camp will have a variety of theoretical and practical experiences for kids. The specially designed fun engagements like Road Safety Puzzle, Cross Word, Match the Following, Spin the Wheel and Jig Saw Puzzle will make the younger ones aware on basics of road safety. It will also have a special selfie zone exclusively designed for Helmet Awareness and a group photo zone.
High school students will be trained on Honda 3D Riding Trainer (a virtual riding simulator which helps people above 13 years of age to experience over 100 possible dangers on road before actual riding. Kids in the age group of 9-12 years will be trained on Honda's CRF 50 model, specially imported from Japan to help them understand the importance of safety riding. The road safety zone at the traffic park will have Cycling Activity, Primary Activity and CRF 50 Activity. At the end of the camp, students will also be awarded with a certificate of completion.
For Honda, road safety is a global priority since 1970 as part of its CSR. In India, Honda 2Wheelers is promoting road safety awareness right from its inception in 2001. Since then, the company has educated over 11 lakh people of all age groups on safe riding. Leading the road safety cause from the front, Honda 2Wheelers is the first two-wheeler brand in India to adopt 11 traffic training parks across India in Chandigarh, Ludhiana, Jaipur, Delhi*2, Bhubaneswar, Cuttack, Yeola (Nashik), Hyderabad, Indore and Coimbatore.