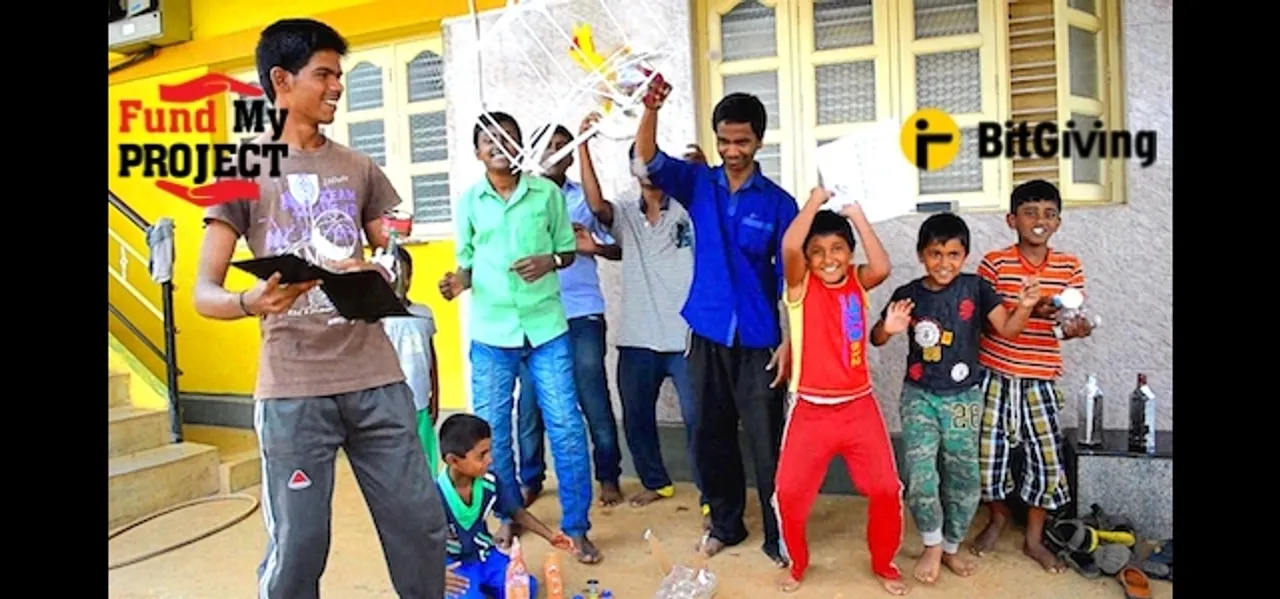 Here's how your generous donation can help fund an extraordinary, alternative school that is working to prove that there is indeed a solution to the shortage of teachers in the world.
This cause is featured on Fund My Project as part of CSRlive.in's collaboration with BitGiving.com
Project by: Project DEFY (Design Education for Yourself)
Location: Karnataka
Category: Philanthropy
Funding Required: INR 5 Lacs
And here's the pitch for funding from the folks at Project DEFY:
We are Project DEFY and we built a school! This is no ordinary school. It has no teachers. It all started nearly two years ago in a small village in Karnataka, India called Banjarapalya, on the outskirts of Bengaluru - an experiment following the example of Sugata Mitra's Hole in the wall, allowing rural children with no prior exposure to technology access computers and the internet. Without instruction, children could figure out how to play games within a few hours. But we did not stop there. Education should be just as interesting and fun as playing games, if not more. In a year, we created an alternative school with the community of Banjarapalya, where games were no longer the preferred activity.
We learnt how to use the internet and to work together; how to identify our problems and to look for solutions; to appreciate one other and to learn together. And that was all that was needed. People of all ages have used our space to learn everything from arts to science, from food to farming, from music and dance to technology. And each time without a trainer or a teacher, but simply out of ever-growing interest.
We call this space 'The Banjarapalya Makerspace'. Here are some of the projects from Banjarapalya. We call our venture Project DEFY or Design Education For Yourself. DEFY itself means to "challenge the status quo". Project DEFY wants to show the world that there is a solution to the shortage of teachers in the world. This alternative to traditional schooling does not need a large sum of money. What you do need is encouragement, which needs the right environment and the right people giving it. This is just the beginning. Many communities want to build the school we have designed in their own area and we're hoping to help them make that a reality!
In recognition of our efforts in the field of education, Project DEFY won the Global Junior Challenge, an international award, from among 1600 other educational programs. We want to grow and need your help in taking our model of "schools without teachers" to the world.
We have planned quite a few projects for the coming year:
Developing a training program for our Makerspace community managers.
Moving our existing space nearby to the more accessible village of Kaggalipura.
New space in coastal Karnataka at a farm.
Adding our space in an Information and Communications Technology centre in North Karnataka.
New space for local artisans in Mattancherry, Kerela.
New space for a village in Nellore district, Andhra Pradesh.
We are developing a MakerTruck : A mobile truck with a full-fledged makerspace, that we take around and deploy in villages around Karnataka and one day around the world.
Exploring interest to start our schools in Ghana and Kenya.
As you can see, we have a lot of work to do. Until now, everyone on the team has been working voluntarily. In order to grow, we are developing a formal structure for Project DEFY, so that we can do our work systematically and efficiently. Many young people want to work with us but are not able to since we were unable to afford much beyond their minimum living expenses. Besides people to manage our spaces and the community forming there, we also hope to hire people to reach out to communities and ensure that we constantly engage with the area our spaces are in.
A breakdown of our expected costs are as follows:
Salaries for 5 person staff x 6 months (12000/person/month) : 60,000 INR x 6 = 360,000 INR
Accounting and legal work x 1 year = 40,000 INR
Miscellaneous: T-shirts, posters, etc. = 20,000 INR
Travel costs for conferences, meetings, etc. = 30,000 INR
Telephone, Internet charges = 20,000 INR
Stationery = 10,000 INR
Overheads and other costs = 40,000 INR
TOTAL = 500,000 INR
So, with 500,000 rupees we are good for, at least, 6 months, within which we will formally raise funds for the different projects as a non-profit. It will help us in this teething period when we have a lot of work and little money.
MAKE SURE WE DON'T STOP WORKING, CAUSE WE LOVE WHAT WE DO.
Want to Fund this Project?
Visit BitGiving.com here and support the cause.
Looking for funding?
If you have a social project that's high on innovation and impact, but running low on financial fuel, do write in to Nidhi Singh at nidhi@csrlive.in with your proposal, and we'll feature it on FUND MY PROJECT.