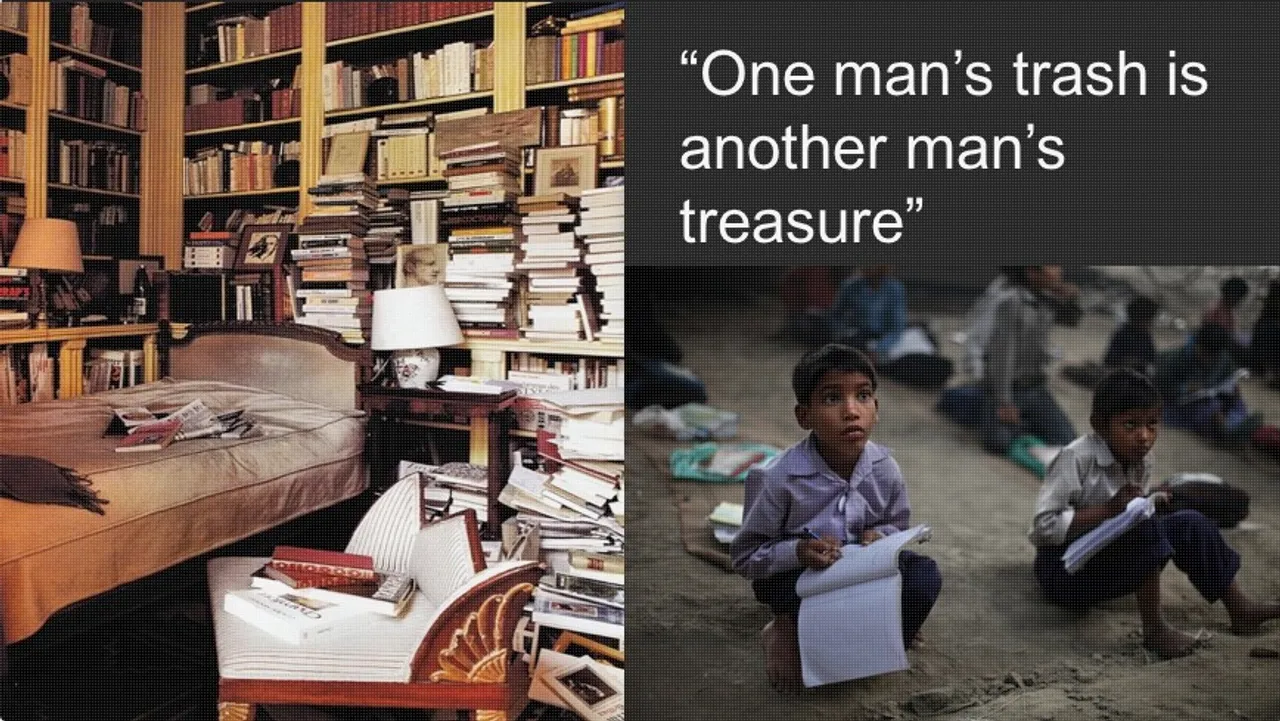 Here's how your CSR funding can help develop and launch an App that can enable a large number of children in the lower segments of society to gain access to high quality books.
This cause is featured on Fund My Project as part of
CSRlive.in
's collaboration with
BitGiving.com
Project by: Siddhartha Swarup
Funding Required:
 INR 2,00,000
Category: 
Eligible CSR activity as per Companies Act 2013, Schedule VII:
(ii) promoting education,...
Here's what Siddhartha Swarup has to say about this project:
This is my 13 year old son Abhinav's idea and proposal. Every aspect of the pitch is written and designed by him.
What is the global challenge this idea will help solve?
Millions of books are wasted each year. They are either thrown in garbage or turned into paper bags. While making them into paper bag seems like a good recycling idea, in reality they are being down-cycled (reducing the value of the books, sometimes, from as much as Rs. 1000 to less than a rupee). On the other hand, nearly 20 million children whose parent's can't afford books can't educate themselves properly. Further, a large number of children in lower segments of society do not have access to high quality books that the richer kids take for granted. The same is true for university students who try to get education on shoestring budgets.
How can this problem be solved? 
This problem can be solved by creating a simple mobile phone App. This app will allow people and/or organizations to give their books for free. And those who need the books can get them for free. NGO's can use the app for getting books from thousands of potential donors. The App will, however, be designed for all category of book readers to give, take and exchange books at zero cost. While it seems that only the people who need books will benefit from this, it actually helps the person giving the book too. Many people have books lying around in their house which they no longer need. They don't throw these books as they think they shouldn't waste them. These books just keep piling up in their houses and finally go to the 'kabadiwala'/down-cycler for almost no value (as low as Rs. 10 for 10 books or just a dollar for 60 books). This is the worst form of down-cycling of something so valuable. So giving these books on this app not only does social good, saves the environment and helps other people get better education but also solves your own problem of piling waste.
 How will the App work? 
The app would be simple to use and will have these main functions- • Registration of user- the app would take a new user to a sign page. • Geo location- the app would find the location of user by connecting to internet. • Searching- the app will be able to search for specific items through search bar or different categories. • Make an Ad- the app would allow a user to make an ad about a book he/she would like to give. • Display information- the app would display the necessary information related to search. Book donor and recipient communities In addition to these features there would also be another option/feature on the app to make a community. This would be required because different organizations and individuals can tie up through the app. These include schools, NGOs, RWAs, school and college students, book lovers and parents. By making a community on the app they can exchange books on a bigger scale. User Journeys These are the 2 user journeys for both givers and receivers. User journey on the app for givers of books is given here. All other designs are also completed.
How would the App be promoted? 
The App will be promoted through Schools, in tie up with NGOs, RWAs and through Social Media such as Facebook, Instagram and Twitter. Low cost-high impact viral communication campaigns will be created to make the app popular amongst the core user group. Online celebrities could be asked to prepare short video statement and Facebook live videos to promote the app among their fan base. NGOs and RWAs can make communities through the app through which they can donate and receive books at a larger scale. School and college students can be encouraged by their respective institutions to donate their books to other students or to poor students in need.
How will the money raised be used? 
It would cost approximately Rs. 150,000 to make the app through a third party developer and another 50,000 to promote it. It will be free to users. 
Want to Fund this Project?
Visit BitGiving.com here and support the cause.
Looking for funding?
If you have a social project that's high on innovation and impact, but running low on financial fuel, do write in to Nidhi Singh at nidhi@csrlive.in with your proposal, and we'll feature it on FUND MY PROJECT.