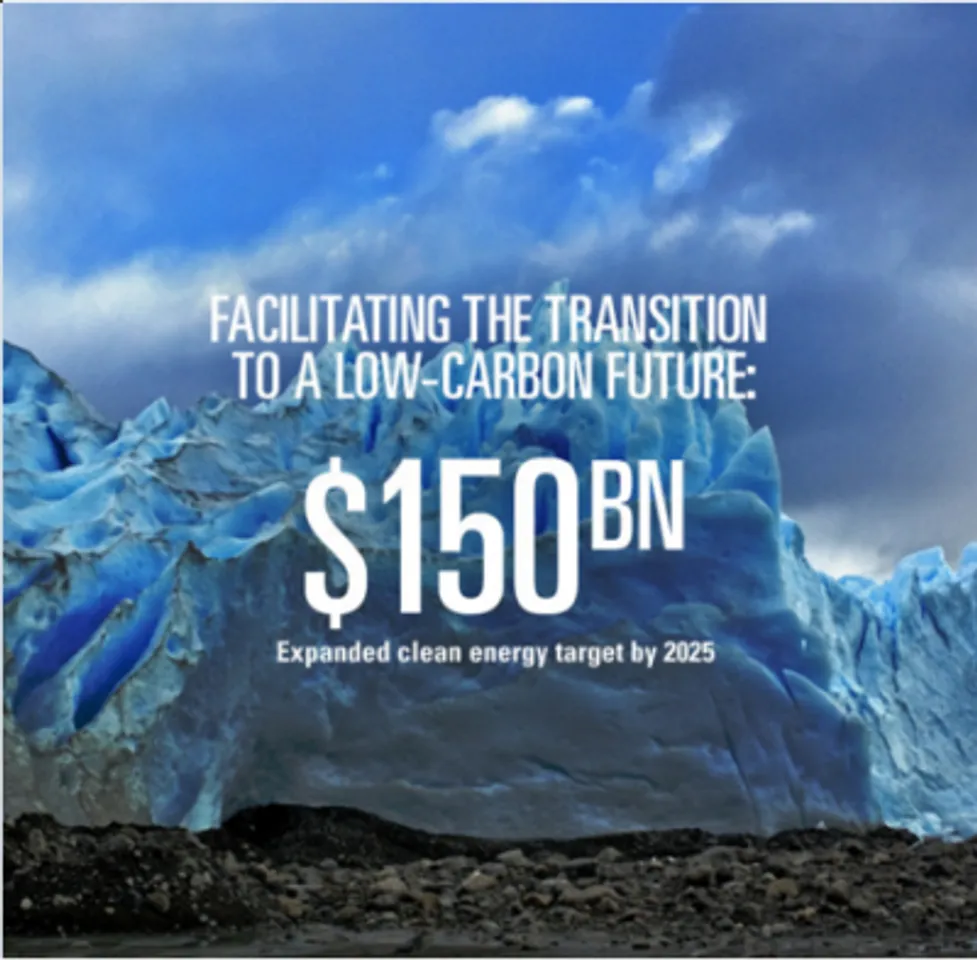 NEW YORK: The Goldman Sachs Group, Inc. (NYSE: GS) recently announced that it will expand its clean energy target to $150 billion in financings and investments by 2025 as part of its updated Environmental Policy Framework. First established in November 2005, the new framework codifies the roadmap for continued environmental progress across each of Goldman Sachs' businesses.
"Over the past 10 years, we have built on our commitment to harness market-based solutions to help support a healthy environment and address the problem of climate change. We will continue to work towards deploying innovative financial mechanisms through an expanded investor base focused on environmental opportunities," said Lloyd Blankfein, Goldman Sachs Chairman and Chief Executive Officer.
The updated Environmental Policy Framework includes expanded targets and key initiatives that will guide Goldman Sachs' ongoing contributions to a sustainable future. Some highlights include:
By 2025, Goldman Sachs will target $150 billion in clean energy financing and investments, expanding the existing $40 billion target set in 2012.
By 2015, Goldman Sachs will be the first US investment bank to be carbon neutral across its operations and business travel. By 2020, the firm will target $2 billion in green operational investments and seek to source 100 percent renewable power for its global electricity needs.
Goldman Sachs will target the deployment of clean energy solutions to underserved markets to facilitate more equitable and affordable access through the launch of a Clean Energy Access Initiative.
The Goldman Sachs Center for Environmental Markets will invest $10 million in grants through partnerships that will demonstrate the potential of innovative financial mechanisms to unlock capital for environmental solutions.
The framework also includes initiatives to facilitate capital for water, climate risk solutions and other environmental opportunities, and to develop innovative applications for green bonds, as well as our approach to environmental and social risk management. In addition, Goldman Sachs Asset Management will expand its Environmental, Social and Governance (ESG) and impact investing capabilities.
"Environmental issues have become increasingly relevant to our clients and our investors, and have become core to our business,"said Kyung-Ah Park, Head of Goldman Sachs Environmental Markets. "We are leveraging the talents of our people and the breadth of our businesses to facilitate the transition to a low-carbon future and promote sustainable economic growth."
Since 2006, Goldman Sachs has invested and financed $65 billion in clean energy around the world, structured over $14 billion in weather-related catastrophe bonds and invested $3.3 billion in green operational investments with over 50% of its global office portfolio now green building certified. Goldman Sachs has been at the forefront of innovative green finance, including the first rated solar securitization, the first U.S. YieldCo listing, the first century green bond and the first green market securitization.
The updated Environmental Policy Framework and related content, including the 10-year milestones, are available on the Environmental Stewardship section of the Goldman Sachs website.
The Goldman Sachs Group, Inc. is a leading global investment banking, securities and investment management firm that provides a wide range of financial services to a substantial and diversified client base that includes corporations, financial institutions, governments and high-net-worth individuals. Founded in 1869, the firm is headquartered in New York and maintains offices in all major financial centers around the world.
Re-published from MySocialGoodNews.com as part of CSRlive's collaboration with Your Mark On The World