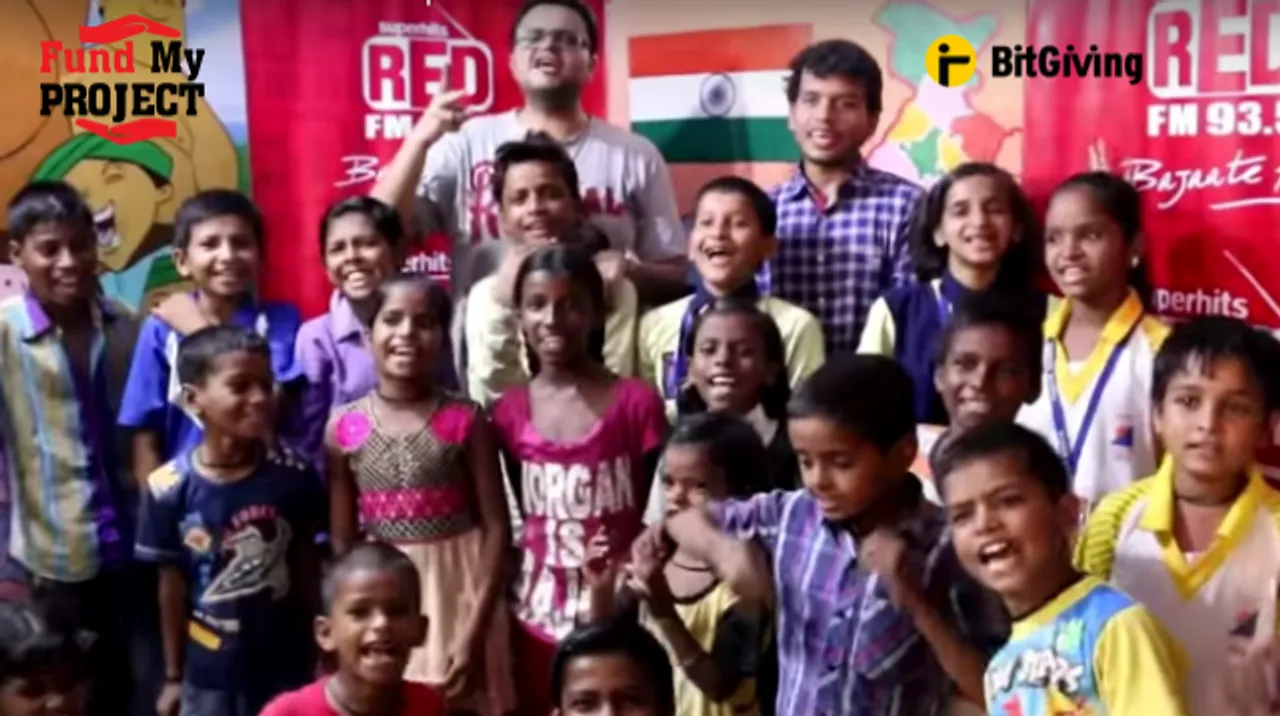 Here's how your CSR Funding can help these children living under a flyover in Mumbai city reach from #StreetToSchool
This cause is featured on Fund My Project as part of CSRlive.in's collaboration with BitGiving.com
Project by: Prince Kumar
Location: Mumbai
Funding Required: INR 59.3 Lacs
Here's what "Mumbai Ka Asali Hero" Prince Kumar has to say about his Project:
These children live under the flyover, and their innocent eyes are filled with a yearning to learn. These children have big dreams, and I am giving them the wings to fly.
I am a 22-year-old chartered accountant and student of Thakur College of Science & Commerce. I was awarded as "Mumbai Ke Asali Hero" by Red FM recently. I have been taking care of the street kids of Kandivali (Mumbai) and funding the education of one 73 street kids since last 5 years. Along with their academic needs, I am taking care of their books, uniform, food, medical, transportation, etc.
This campaign is to fund their education, books and uniform at Thakur Shyamnarayan High School located at Thakur Village, in the middle of Kandivali. It is my dream to take them from #StreetToSchool.
Most of the kids belong to the streets and their parents stay on the street itself. I saw these kids for the first time in 2011 playing on National Highway 8, and there was something in them which didn't let me move from there. It was that very moment that I decided that I will do every possible thing to remove these kids from this place. I spoke with their parents that very same day, and told them I wanted to teach these kids.
These children often begged on streets and in temples. I decided that will bring that change needed in these kids, and make my kids an important part of the society in which they have been neglected for so long. 
I spent the first 6 months under the flyover, and near the temple in making the children understand the importance of studies and how a good education can change their life. As I myself was a 17 year old student then, it was a difficult task to make them understand how an education will help them. I did not give up with my efforts, and after 3 continuous years, still no school was ready to take these children in. I finally spoke with Thakur Shyamnarayan High School which is the part of Thakur Educational Group where I was also a student. In the academic year 2014-15, these children were given admission, and I knew that this is going to change their lives.
Since this is a private school, I used my own income and savings to make sure that the kids got admission, and got support from a few others as well. Today, I have 73 kids and many more kids are coming forward for the admission but we don't have the funds for admission. Their future is now in your hands.
My kids are in need of your help otherwise they will have to sit under the flyover again. They have big dreams, and their success is my success as well. We need a total of Rs. 59,33,000 to cover for 100 children's annual expenses. However, the basic need is to get these children admission into school. For that, we need Rs. 26,73,000.
The detailed break up for the funding required is as follows:
Fees :- Rs, 18,72,450 (@Rs. 25,650 per child, for 73 children)  New Admission :- Rs. 8,00,550 (@Rs. 29,650 per child, for 27 children) Total Fees :- Rs. 26,73,000
Annul Fees Break-Up is as follows Term Fees :- Rs.950 * 2 = 1,900/- School Fees :- Rs.950 * 12 = 11,400/- Computer Charges :- Rs.2,050/- Language Lab Audio Vis Charges :- Rs.1,950/- Science Lab/Project :- Rs.1,100/- Co-Curriural Activities :- Rs.1,950/- Exams Charges :- Rs.1,550/- Worksheet Charges :- Rs.1,650/- Calendar :- Rs.450/- Power Yoga :- Rs.1,650/- Total :- Rs.25,650/- New Admission Charges :- Rs.3600/-
(New students will be admitted if we are able to raise the funds for our the school fees all other expenses)
Meal (School Lunch Box) :- 5,00,000/- (Approx) Snacks (Milk+Some Snacks) :- 4,00,000/- (Approx) Stationery :- Rs. 3,00,000 (@Rs.3000 per child, for 100 children) Uniforms :- Rs. 4,00,000 (@Rs.4000 per child, for 100 children) Travelling Expenses :- Rs. 1,60,000/- Medical Expenses :- 1,00,000 (Assumption) School Bus :- 14,00,000/- (26 Sitter CNG Force Traveller) 
Total Funds Required :- 59,33,000/-
Want to Fund this Project?
Visit BitGiving.com here and support the cause.
Looking for funding?
If you have a social project that's high on innovation and impact, but running low on financial fuel, do write in to Nidhi Singh at nidhi@csrlive.in with your proposal, and we'll feature it on FUND MY PROJECT.