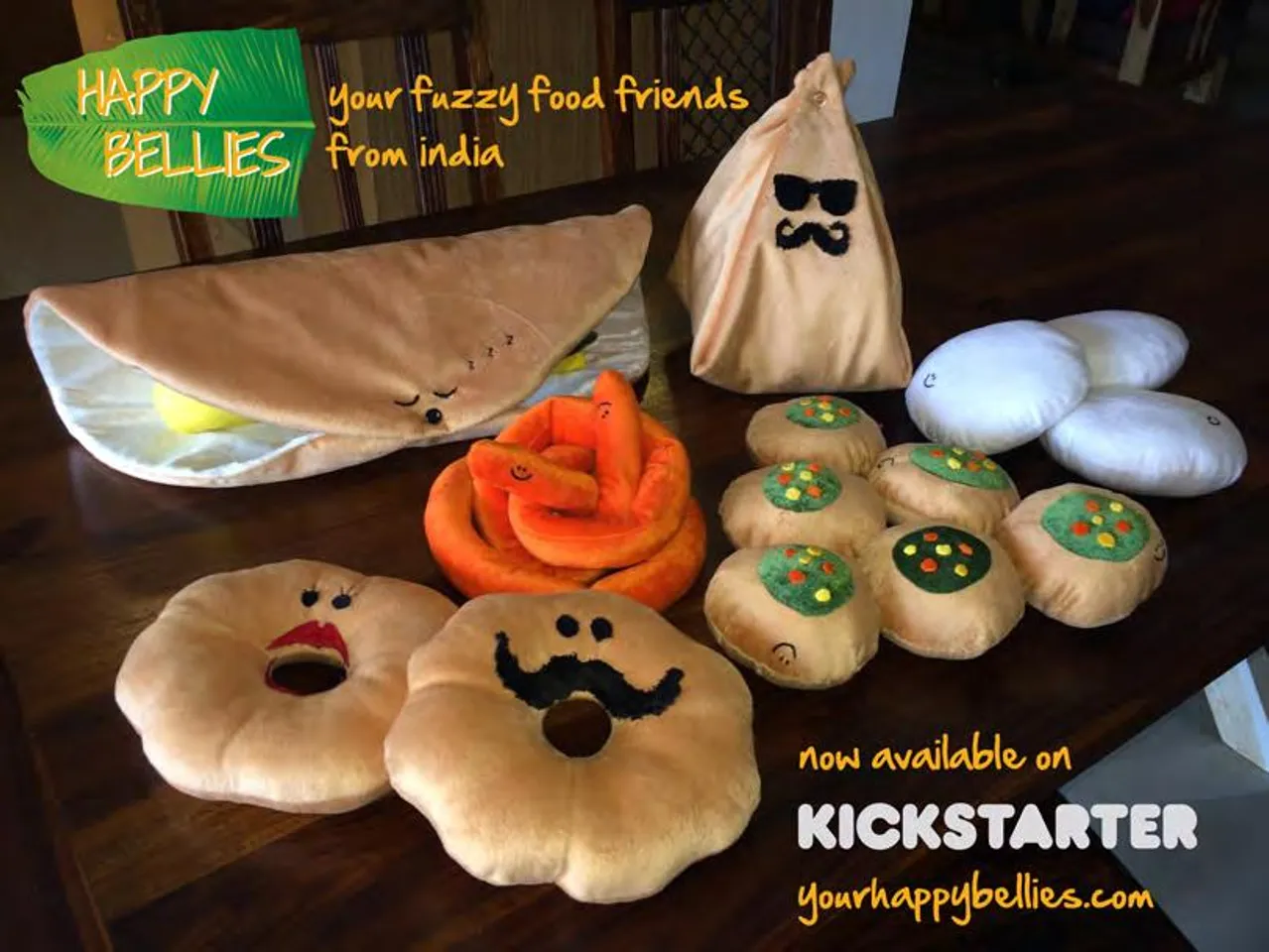 Have you ever eaten Indian foods and thought to yourself, "Wow, wouldn't this samosa would look great as a pillow?" This was the thought that crossed the minds of the creators of Happy Bellies, a new, creative line of stuffed toys shaped like Indian foods. The Happy Bellies are launching as a Kick-starter campaign on Monday, October 5.
Each Happy Bellies stuffed toy is based on a different Indian food, and it comes complete with a character card that explains the Happy Belly's personality and history. For example, the samosa is an internationally renowned Indian superstar. Each Happy Belly also comes with information about the food that is is based on, including the food's geographical origin and cooking ingredients and process.
Since India is made of different regions with many different regional foods, each Happy Belly is part of a crew. The Breakfast Club consists of the Dozing Dosa, 'Lil Idlis, and Auntie & Uncle Vada. The Street Gang consists of Superstar Samosa, Jolly Jalebi, and The Pani Puris. Additional crew, such as a Coastal Kids, may be added to the Happy Belliecs line if the Kickstarter launch is successful.
Happy Bellies are designed and sold by Essmart, a social enterprise that distrib-utes life-improving technologies in South India. They an additional (and fun!) prod-uct and revenue stream, and all proceeds are put back into Essmart, supporting both Happy Bellies and Essmart's work in rural Indian villages. Every Happy Bellies customer is therefore also supporting small businesses and homes in rural India.
The team behind Happy Bellies is based in Bangalore, India. It includes Jackie Stenson and Diana Jue, co-founders of Essmart, and product designer Avantika Agarwal. Learn more about them and each Happy Bellies character on www.yourhappybellies.com.
Re-published from GoodCrowd.Info as part of CSRlive's collaboration with Your Mark On The World