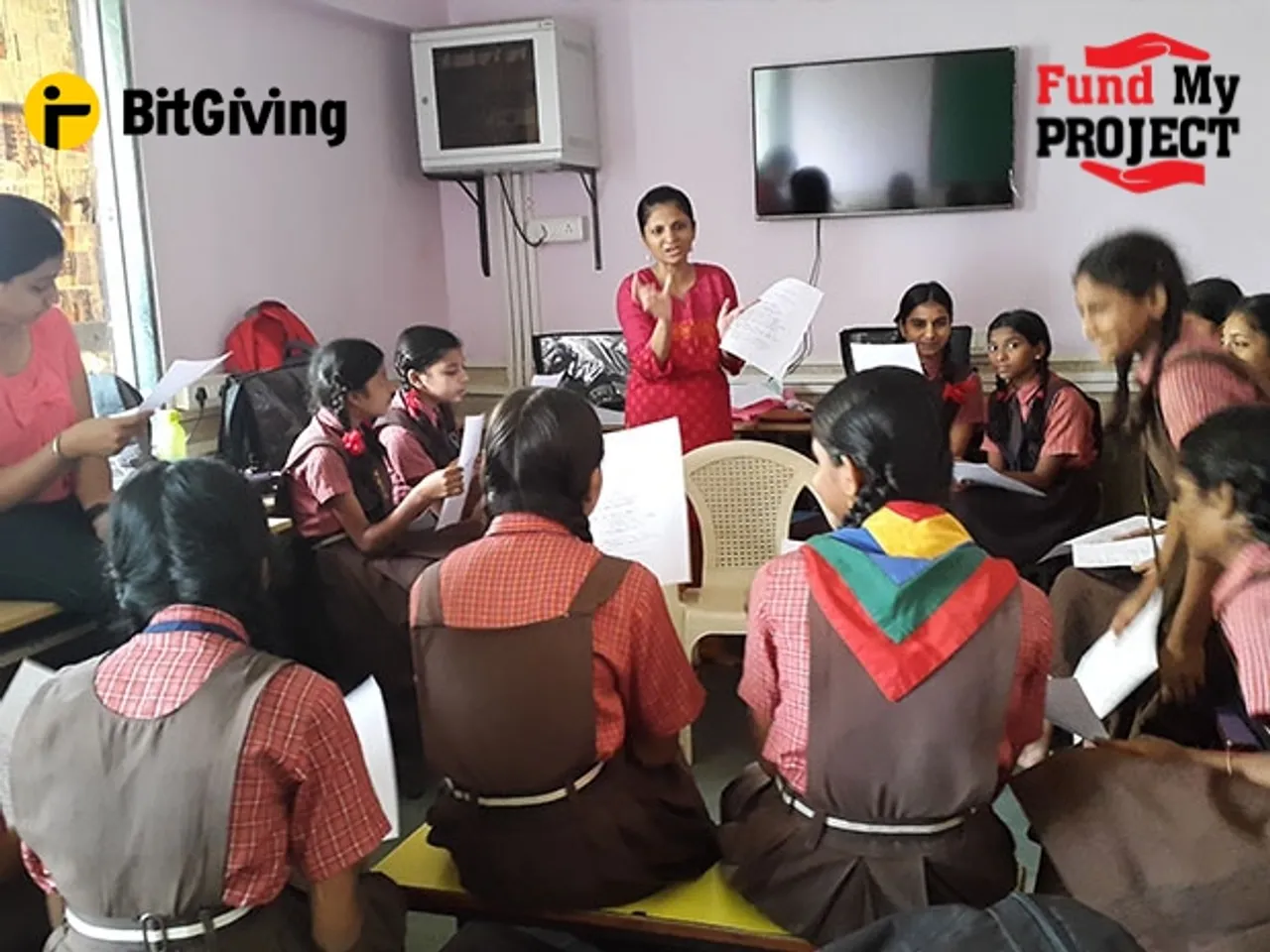 Here's how your generous donation can help prevent girls from low income groups to withdraw from school mid-way due to social and logistical root causes.
This cause is featured on Fund My Project as part of CSRlive.in's collaboration with BitGiving.com
Project by: SHAKTII GIRL'S EDUCATION TRUST
Location: Kharger, Navi Mumbai
Category:
Philanthropy
Funding Required: INR 6 Lacs
Addressing A Rampant Issue In Girls Education; The Founder's Story: In the past, child labour was a common sight. Nowadays, we see children proudly holding the mother's hand and walking to school in smart uniform. Many organisations like Avasara Leadership Fellows, Teach for India, Akansha Foundation and Naandi foundation are focused on educating the children from the low income groups. Many private schools are also involved in raising the standards of education in municipal schools. A quiet revolution is happening. However, even today, in spite of being intelligent and hard working many of the girls from low income groups are withdrawn from the school mid-way. In some cases they are married off before the age of 18. Some of them cannot even afford the school fees. They need a specific programme that supplements their scholastic activities.
It is against this background that an NGO, viz., "SHAKTII GIRL'S EDUCATION TRUST" was established by me - Mrs. Vimala Nandakumar, backed by the experience spanning four decades in the field of education as teacher, coordinator, consultant and principal in India and abroad. The Trust has made a modest beginning, in July15, by adopting a few girls of standards VIII and IX of a school in Kharghar, Navi Mumbai. Here, we conduct an after-school-programme where the girls are provided training, in addition to academics, in social and life skills that would contribute to all round development of the individual personality. During these sessions these girl students have realized that learning is fun. We also provide some financial support to the girls who show the right attitude towards the programme. SHAKTII's aim is to impart to girl students the four R's-
- Reading,
- wRiting,
- aRithmetic
- computer liteRacy
—to ensure that the girls attain academic excellence.
Challenges Faced By Students And Staff:
Some of the most important issues faced by students at SHAKTII stem from logistical and social root causes
- The biggest concern is that of safety off class premises, after school hours. Students take buses and trains home, and the safety situation on deserted roads leading to bus stops and train stations is a big concern
- Parental willingness and openness to their daughters attending non-academic classes, which in the parents' minds don't necessarily translate into academic returns. Besides, some parents are sceptical of the staff's agenda of having free classes with no commercial motivation
- Students have work overload and scheduling conflicts, which sometimes obstruct them from freely engaging with SHAKTII's classes. For instance, some girls are compelled to work along with their studies in order to supplement their meagre family incomes or to help out at home, which leads to very long school days for them. They find work as domestic helps or they are responsible for household chores in their own homes. Some students attend private tuition classes which add to their workload. Therefore, they find it strenuous to stay back after school.
Case Study - Challenge Faced By A Girl In SHAKTII: One of the girls has three siblings with two of them in the Primary school. She would attend SHAKTII classes and stay back for about one and half hours to be picked up by her mother while her mother came back to collect the  siblings from the school. This went on for 2 months without any problem. We, the mentors were happy that she is safe inside the school. But the school authorities did not seem to think so. One fine day the school authorities told her to leave as soon as the classes got over or stop attending the class. Parents were called and informed that no one will take responsibility for the girl's safety. Parents came rushing and said they will withdraw they girl as the mother cannot come specially to collect this girl. I asked them if they asked what the girl wants. No one seemed to be bothered about the girl. She was against discontinuing the class and we also wished she continued with the classes.
Finally I took the responsibility of dropping her near her house every day in my car. Now she is a regular student of SHAKTII classes. With some extra few money to my taxi driver, I have ensured that this girl also gets quality and holistic education at my centre along with the other girls.
Details of Funding Requirements:
Uptil now, the staff at SHAKTII has been actively offering their own personal resources.
1. Ms.Nandakumar has taken it upon herself to personally accompany students to their places of conveyance, over and above the time it takes her for her own commute.
2. Apart from this, changes have made to class structure and timing taking into consideration feedback from the students and parents in order to ease their logistical challenges, for instance, adjusting class length and having girls pack an extra lunch box to maintain their energy levels during the day.
The school fee is as low as Rs 200 for Marathi medium and Rs. 400 for English medium. However, even this cannot be afforded by parents of some girls. Here is a incident that happened at SHAKTII. Two girls were regular and showed extraordinary interest in the SHAKTII classes. They were selected for receiving scholarship. The mothers were invited for a small function and given the amount as  recognition for the daughters' efforts. Little did we know the impact this step would have on the mothers and their daughters. One of the girl's mother started weeping as soon as she heard that her daughter was a recipient of the scholarship. The daughter was driven to tears too seeing her mother. The mother related how difficult it was for her to do odd jobs at various places to earn Rs. 200 fees for her daughter. She said the daughter felt humiliated every time she was called and reminded about non-payment of fees at school. The school was not to be blamed as it is the fees that helps school run.
Most of us spend Rs. 200 and its multiples when we visit hotel, malls, cinemas etc and on bouquets, gifts etc. It is this same amount that can provide school education to a girl. The funds raised will be used:
1. To empower girl students from underprivileged society with holistic education, academic support, sports, social skills, soft skills and life skills.
2. —To provide vocational training for those who cannot pursue their studies beyond Std X or Std XII.
3. —To provide financial support to bright girl students to pursue higher education.
To give the contributors a better idea we have provided below our budget for FY16-17. At present, (July 2015 to April 2016) 10 girls are being mentored at SHAKTII. This budget is based on the assumption that in FY2016-17 there would be more beneficiaries.
Particulars                              Total Cost (Rs)
Honararium for Teachers           400,000
Sponsoring Education of Girls   100,000
Daily Transportation for Girls     100,000
GRAND TOTAL                         600,000
Every rupee contributed counts and would be well utilised for a girl's education so please open your hearts and help us achieve this budget. 
Want to Fund this Project?
Visit BitGiving.com here and support the cause.
Looking for funding?
If you have a social project that's high on innovation and impact, but running low on financial fuel, do write in to Nidhi Singh at nidhi@csrlive.in with your proposal, and we'll feature it on FUND MY PROJECT.