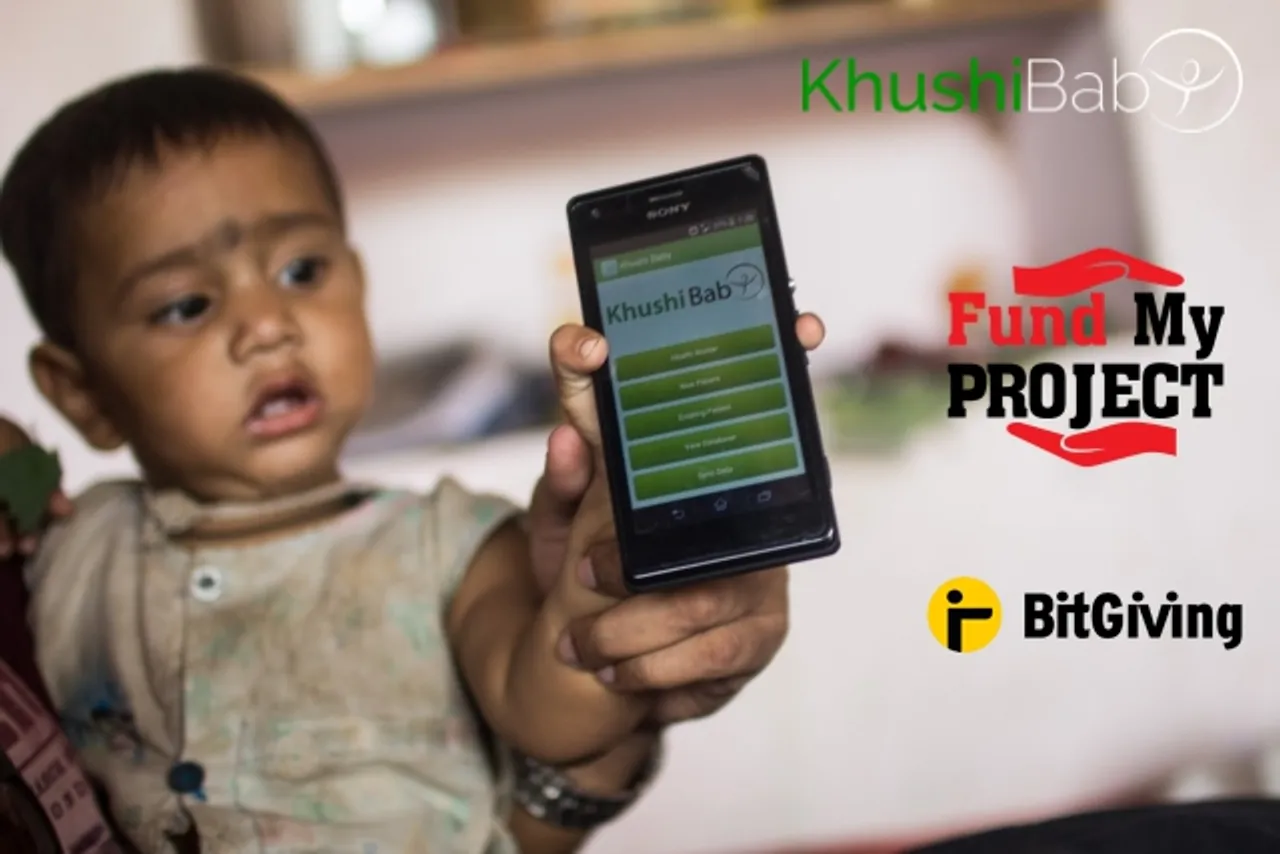 Here's how your CSR Funding can revolutionise the entire maternal and child health spectrum in rural India and create a comprehensive and secure mobile health platform.
This cause is featured on Fund My Project as part of CSRlive.in's collaboration with BitGiving.com
Project by: Khushi Baby
Funding Required: INR 15 Lacs
Here's what the folks at Khushi Baby have to say about this Project:
We're
Khushi Baby
, and we want to close the world's maternal and child health care gap at the last mile.
Two years ago, we designed a system that makes medical history wearable. Mothers and their infants get a necklace that stores a copy of their data digitally. Health workers can read and update this data at the point of care, without needing to be connected to the internet, by simply scanning the necklace. Health workers use the app to collect and act upon verifiable patient health records, and later send this data at the end of the day to health administrators who use our dashboard for decision making and community engagement.
What have we done so far?
Thanks to our first successful
2014 Kickstarter
campaign that raised $31,500, Khushi Baby rolled out a pilot project in 2015, tracking 1500 children and over 15,000 vaccination events. The project was also made possible by winning
Yale's 2014 Thorne Prize for Social Innovation
in Health, and
Johns Hopkins Future Health System's Young Research Grant
.
The preliminary results from this fieldwork were very positive. We have seen the median time decrease from one month to less than 60 hours per child, and we have good evidence showing the necklace was better retained than the paper card and more widely discussed. This means there is potential that the necklace can become a talking point within the community to increase awareness in pockets where demand for immunization may be low.
So, what now?
We've been hard at work redesigning our system from the ground up to go from collecting information on just infant vaccines to covering the entire maternal and child health spectrum, starting with pregnancy and family planning.
Khushi Baby team members Ruchit and Pawan distributing Khushi Baby necklaces in the village of Undithal
Now, we are ready to put our newly designed system to the test. 
 In order to receive further validation, we are going to implement the Khushi Baby System on a larger scale. We are moving into 300+ villages with our 2.0 system in September, this time with the District Government of Udaipur.
That means over 33,000 mothers and children will encounter the KB system by the end of 2017.
Mother and son pose after he received his Khushi Baby necklace
Over 100 health workers and health admins will use our system this fall. And this represents a step towards our larger vision as the Udaipur District follows national guidelines upheld by Districts throughout India. We aim to to create the most comprehensive and secure mobile health platform for maternal and child health not only for Rajasthan, but for the world.
But we need your help to achieve this goal.
Our current budget only guarantees 10% of the necklaces needed to reach 33,000 mothers and children. With your help, we can ensure that all mothers and children impacted by our study will receive the Khushi Baby necklace to protect against vaccine-preventable diseases. 90% of all funds will directly go to purchasing necklaces for these patients we expect to see at the camps we are working in.
No one, especially mothers and their babies, should be denied informed care based on an incomplete understanding of their medical history.
Team Khushi Baby
KB Team Members Deepa, Preethi, Farhana, Sara and Ruchit in Udaipur, India
KB Team Members Ujjwal, Zara and Pawan on a recent trip to the field
KB Tech call with Daniel, Doma, Shahnawaz, Nishant, Tanooj, Ujjwal, and Ruchit
Besides conducting a randomized controlled trial, in the past year we have also gone on to win the 2015 UNICEF Wearables for Good Challenge and participate in their inaugural incubator. Khushi Baby was additionally awarded a 250K Impact Evaluation grant from 3ie and the Bill and Melinda Gates Foundation to conduct a larger trial, recognized as one of the top 100 social enterprises of 2016 worldwide by Classy, and selected as a Pace-Setter Innovation for GAVI's INFUSE Challenge to be strategically backed for scale up.
UNICEF, ARM, and Frog Wearables for Good Challenge Incubation Program
By supporting us you will directly be providing Khushi Baby health records (digital necklaces) to tens of thousands of mothers and their babies in rural Udaipur so we can track their health to the last mile. 
For just INR 75 (just over $1) donated, one mother or baby will receive a digital necklace that will allow community health workers to reliably provide them due care based on an accurate and accessible medical history.
Thank you to those who make our work possible. 
We've been guided along the way by UNICEF Innovation, Frog, Andela, ARM, FactoryX, Cooley, PCH (collectively the UNICEF Incubator), and institutions such as: Yale's Center for Engineering Innovation and Design, Yale's School of Management, Yale's Entrepreneurial Institute, Yale School of Public Health, Indian Institute of Health Management Research Jaipur, and Johns Hopkins Future Health Systems. And we're excited to be working with more strategic partners - GAVI, Safran, Mobisoft, and the District of Udaipur - to build and refine our system to one day empower all 250,000 ANMs in India and nurses beyond our borders. And of course we are thankful for those who have supported us so far, in particular 3ie/BMGF>
Want to Fund this Project?
Visit BitGiving.com
here
 and support the cause.
Looking for funding?
If you have a social project that's high on innovation and impact, but running low on financial fuel, do write in to Nidhi Singh at nidhi@csrlive.in with your proposal, and we'll feature it on FUND MY PROJECT.