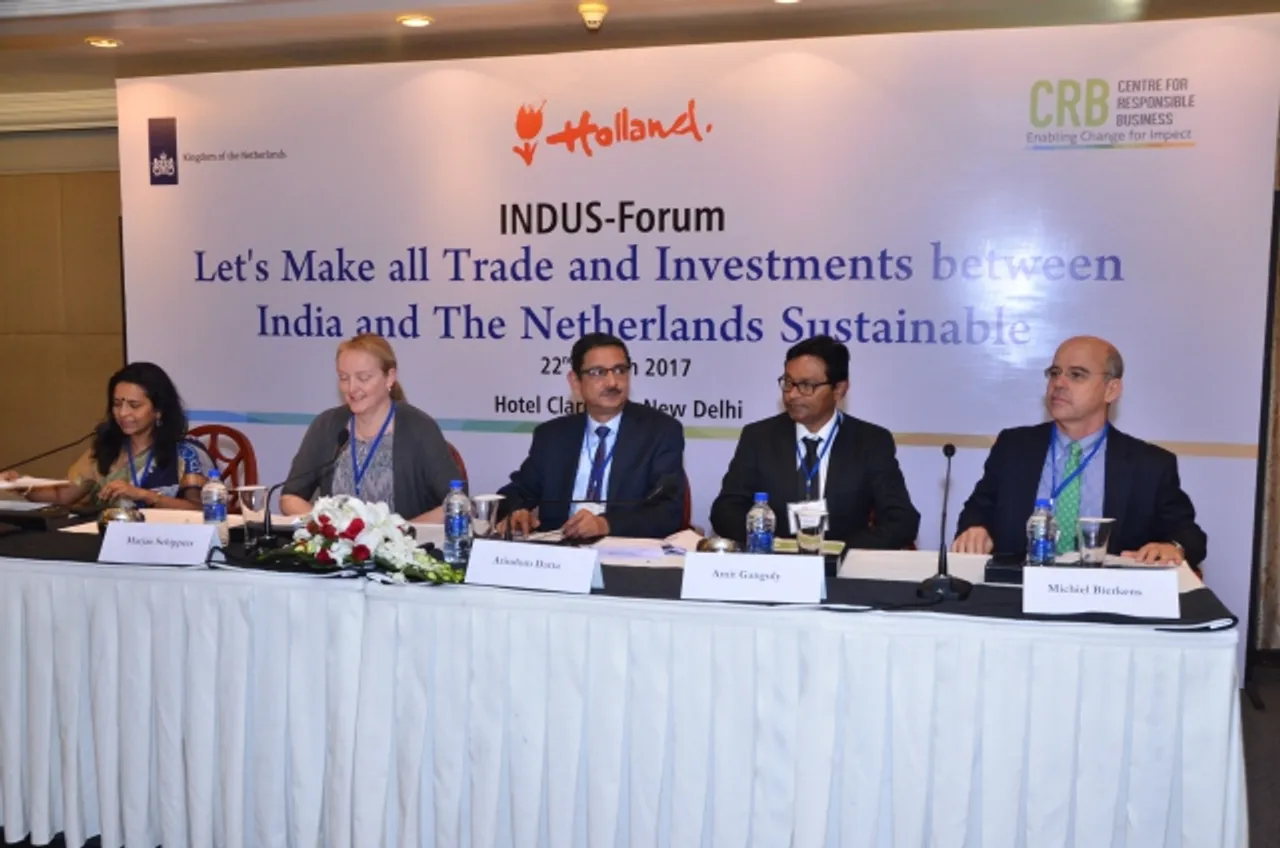 New Delhi (March 22, 2017): A forum to address sustainability issues at the trade and Investment between India and Netherlands was launched today in the capital. The Forum aims to help Indian businesses as growing demands and regulations of sustainable practices in international trade aligned with SDGs, are affecting many Indian businesses having trade ties with the European markets. To facilitate this forum, the Dutch embassy in India and Ministry of Foreign affairs of Netherlands have joined hands with the Centre for Responsible business (CRB).
At the launch of the forum, addressing the gathering of more than 50 companies, the Ambassador of Netherlands to India, Alphonsus Stoelinga emphasized the need of such forums for the the implementation of clean and responsible business practices in India as the global value chain of many businesses ends up here and provides huge revenues to Indian businesses and employment to millions of Indian people and this should grow further. He added that Netherlands has a clear responsibility for achieving inclusive and sustainable supply chains and also cited the potential of Indian market which is huge and growing at an unprecedented pace - as another reason to promote sustainable business between India and Netherlands. He said that businesses should look at the sustainable practices as the driver and not the obstacle to their businesses as it helps businesses grow in the long run.
Arun Asthana, the Executive Director of CRB, while elaborating upon the objectives and agenda of the INDUS FORUM, mentioned it as a very meaningful and much required journey and said that a cleaner business is not only good for the environment and community but for the businesses itself as well since the way of doing business and consumers awareness is changing these days and consumers are getting more aware of the global concerns of environment and social wellbeing. Being a responsible brand will help businesses grow more in such a world.
Netherlands is among the five largest trading partners of India. More than 225 Dutch companies have operations in India while close to 200 Indian companies are operating in Netherlands. Representatives of more than 50 companies and organisations from Netherlands and India attended this conclave. This includes Wipro, Tata Steels, Shell, Rabobank International, Genpact, Philips, Mars Food, Quavac, Novozymes, Godrej, Jindal Steels, Rural Spark Energy, Arcadis, Green insights, Solidaridad, ICCO, Quality Council of India, Fairwear Foundation, WWF, UNICEF, EU Delegtion to India, Belgian and Spanish Embassies.
During the discussions on the way forward, Arindom Dutta, Asia Head of Rabobank mentioned the compliances and regulatory needs of sustainable businesses in India and warned that in near future the businesses could find it difficult to get funds as financial institutions and investors have started looking closely at the sustainability elements of the ventures and borrowers. Amit Ganguly from Genpact emphasized the need of knowledge repository and data bank for businesses to implement sustainable practices. CRB plans to launch a digital platform to address such issues. This platform aims to de-jargonise the whole subject of sustainability and provide access to knowledge, tools and updates from all over the world using its knowledge network spread across the continents. For a wider uptake and facilitate Indian MSME sector, CRB also plans to pool and provide in a syndicated manner, inaccessible or expensive tools and processes to make businesses sustainable.