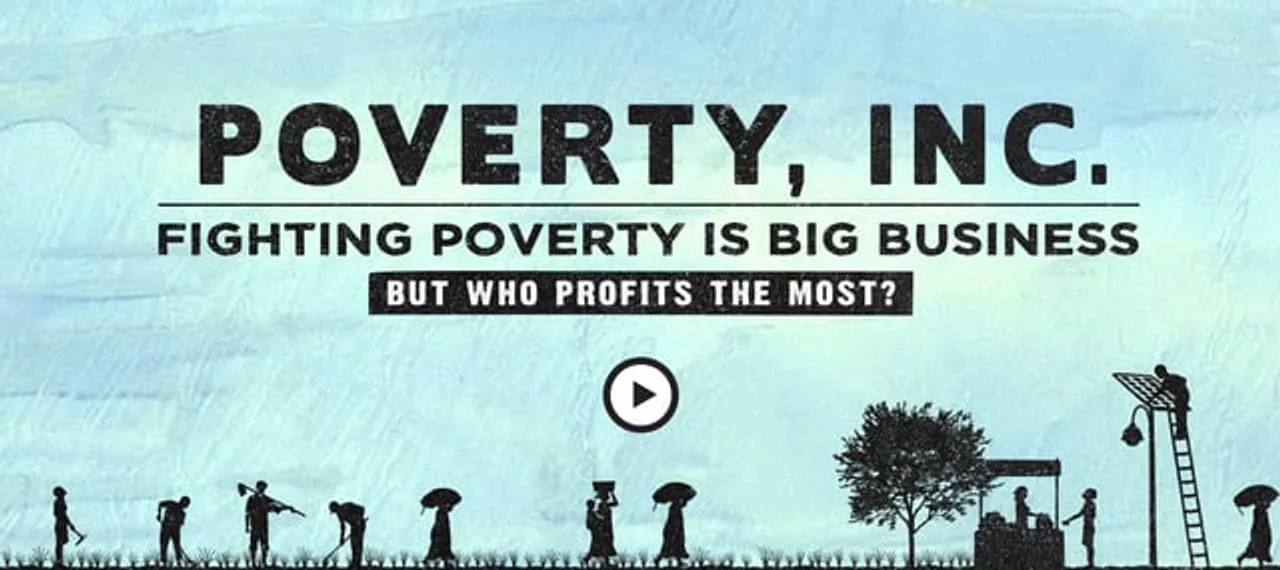 "I see multiple colonial governors," says Ghanaian software entrepreneur Herman Chinery, who the Guardian calls "the Bill Gates of Africa." "We are held captive by the donor community."
The award-winning documentary Poverty, Inc. debuts on iTunes, Amazon, and VOD / DVD in North America in March.
The West has positioned itself as the protagonist of the development narrative, erecting a multibillion dollar charity and aid industry that often undermines local leadership and employment opportunity.
For example, a Haitian-owned photovoltaics start-up selling 50 solar streetlights per month can only sell 5 in six months following the earthquake, not due to damage, but due to the massive influx of donated solar panels flooding the market from abroad. Co-founder Alex Georges explains, "Power was completely out in Port-au-Prince. NGOs started to feel the need for solar, went to donors abroad that sent the solar equipment from abroad, so then when we managed, after a few weeks, to be able to secure the facility to get some production going again, then the demand stopped, because it's hard to compete with free. When you had companies sending 1,000 solar panels to Haiti for free, how are you going to sell?"
Whereas past critiques of charitable aid often focus on how little aid actually gets to the poor, the film reveals that aid can sometimes be most harmful when it does reach people.
Another compelling story highlights the lessons adoptive parents Corrigan and Shelley Clay learned in their efforts to start an orphanage in Haiti. During their first year in Haiti after selling everything they owned to move there, they learned that 80% of children in institutional care are economic relinquishments one or more living parents. "I'm spending $20,000 to adopt this child that a mother wants. The injustice of that really took me." The Clays began to realize that the demand for adoptions was driving in increase in the supply. "We realized the system we have for addressing the needs of orphans is actually a system that's creating orphans," says Corrigan.
The film resists recent fashions like microfinance and social entrepreneurship and instead challenges viewers' fundamental assumptions – from the philosophical to the economic. "It's less about teach a man to fish versus give a man a fish," says first-time director Michael Matheson Miller. "It's really about access to the pond and what happens after you catch the fish."
Miller's inspiration for the film stems from his unique background: he taught as a philosophy professor in Nicaragua, studied international development in Japan where he lived for 5 years, and studied international business in Europe. He is now a research fellow at the Acton Institute, a think tank focused on the intersection of market economics and moral philosophy.
Having already screened in over 40 International film festivals, 100 universities, and 140 cities around the world, the film is on its way to making inroads in the very culture of philanthropy and development. Students are calling the film "life changing" and "a tremendous whack on the side of the head." "Compulsory viewing for anyone interested in social issues," said Rathna Ramamurthi (India) after a Harvard Law School screening and 75 minute discussion with over 200 in attendance – just one of eight screenings at Harvard.
Re-published from
MySocialGoodNews.com
as part of CSRlive's collaboration with
Your Mark On The World