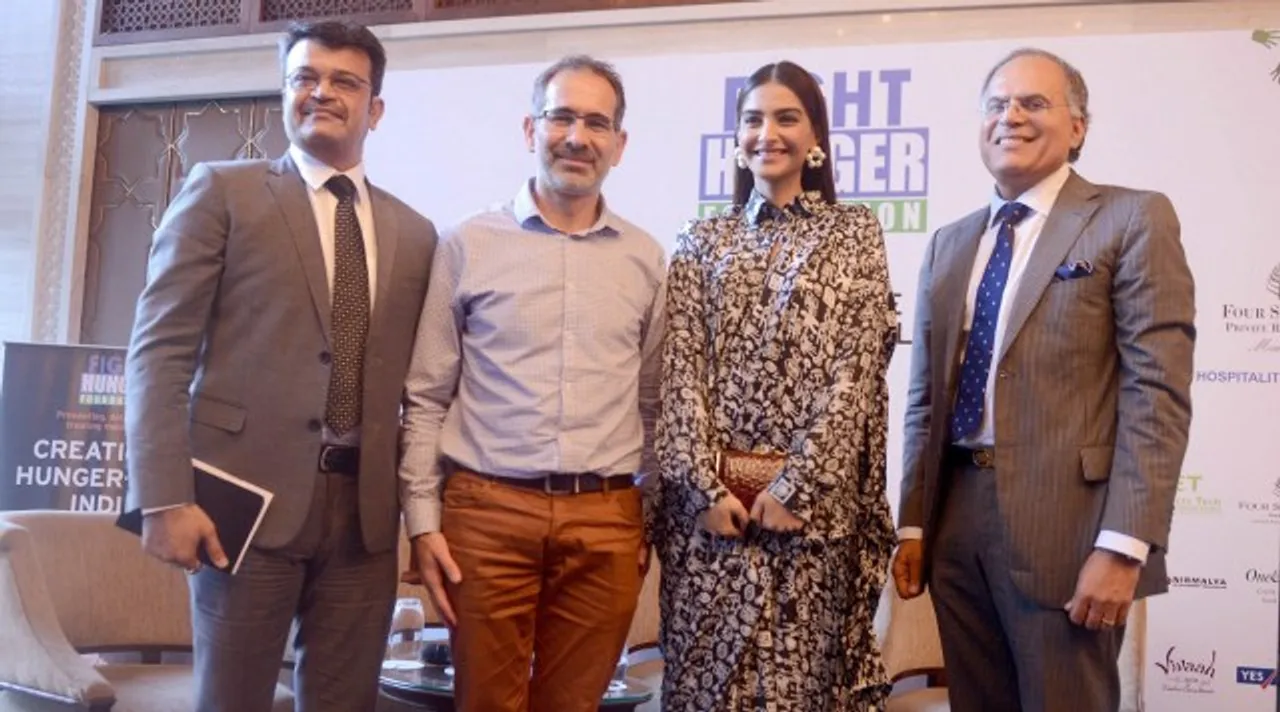 Fight Hunger Foundation (FHF) announced its pledge to eradicate the nation's acute malnutrition crisis. Joining Fight Hunger Foundation's drive against malnutrition is Bollywood actor Sonam Kapoor who has pledged her support towards the organisation's cause. By 2018, Fight Hunger Foundation in association with Action Against Hunger International, aims to reach over 1 million people nationally, including 160,000 children under the age of 5 years. In Mumbai alone, the organisation will treat 10,000 children over three years. They will also support over 1,500 pregnant and lactating women and train 500 doctors, nurses and health workers.
The organisation works to eradicate acute malnutrition through a community-based approach and through the extensive use of medical nutrition therapy.
Fight Hunger Foundation will host a charity dinner along with Sonam Kapoor and Sonu Nigam to raise funds for this cause. Actor John Abraham, will also work with FHF and pledge his support to help end malnutrition in India. In addition, the organization has roped in India's top chefs including Kunal Vijaykar to drive awareness about the malnutrition crisis in the country.
Speaking at the press conference, Ashwini Kakkar, Chairman of Fight Hunger Foundation said, "As India's economy continues to see steady growth, we are also faced with the stark reality that 40% of the world's burden of malnutrition is in our country. If India is to keep progressing, we need to ensure every Indian is properly nourished. Over the next few years, Fight Hunger Foundation will drive awareness in communities about how we can all prevent malnutrition as well as treating those suffering from it. We are thankful to Sonam, Sonu, John and the chefs for their unwavering support towards eradicating hunger. We would like to appeal to our friends in the press to help give our movement to end hunger a much-needed boost."
Speaking at the press conference, Sonam Kapoor also added, "Each year one million children die because of malnutrition in India. We cannot build a productive, peaceful world on empty stomachs. Seeing these children suffer from acute severe malnutrition first-hand has been devastating but it also made me realize that we can all be doing more to alleviate malnutrition from our society. That's why I have decided to pledge to support Fight Hunger Foundation, as they are the leading experts in this field across the globe, preventing and saving lives of these innocent children. So help us help them make a difference and create a hunger free India together."
FHF has been operational in India for four years in Madhya Pradesh, Maharashtra and Rajasthan, and has so far reached out to over 200,000 people and 5,000 children. They are in technical and research partnership with a worldwide INGO - ACF International (Action Against Hunger) which has over 35 years of worldwide experience in the fight against hunger. ACF is present in 47 countries and their programs have benefited 14.6 million people last year.
Source: