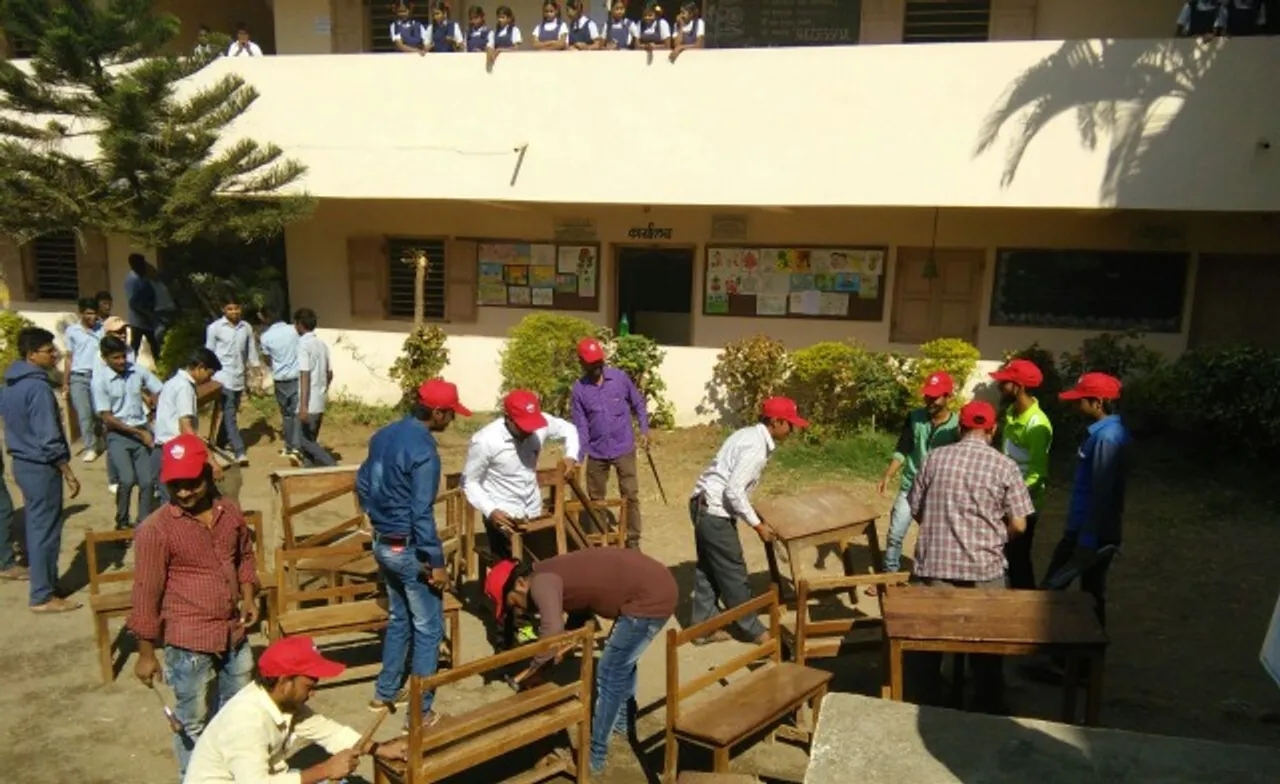 December 20, 2016: Fevicol bonded over 60000 woodworkers and contractors, in a unique pan-India community initiative - SHRAMDAAN DIVAS on December 20th. The woodworkers and contractors donated a day's labour free of cost to repair and refurbish furniture at around 750 NGOs, beneficiary schools, hospitals and institutions for underprivileged children. Organised under the Fevicol Champions Club (FCC) this exercise was held in over 291 cities across the country. This year Mumbai and Thane witnessed participation from around 4500 carpenters who conducted the refurbishment activity at about 46 Institutes.
The Fevicol Champions Club (FCC) is an exclusive club for woodworkers and contractors. It serves as a platform for the woodworkers and their families to learn and enhance personal and professional skills to further expand their business. The FCC members have continuously devoted their efforts towards betterment of the society. They have been undertaking various activities for the benefit of the society including medical camps, blood donation, pulse polio, eye check-up, Swach Bharat Abhiyan cleanliness drive, baal mela, scholarships to name a few. Also, Fevicol has recently undertaken an initiative 'Fevicol Master Craftsman' that aims to uplift Carpentry from a job work to an Art form in the society.
Shramdaan Divas, held on the foundation day of FCC, has also been entered into Limca Book of Records, Asian Book of Records among others. Last year over 42000 members had participated. The FCC members have gone out of their way to embark on various initiatives for needy community including, undertaking free repair work for institute with no monetary assistance, building cement and china benches at a 100 year old crematorium supporting through flood relief funds, among others.
Pidilite extended its support to the woodworkers and contractors participating in Shramdaan Diwas, by providing all the participants across India with the tools and materials required for carrying out their repair work.
Vivek Subramaniam, CEO, Fevicol Division, Pidilite Industries, "Shramdaan Diwas is a noteworthy effort by FCC members. At large, the FCC community comprises of members who have significantly contributed to the society through their sincere services. This is an earnest desire towards ensuring that the skills of FCC members positively contribute and enhance living conditions in nearby communities. It bought us immense delight to witness our FCC family grow and continue offering one day of labour to the underprivileged in our society."
Kishore a participating carpenter said, "Our motive was to provide assistance to the children to get basic education in a comfortable environment. Many of the institutes are not in situation to afford the repair cost. Though this we contribute in our small way".
Vishwakarma, another carpenter said, "I feel blessed and proud to be part of this initiative. Through this I'm able to contribute my bit to the society and make lives of these kids little better."
Last year, FCC had reached out to 650 NGO's. Shramdaan Diwas was celebrated across the country in cities like Mumbai, Delhi, Pune, Nagpur, Nasik, Ahmedabad, Baroda, Rajkot, Surat, Gandhinagar, Gondal, Amritsar, Ludhiana, Jalandhar, Meerut, Roorkee, Bareily, Sahranpur, Bangalore, Chennai, Kolkata, Chandigarh, Patna, Jaipur. Institutes repaired in these cities include blind schools, tribal schools, schools for disabled, municipal schools, orphanage, government schools and hospitals, old age homes amongst others that are operated by NGO's and government.