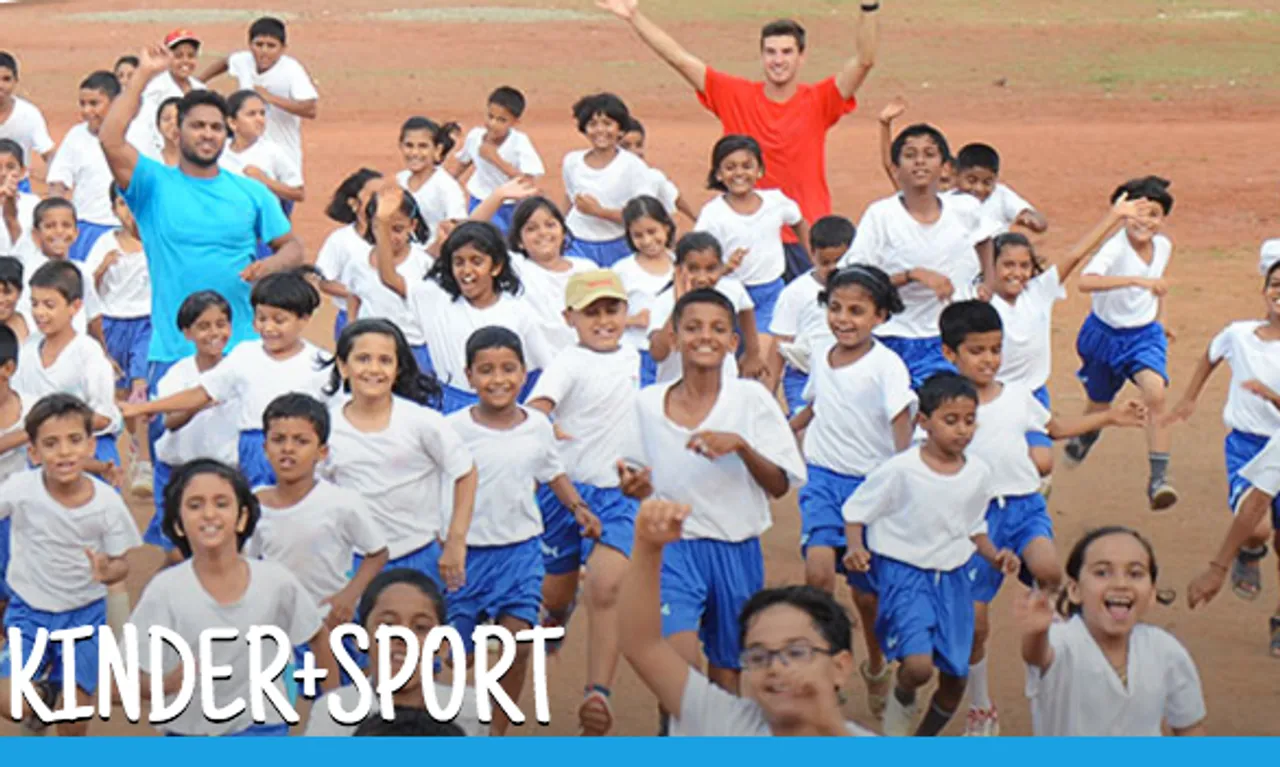 Pune (June 2, 2017): Ferrero today announced the launch of the third edition of Kinder+Sport in Baramati, Maharashtra. To be held from 5thto 9th June 2017, the camp is a part of Ferrero's global CSR initiative aimed at promoting active lifestyles by encouraging dynamic play and sports among children and stimulating them to make physical activity an integral part of their lives. This year, over 400 children in the age group of 5 to 12 years from various schools in Baramati are expected to participate in the camp which will be conducted by specialist trainers from Italy.
As part of its continuing efforts to bring the joy of movement into the life of every child, Kinder+Sport has developed the 'Joy of Moving' methodology, an innovative educational model, based on games and dedicated to the all-round growth of children. Developed in association with Rome University "Foro Italico", MIUR of the Piedmont Region and the Italian Olympic Committee (CONI), the method is based on games created to promote the physical, cognitive and social development in children and increase the life skills. This methodology will be implemented in the camp.
The 400 children expected to participate in the camp will be divided into four age groups (5-6 yrs, 7-8 yrs, 9-10 yrs, and 11-12 yrs) in accordance with their physical and psychological-behavioral characteristics specific to their age groups. Activities will include a variety of sports such as soccer, badminton, volleyball, basketball, athletics etc.
Commenting on the launch of the initiative, Inder Chopra, Secretary General of Ferrero India said, "Kinder+Sport stems from the knowledge that an active lifestyle is the cornerstone for healthy living. The adage of 'Sports builds character' finds its origin in the fact that physical activity helps children learn and acquire culturally valued social behavior, values and attitudes."
Mr. Chopra added, "Daily movement from an early age is the first step towards staying active and in shape into adulthood. Our plan is to grow the program gradually to cater to and move the children across the state and country eventually."
Kinder+Sport was first launched in 2005 and introduced in Baramati in 2014. Last year the program saw participation from close to 400 children. Kinder+Sport operates globally together with partners such as Olympic Committees, Government Institutions, Sports Federations and Associations. With these partners the program has developed strong and continuing relations based on common goals and support for programs dedicated to schools and young people. 
Kinder+Sport is a responsible global project developed by Ferrero aimed at supporting physical activity among young generations. It is one of the main initiatives of Ferrero's Social Responsibility. The program is designed to promote active lifestyles by encouraging dynamic play and sports among children and their families and encouraging them to make physical activity a regular part of their lives. Launched in 2005, Kinder+Sport is present in 25 Countries, moving 4.1 million children every year. The goal of Ferrero Group is to become a leading company in moving children worldwide.
It is active in Argentina, Austria, China, Croatia, Denmark, France, Germany, Greece, Hong Kong, Hungary, India, Israel, Italy, Luxembourg, Mexico, Netherlands, Poland, Portugal, Princ. of Monaco, Slovenia, Spain, Sweden, Switzerland, Turkey, United Kingdom.