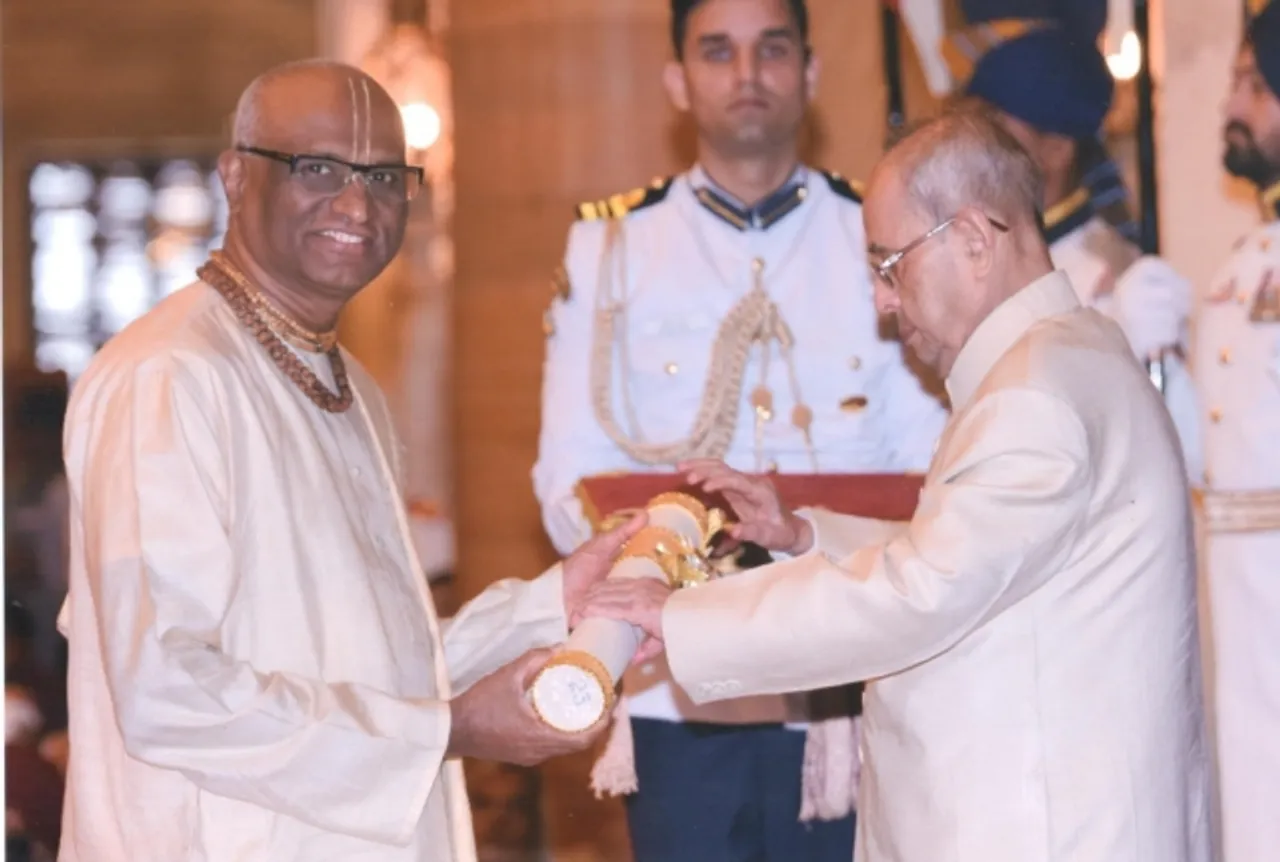 Madhu Pandit Dasa, Chairman of The Akshaya Patra Foundation, designed the first centralised kitchen of Akshaya Patra, to provide mid-day meals to underserved children in the Government schools of Bengaluru rural district during July 2000. Under his inspiring leadership and impeccable commitment, the organisation grew unceasingly towards its mission of feeding '5 million children by 2020'. In this exclusive interview with Nidhi Singh, Executive Editor, CSRlive.in, the Padma Shri recipient shares his unique insight on the key success factors for an NGO to earn the trust of corporates and donors.
When you first started the Akshaya Patra Programme in year 2000 feeding 1500 children in 5 government schools, did you expect that it would grow so fast and exponentially to cover over 1.4 million children in 10 states and 24 locations across India? What was the original vision for the programme?
The creation of The Akshaya Patra Foundation was our first foray into the establishment of organisations that would specifically work for those children in India for whom hunger was an impediment to education. Our sole objective was to ensure that 'no child in India shall be deprived of education because of hunger.' With this solemn thought in mind we started our pilot project that involved serving mid-day meals to 1,500 children across five Government schools in Bangalore. In due time the word spread, that "free and delicious food" is being served and that is when other schools started approaching us and within six months, we had requests for 1 lakh school children. Witnessing this overwhelming response, we set ourselves on a challenging goal of feeding 1 million children within 10 years and we knew that this could translate into reality if the society as a whole would use some of its resources and extend its support to the cause.
The support that we have received from the Government of India and from the other State Governments has been monumental and has helped us to scale-up our school lunch programme. Moreover the innumerable helping hands of our generous donors and supporters that have reached out to us have been vital to the exponential growth of the school lunch programme over the years.
Public-private partnerships with the Central and respective state governments have played a major role in making Akshaya Patra Foundation programme the largest of its kind in India, and the world. What challenges did you face in creating these multiple-faceted partnerships?
Akshaya Patra since inception has had an ardent desire to feed more number of children, addressing issues of hunger and education for them. We as an organisation have always felt the need to expand, excel and enhance our school lunch programme, so that millions of children are benefitted by our meals. In order to realise these developmental goals Akshaya Patra needed grants, subsidies, timely procurement of food grains, conversion costs and the permission to seek donations in India and overseas. All of this became conceivable when the organisation entered into a Public-Private Partnership (PPP) with the Government of India and other State Governments in 2001 and started working as an implementing arm of the Government's flagship programme (Mid-Day Meal).
MHRD ensured timely allocation of grains and conversion costs. Food Corporation of India (FCI) and the Food and Civil Supplies Corporations aided us with grants and subsidies, along with timely procurement of food grains. Seeking donations in India was facilitated by the Finance Ministry while permission to collect overseas donations was rendered by The Ministry of Home Affairs. In précis, it is the PPP model that has played a pivotal role in increasing our reach and making Akshaya Patra's school lunch programme what it is today.
Can you give us a peek into Akshaya Patra's much talked about centralised, automated kitchens that can cook close to 6,000 kilos of rice, 4.5 to 5 tonnes of vegetables and 6,000 litres of sambar, in less than 4 hours? What were the key factors that influenced the designing of these Kitchens?
All kitchens run by the organisation are equipped with cauldrons, trolleys, rice chutes, dal/sambar tanks, cutting boards, knives and other similar equipment that are sanitised before usage. The South Indian kitchens are equipped with rice cauldrons and sambar cauldrons. Each rice cauldron has a capacity of at least 500 litres; each sambar cauldron has the capacity to cook 1,200 litres to 3,000 litres of sambar. As roti is an integral part of the North Indian menu, the kitchens are equipped with roti making machines, which have the capacity to roll out up to 2,00,000 rotis (Indian flatbread) from 6,000 kilograms of wheat flour. The manufacturing process is designed in such a way that flow of the materials and personnel is very smooth and continuous.
Industrial Engineering concepts are used to decide on the production line layouts and the manpower required for generating the designed output in a defined timeline. Lean Management concepts like MURA, MURI, MUDA are also used in the design extensively for the mass scale cooking process. Automation is the key to mass cooking in Akshaya Patra. Hence different equipment is used to automate the process of vegetable washing, vegetable cutting, roti making, rice washing etc. Also we use conveyor systems, silos, and bucket elevators etc., which cumulatively help us to handle huge quantities of raw materials and thus accelerate the cooking process. This highly mechanised and streamlined kitchen helps the Foundation to produce large quantities of cooked food in less than four hours.
Some of the key factors that have influenced the design of the kitchens are:
The density of schools in a particular region
The location of the kitchens
The local palate
The proposed reach that the kitchen will cater to
Akshaya Patra is also the subject of a Harvard Business School case study because of its efficiency and intricacies. Has the organization also factored sustainability into its supply chain and operations? Can you share some of the sustainability measures incorporated?
Akshaya Patra has tried to achieve sustainability of operations at different levels; we have diversified our donor base in the last 5 years consciously; we have a significant chunk of donations from retail donors. We have also started to get into long term partnerships with our donors where they commit to sustained donations over multiple years. We have also been able to garner corpus donations over the last 2-3 years which has helped us build a sustainable cash flow/ working capital situation.
A new Trust in the name of "The Akshaya Nidhi Foundation (TANF)", a "for profit entity" has been formed with an Independent Board of Trustees and this entity would be engaged in providing affordable meals to the bottom of the pyramid segment. This Trust is a sustenance vehicle for The Akshaya Patra Foundation (TAPF) wherein the post-tax surplus of TANF would be donated to TAPF.
Tell us about the team behind Akshaya Patra, particularly the Cooks – how are they trained and especially motivated to create high quality, nutritious, safe and hygienic food for millions of school going children every day?
Our cooks are generally people who have done cooking activities in weddings/ events etc. Hence, they come tuned to doing mass cooking, although not to our scale. We train them on the job and get them to perfect our style of operations over a period of time. A lot of the cooking activity is automated in our kitchens which reduces the burden of manual cooking and hence cooks are able produce more meals. Thorough trainings are also provided from time to time to all cooks in production, by the Product Development Team, which continuously works on developing new recipes and standardizing the existing recipes to continually improve the quality, taste and nutritional value of the recipes without losing the taste of the local palate. Additionally, personal hygiene and Food Safety trainings are also provided regularly to the cooks to ensure hygiene standards are met at every stage of our cooking operations.
Also, the important factor as to how we are able to produce hygienic, safe meals to masses every day is primarily because of our Food Safety Standards & Practices in the kitchens. The ISO 22000 standard under which we operate sets up a framework in which all aspects of food safety and hygiene are given special focus and attention. Hence, we are able to consistently able to produce quality meals for masses.
The transparency and accountability of Akshaya Patra has attracted 'ICAI Gold Shield award for excellence in financial reporting in the NGO sector' for 5 consecutive years. What advice would you give to NGOs often facing trust deficit from the corporate sector while seeking CSR funds for their growth and development?
We, at Akshaya Patra, believe in absolute transparency in all our activities. In keeping with this principle we comply with the International Financial Reporting Standards (IFRS) and, to a large extent, with the Indian Accounting Standards issued by the Institute of Chartered Accountants of India.
Some of the key success factors for an NGO to earn the trust of corporates or other donors begin with a Management team led by a professional CEO and supported by competent and experienced Head of Departments. Additionally, having eminent personalities in the Board with a strong Audit Committee is beneficial. Maintaining financial integrity in recording of transactions in the book of accounts adds to transparency and trust. Segregating government funds and donor funds through separate bank accounts and issue of Utilization Certificates for grains provided by Government would be helpful. In addition to this, robust internal audit through audit firms of repute should be done. Statutory audit conducted by a reputed external firm, along with audited financials the firms also provide an Independent Auditors' Report. Donor engagement and timely communications backed at times by donor audit either done by donors or by professional firms would immensely add to credibility. Issue of utilization certificate to donors for funds spent by the NGO will mean a lot. Efficient processes and quality management systems, ISO Certification of kitchens can be an icing on the cake. Last but not the least, employee retention measures and reputation built with various stakeholders certainly adds value and aids in achieving long-term goals.