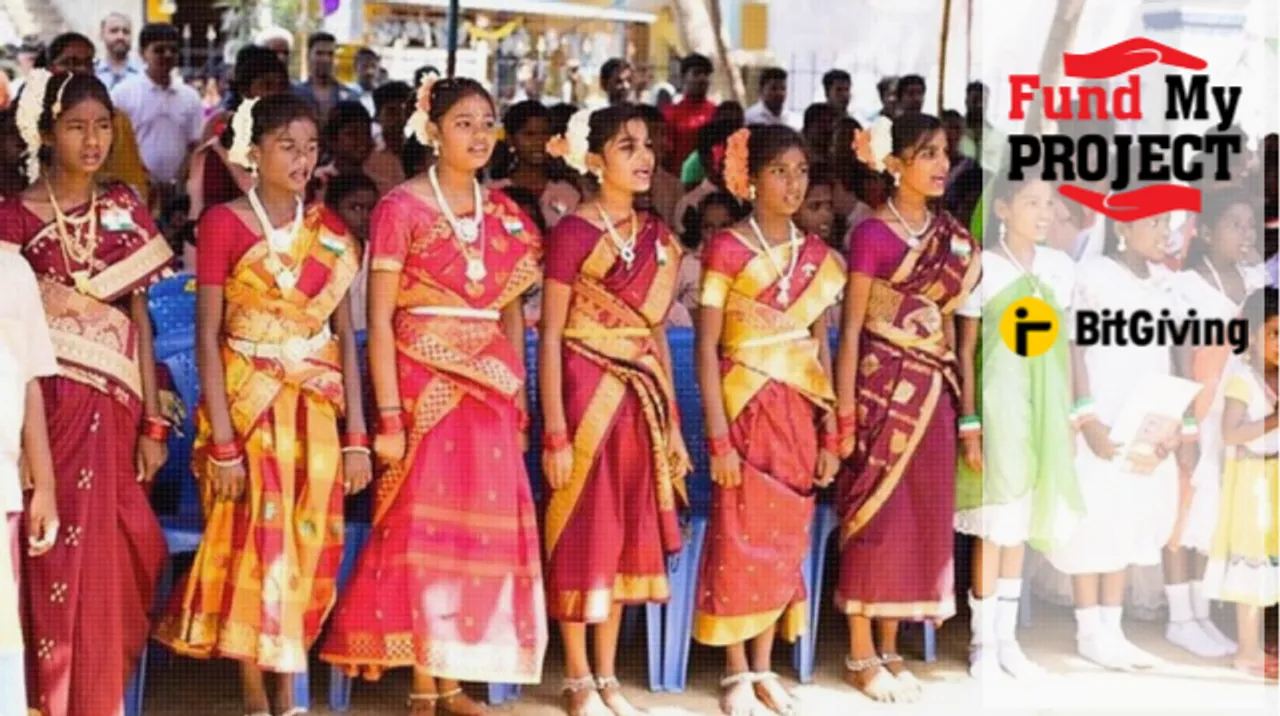 Here's how your CSR funding can help in enhancing the quality of education for students in the Government Adi Dravida Welfare High School in Chennai.
This cause is featured on Fund My Project as part of CSRlive.in's collaboration with BitGiving.com
Project by: The Mohandas and Raghavan families
Location: Chennai
Funding Required: INR 100,000
Category: Eligible CSR activity as per Companies Act 2013, Schedule VII
(ii) promoting education, including special education and employment enhancing vocation skills especially among …women, …and livelihood enhancement projects;
Here's what the Mohandas and Raghavan families have to say about their project:
This school like all other government schools thrived on only the regional language which in this day and age sets our young minds a step back. Hence, the villagers were selling /mortgaging their valuables, land etc, to fund private English School fee.
Our introduction of English Medium has saved residents from debt trap and offered the option to kids to get equitable knowledge to compete in this fiercely competitive global market place! Small step but moving in the right direction!
In the 2 months we have been actively involved with the School, we are proud to have achieved the following : 
Launched an English medium section, much sought after by parents and students, and the community at large
Hired a teacher for the English medium section, through our own funds
Installed an e-Learning system in the school – this has been possible with the generous support of our Rotary District 3230, and includes a projector, a computer, and comprehensive content for Tamil and English medium students, for all subjects from Kindergarten to Grade 12, which is consistent with their curriculum.
Repainted some of the classrooms, by working with Partner organisations
Undertook some greening activities; we have now identified Nizhal, an NGO, to help us with a plan for greening our school premises, and support implementation. Nizhal's vision is to be an effective catalyst in greening urban areas, with a special focus on regenerating biodiversity
Conducted an interaction with Parents of the newly launched English Medium section to better understand their expectations, and to make them aware of our role, and their roles in supporting their wards' education.
We (The Mohandas and Raghavan families) have realized the power of education. To be so blessed in ones life makes one want that everyone should have a glimpse of such bliss - this is the start of a new giving era!
To Provide quality education to students, through effective administration and deployment of appropriate infrastructure at the Government Adi Dravida Welfare High School, Pudupakkam, some critical needs we are trying to raise funds for include :
Our school needs 2 additional teachers, one each for Science, Maths and Sports (we have just hired an English Teacher with own funds recently); the better teachers are available in the range of INR 15-20,000 per month each. This is an annual cost of INR 600,000-750,000.
You could sponsor a teacher for a month (INR 15,000), a year (INR 180,000), or even weeks. Every small drop counts!
We also need 2 classrooms at the earliest; our estimate to get this completed is in the range of INR 300,000-500,000.
We are looking to provide space for 20 computers and a small laboratory and library area; our estimate for this is INR 400,000-500,000
Scholarships/ Sponsorships for the Top 3 Grade 10 students (INR 20,000 per year per student, for 2 years) E-Learning Kits (at a subsidized rate of INR 53,000 per kit); the first kit installed with our own funds, is already a big hit!
Your support and contributions will help us go a long way in giving the next generation a world of opportunities to explore.
For more information , please follow this link :
http://wp.upupload.com/blog59039/kc38gdzhsr59039/get-involved/featured-cause/
Want to Fund this Project?
Visit BitGiving.com here and support the cause.
Looking for funding?
If you have a social project that's high on innovation and impact, but running low on financial fuel, do write in to Nidhi Singh at nidhi@csrlive.in with your proposal, and we'll feature it on FUND MY PROJECT.