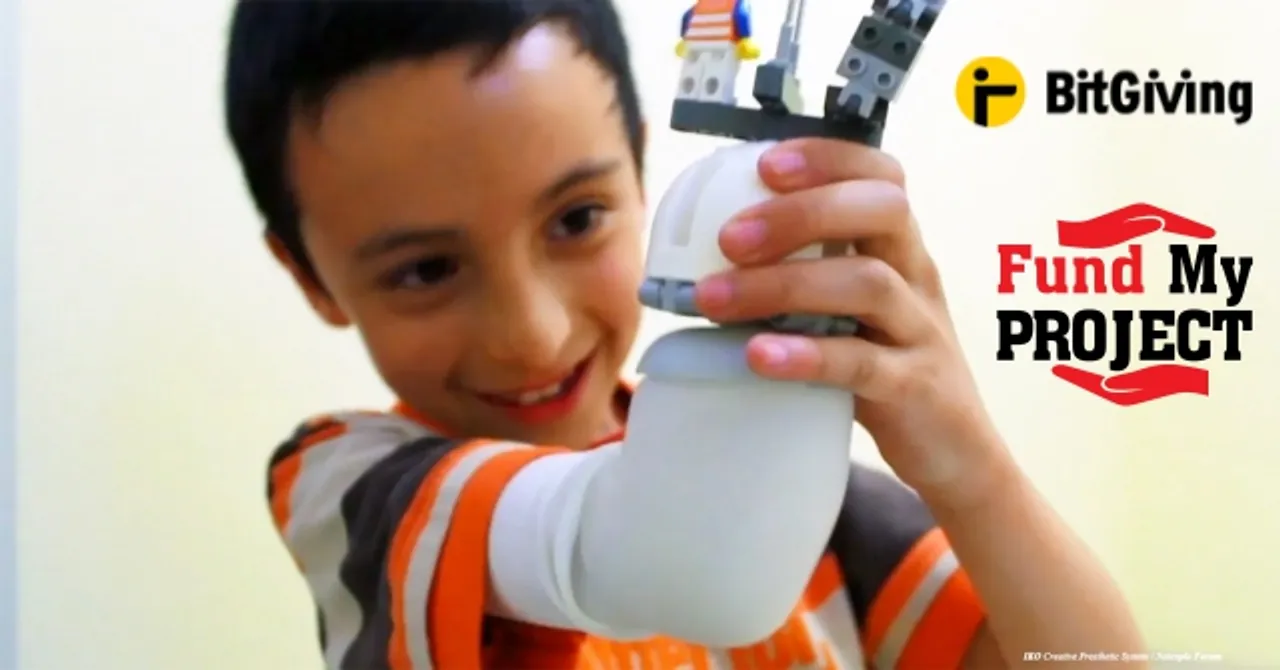 Here's how your CSR Funding can contribute towards designing & developing affordable, functional prosthetics & utility devices for the disabled.
This cause is featured on Fund My Project as part of CSRlive.in's collaboration with BitGiving.com
Project by: Printhub3D
Location: Bhilai, Chattisgarh
Funding Required: INR 5 Lacs
Here's what the folks at Printhub3D have to say about the Project:
How often do you come across a person with a disability, and wished there was a way to help them?
According to the United Nations, around one billion people live with disabilities globally - they are the world's largest minority. Of this number, as many as 40-80 million live in India, though the underdeveloped infrastructure across much of this vast country makes it difficult for them to get around. But it's not just the land that can be harsh and unwelcoming; prejudice and the karmic belief that disabled people are at fault for their incapacity can affect their ability to lead a normal life.
We, at TradeCraft, design and develop affordable, functional prosthetics and utility devices for the disabled. With the help of latest technology and our designing expertise, we are able to get most of the disabled (with amputated limbs, partial blindness, complete blindness, etc) live a normal and self dependent lives. We are a team of young and enthusiastic people, who are keen on changing disability into ability.
We use latest technologies like 3D modelling, 3D printing, Cold Casting, Information Technology and latest trends in electronics to create very affordable and useful devices for the disabled. We are currently developing a mechanical arm and individual fingers which are totally functional, without the need of surgery or electronic control. They can be customized as per size, colour, shape and texture. We are making devices like proximity sensor goggles, Flexi-hand - a functional mechanical prosthetic arm, sound torch, glow in the dark attachments, daily use utility attachments for the disabled, etc.
Our, inspiration Mr. Devender Pal Singh, 39, lost his leg during the Kargil War when a bomb exploded just meters away from him, piercing his body with shrapnel. After a subsequent operation, his right leg became infected and had to be amputated. Refusing to be overcome by the physical or mental challenges of losing a limb, he became a marathon runner, eventually being dubbed India's blade runner owing to the blade-style prosthetic he uses. His acceptance of who he has become clearly shows. "This is the positive side of being an amputee," he laughs.
In the present scenario, getting a static prosthetic, say an arm, is cheap but its merely an attachment which is non-functional. Unlike the others, we cover both the needs in a very affordable manner. But the risk we face is the rejection of the product because of lack of knowledge and exposure. To overcome this, we organize workshops and seminars for the disabled and teach them the basics of technology so that they become self-dependent and can use this for their living.
However, it's a different scenario for those who are physically or mentally disabled and burdened with poverty and excluded from mainstream society, and this is what we want to get rid of. So, we seek your help to set up a professional lab for development and manufacturing or our products, organize workshops, spread awareness and distribute, sell the devices/prosthetic.
There is much to be said about disability in such a densely populated country. But with time the definition of disability itself has seen a lot of change. With your help, if we achieve our goal, the funds will be utilized in the following manner:
Designing and manufacturing of support equipment for distribution:  INR 2,00,000
Organize workshops (covers rental, power, transport, catering, setup, etc.) every week (6 weeks in total, various locations) and get machines for training, distribute the manufactured devices/prosthetic among disabled and train them : INR 30,000/week.
Marketing and Promotions (online promotions, print adds, flyers, brochures, TV ads, radio ads, etc): INR 1,00,000
Gifting Utility products to the Under-Privileged: INR 10,000
Miscellaneous for emergencies: INR 10,000
Help us in giving the specially abled a new life and change the way they look at dis(ability).
Want to Fund this Project?
Visit BitGiving.com here and support the cause.
Looking for funding?
If you have a social project that's high on innovation and impact, but running low on financial fuel, do write in to Nidhi Singh at nidhi@csrlive.in with your proposal, and we'll feature it on FUND MY PROJECT.