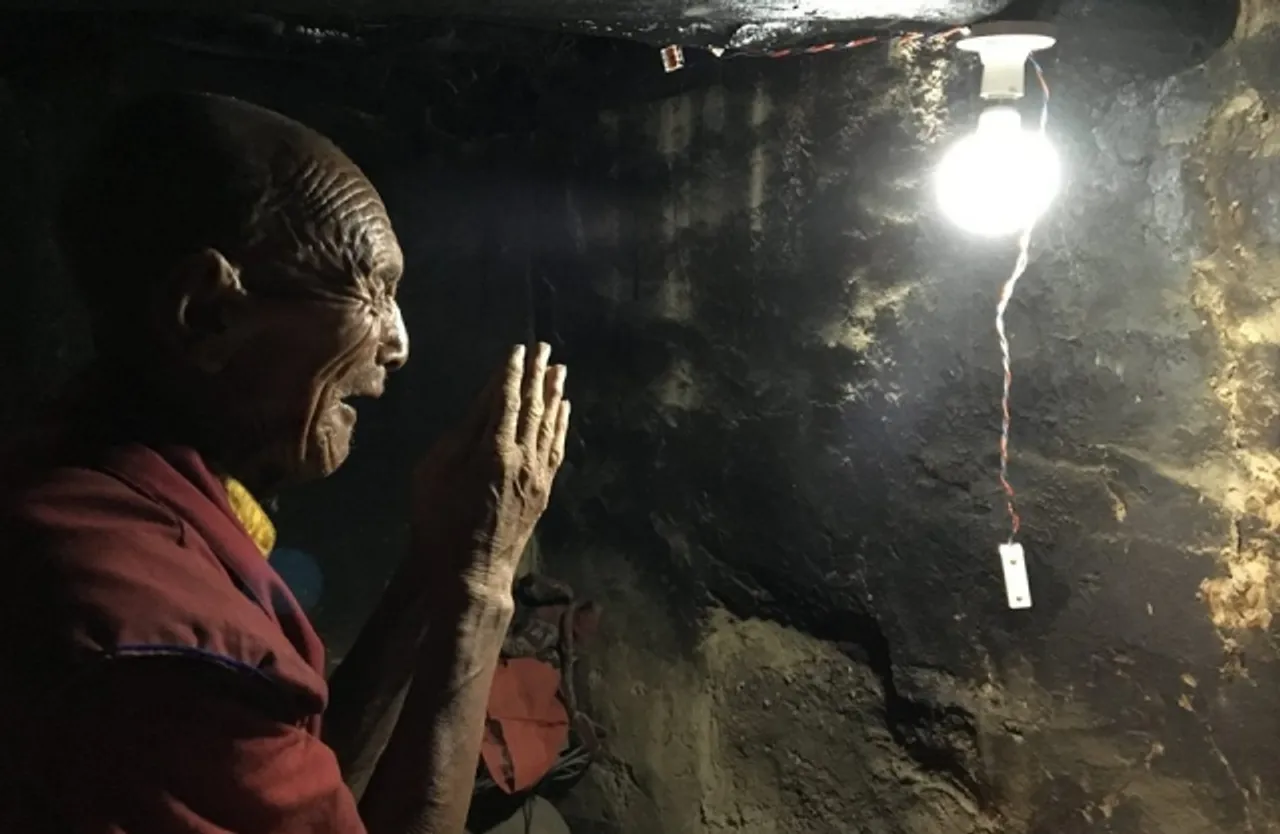 This July, 20 members from 14 countries will trek 4 days to lighten up 100 lives in village 'Shade' using solar energy. Here's how your CSR funding can help.
This cause is featured on Fund My Project as part of
CSRlive.in
's collaboration with
BitGiving.com
Project by:
Siddharth Jain
Funding Required:
 INR 1,54,000
Category: 
Eligible CSR activity as per Companies Act 2013, Schedule VII
(x)  rural development projects.
Here's what Siddharth has to say about this project.
Did you know
 : 
With over
 240 million
 people in 
18,452 villages
, India is home to world's 
largest 
un-electrified population.
Why is it like that?
Despite country utilising only half its generation capacity, 50 million households are bereft of light and clean cooking fuels. To connect a village with 100-200 households to the power grid is an economically unsustainable venture. State run power retailers consider supplying farmers and households below poverty line as an unattractive business proposition because of thin margin and below cost tariffs.
Further, owing to inaccessibility and remoteness, villages in Himalayas are not even on the radar of Government's Electrification Plan. 
This July, I'm joining GHE 2017's team of 20 members from 14 countries and 5 continents, carefully hand picked out of 4000+ applicants after gruelling screening.
We will be setting out to lighten up 'Shade' – one of the remotest villages in Ladakh nestled in the Zanskar valley. It is at least a thousand years old and comprises of 16 households with a population of 80-100. The nearest motorable road is 4 trek days away and it will take at least 20 more years for the government to consider its electrification.
Entire populace is below the poverty line ( BPL ) i.e. income of less than $2.50 per day with agriculture being the sole livelihood. They have no access to basic necessities – education, nutrition, employment, sanitation, connectivity and much more. They rely on kerosene lamps during dark and women resort to unclean fuels for cooking which deteriorates their health significantly.
Our team will trek 150 km through the Zanskar Valley at avg. altitude of 14,000 ft to reach the village and install 5 solar micro-grids, power distribution system and household lighting.
Further, energy access will be used as an instrument to develop 'Solar Mountain Homestays' which provide stimulus to the local economy and set-up an education base. Few villagers would be trained as entry level solar technicians and grids would be maintained using cooperative funds put together by the villagers.
GHE would persistently work with the Shade community to develop a smart & sustainable village.
Mission Cost 
GHE 2017's expedition cost is $3000 i.e. 
Rs 1,93,170
 per participant.

Cost of micro-grids, distribution system and household lightings + its customisation : 40%

Identification & surveying villages + Mobilisation of resources + Installation : 25%

Initial support capital for cooperative fund + Training villagers : 15%

Trek from Leh to village Shade + Food + Equipment : 20% ( bearing myself )
Other costs ( not included in participant's fee ) which I am bearing myself :
Travel to and from Leh : Rs 15,000
Trekking gear ( shoes, sleeping bag, woollen jackets, gloves etc. ) : Rs 15,000
It is an impact venture that focuses on providing 
clean energy
, 
education access 
and 
wireless connectivity
 to remote off-grid Himalayan villages through solar power. These villages are located at an average altitude of 12,000 ft above sea level and at a trek of 3-4 days from nearest motorable road.
It strives to end disparity across various aspects of sustenance in a sustainable, scalable and environmentally beneficial manner, leading to holistic development of the community.

Founding Team : 
It is the brainchild of 
Paras Loomba 
( 
https://www.linkedin.com/in/paras-loomba/?ppe=1
 ), an IEEE Smart Village Ambassador, who quit his plush corporate job after attending 
International Antarctica Expedition
 2012, to commit himself to sustainable rural development using renewable energy and is advised by 
Robert Swan, O.B.E.
 (
https://en.wikipedia.org/wiki/Robert_Swan
) an environmental leader who became 
the first person to walk to both North and South Poles
.
Leveraging Energy Access intervention as a tool to thrust holistic development : 

i) For a below poverty line ( BPL ) population living on less than $1.90 per day, to be able to maintain solar micro grids, it is imperative to improve their average household incomes by fostering micro-entrepreneurship. GHE help these villagers 
improve their livelihoods 
by developing their houses into '
Solar Mountain Homestays
' ( 
http://mountainhomestays.com/
 ) where travellers can stay and experience local Himalayan life, heritage, cuisine etc.
ii) Set-up 'Himalayan Innovation Centres
' with low power computers, LED monitors and satellite internet connection to impart 
experiential education
 and 
skill development
 using digital mediums, and thus make the youth 'job ready'. (
http://channel.nationalgeographic.com/breakthrough-series/videos/delivering-computers-to-the-himalayas/
) 
Impact so far:
Electrified 25 villages by installing 110 micro-grids with a capacity of 20.8 kW since it began in 2014; impacted over 10,000 lives directly till now
95 individuals from 42+ countries have participated in GHE expeditions so far
Created 15 women led Mountain Homestays in the electrified villages
Trained 35+ villagers as entry level Solar Grid Technicians
Saved approx. 63 Tonnes of Kerosene and helped mitigate 157 Tonnes of CO2 on an annual basis from these villages
Set-up 'Third Pole Education Base' in 2013 at 12,000 ft ; Impacted 800+ students through on going sustainability curriculum.
Partners and Recognition:
Exclusive documentary by National Geographic – '&feature=youtu.be" data-trid="8654">Power to the People' ( &feature=youtu.be" data-trid="9597">&feature=youtu.be )
Featured as one of the 'Breakthrough Technologies' in the present world
Exclusive documentary by NDTV - 'Lighting the Himalayas' ( http://www.ndtv.com/special/lighting-the-himalayas-843556 )
Invited to speak at Clean Energy Forum, Manila by Asian Development Bank
Invited to demonstrate technological model at the prestigious Future Energy Expo 2017, Astana in Kazakhstan
Finalist in Impact Tourism category at World Tourism Forum, Lucerne
Partnered with GE, Infosys and Welspun to carry out Leadership Expeditions (" data-trid="9592">)
Featured by most global agencies : Huff Post, Financial Express, Global Times 
Other Partners : IEEE, World Economic Forum, Indus University, Woodland, Rotary International, 2041
Want to Fund this Project?
Visit BitGiving.com 
here
 and support the cause.
Looking for funding?
If you have a social project that's high on innovation and impact, but running low on financial fuel, do write in to Nidhi Singh at nidhi@csrlive.in with your proposal, and we'll feature it on FUND MY PROJECT.