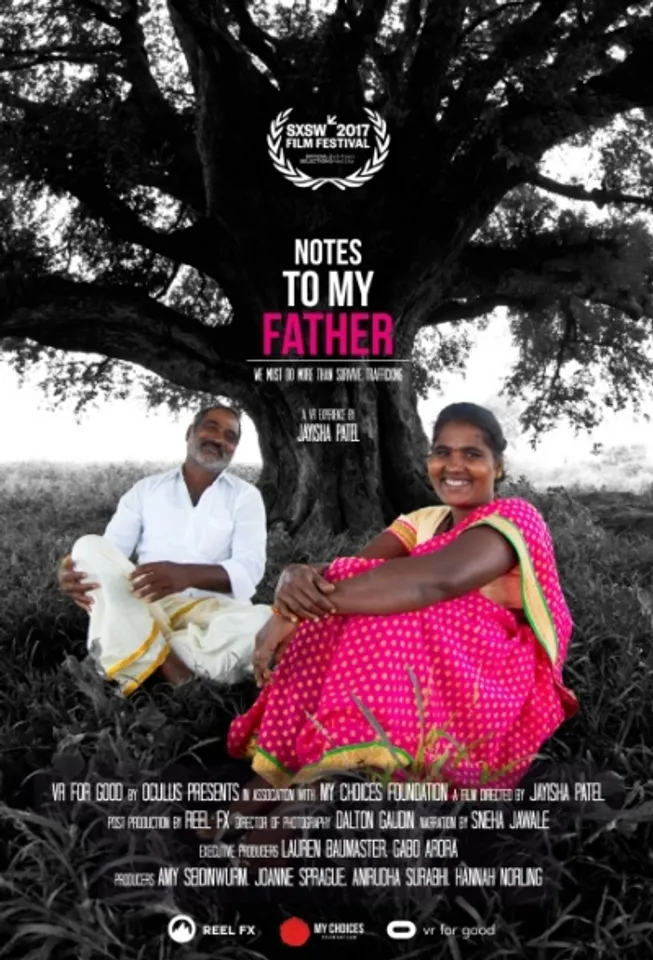 Addressing the ever pressing need to educate the world about the horrors of Human Trafficking, Hyderabad based My Choices Foundation has partnered with Oculus VR For Good to present 'Notes to My Father.' A virtual reality (VR) documentary on sex trafficking and an official entry from India, 'Notes to My Father' is based on the true story of a survivor and is set to make its world premiere at the prestigious South By Southwest (SXSW) Festival between 14-16 March in Austin, Texas, post which it will make its way to India in May 2017.
It is estimated that there are 20 million commercial sex workers in India, and around 80% of these, i.e. 16 million women, are victims of sex trafficking. This alarming figure begs for people to take notice of growing criminal industry of the trade of human beings, not only in India but throughout the world; and 'Notes to My Father' serves as the first step towards awareness about human trafficking. The film revolves around the story of real life trafficking survivor Ramadevi and her father Kullayappa. The 11 minute documentary has been directed by multi award-winning filmmakerJayisha Patel, and executive produced by Gabo Aroro - Creative Director of the United Nations – who served as a project mentor for the movie.
Hannah Norling, Head of Marketing and Communications, My Choices Foundation and one of the Film's Producer said – "Sex trafficking is a complex and dangerous web that affects millions of women and children across the country. Through 'Notes to My Father' we wanted to educate India, and the world at large on the issue of sex-trafficking and believed that using the immersive medium of VR was one of the most powerful ways to help people feel deeply connected to the cause. By telling the story of a survivor through the connection with her father, we aim to highlight the very real hope that trafficking can be prevented if only families in at risk areas are aware. We are looking forward to the world premiere of the movie at the prestigious SXSW festival and hope that people stand up and take notice of the issue at hand."
'Notes to My Father' is inspired by discussions and conversations with real life survivors and is a story of love, grief and reconciliation. Ramadevi pens down a letter to her father recounting the horrors of her past in an Indian brothel. Through the touching letter, she reaches out to her father – who unintentionally played a role in his daughter's trauma – so that they can talk about the past, their pain and hope that her own daughter is saved from a similar fate.
'Notes to My Father' forms the core of an awareness campaign by Operation Red Alert of My Choices Foundation titled 'The Good Father' - a movement to prevent large scale human trafficking in India. Previously, Operation Red Alert conducted an award winning research paper that reveals startling insights on the compulsion behind human behavior to understand causes on both supply and demand side of human trafficking. This helps stakeholders understand male behavior that perpetuates the trafficking of young girls for sexual exploitation.
South By Southwest, or SXSW as it is commonly known as, is an annual conference comprising movie, music, interactive media that takes place in Austin, Texas. Currently in its 30th year of operations, the festival will be held between the dates 10-17 March