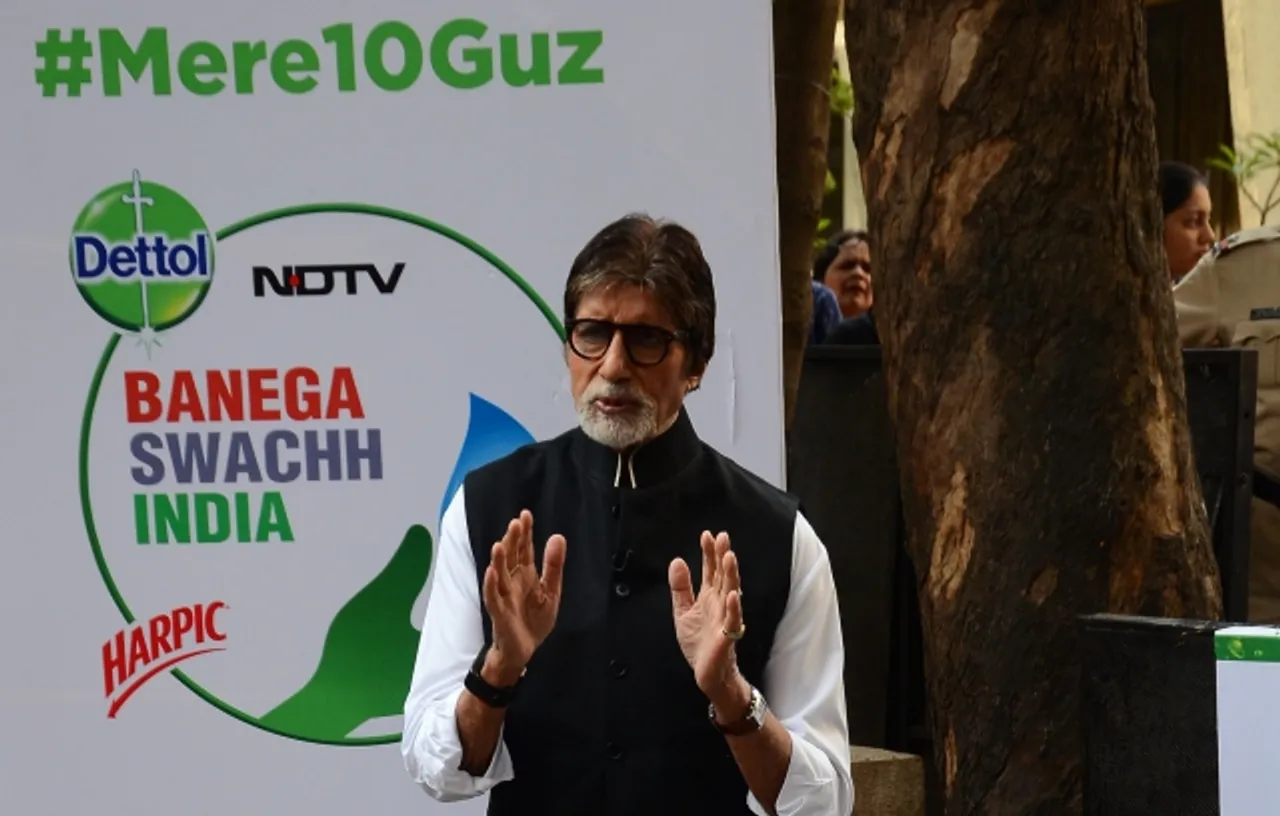 Mumbai (April 20, 2017): In an endeavour to focus on hygiene and sanitation, RB in partnership with campaign ambassador, Amitabh Bachchan and NDTV kicked off the 4th year of NDTV – Dettol Banega Swachh India campaign with #Mere10Guz activation. The campaign lends support to the Government of India's Swachh Bharat Abhiyan. The agenda for this year's campaign is composting and waste segregation by motivating people to take care of their 10 yards. The initiative aims at spreading awareness about sanitation, education and empowerment of citizens with better hygiene and sanitation facilities across the country and working with partners to support ground interventions for driving behavioral change.
During the event, the eminent guests visited Vijaynagar Co-op Housing Society, Andheri East in Mumbai where residents explained the various eco-friendly measures for composting and water segregation implemented by them. This was followed by a discussion on various aspects of #Mere10Guz, the importance of composting and waste segregation, how we can take steps towards achieving it and the impact of these simple measures on the society. Mr. Bachchan also interacted LIVE with RWAs and Schools from Delhi, Gurgaon, Chennai, Hyderabad, Bangalore and Kolkata that have been doing waste segregation and composting.
Talking about the initiative Amitabh Bachchan, said "NDTV-Dettol Banega Swachh India aims to educate society and drive behaviour change towards health, hygiene and sanitation. Our efforts are to inspire, educate and encourage all Indians on how to manage waste effectively and work towards a truly Swachh Bharat. This year, our agenda is to drive people to follow 3 steps, clean-up, segregate waste and do composting as part of the #Mere10Guz initiative."
Speaking on this year's theme, Nitish Kapoor, Regional Director, South Asia at RB, said "Segregation of waste is turning out to be a huge problem for India. Lack of awareness on the types of waste can lead to potential health hazards for citizens across the country.  We believe that the obstacle is not just the lack of infrastructure, but also the lack of awareness. Through this campaign we want to sensitize the society and address their problems while managing waste and try to spread awareness in the country. We have been committed to the cause for more than 3 years and aim to continuethe momentum this year as well."
So far, NDTV- Dettol Banega Swachh India campaign in collaboration with JagranPehel in Bihar and UP has created 13000 'sanitation change leaders' who were mobilized across 200 villages to successfully reach out to every household to drive positive behavioral change towards hygiene and sanitation. It has also built 6000+ household toilets in collaboration with Swades Foundation.
The event concluded with an appeal to all viewers and citizens to join #Mere10Guz movement and implement waste segregation and composting in their surroundings. The campaign will be highlighting the efforts towards #Mere10Guz.