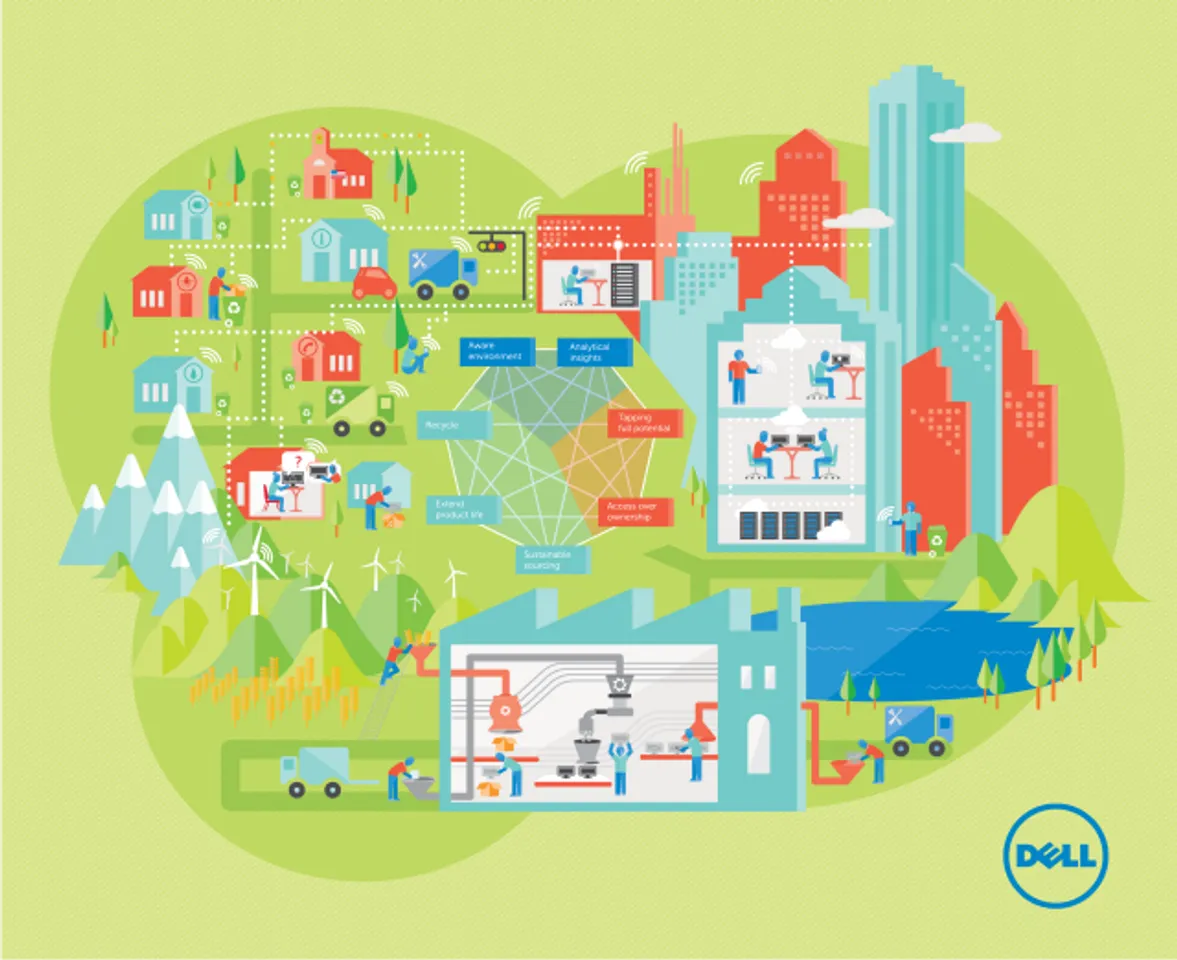 Dell has partnered with supplier SABIC to recycle excess carbon fiber and scrap raw materials into new Dell products beginning in late 2015. Initially, select Latitude and Alienware products will contain recycled carbon fiber, with plans to expand across these two product portfolios in 2016. Dell estimates that by partnering with SABIC, it will prevent 820,000 pounds of carbon fiber from ending up in landfills.  The recycled carbon fiber materials have an approximately 11 percent smaller carbon footprint than simply using virgin carbon fiber.
Since Dell began its closed-loop recycled plastics supply chain in January 2014, the company has recycled 4.2 million pounds of closed-loop plastics into enclosures for new Dell products. These plastics were used in more than 30 flat panel monitor models and three Dell desktops available globally, with plans to scale across servers and other products in 2016. Dell's process was certified by UL Environment as the first closed-loop supply chain. Dell was also able to reduce its product carbon footprint for the closed-loop products by 11 percent and realized a cost savings over previous sources.
"The technology industry has a unique responsibility to help shift the world to a circular economy model, and Dell's long standing investments in sustainable business puts us in a unique position to lead the way," said Trisa Thompson, vice president  and chief responsibility officer at Dell. "We are always looking for collaborations that bring efficiencies to our business, and help our customers do the same."
Image: Dell.com
Ongoing Commitment to Circular Economy Initiatives
The Green Electronics Council presented Dell with its "2015 Catalyst Award" on September 23 to recognize Dell's leadership in closed-loop recycled plastics manufacturing. The Catalyst Awards are a global celebration of innovative solutions and tangible environmental accomplishments throughout the lifecycle of electronic technologies.
Dell also announced it has joined the Ellen MacArthur Foundation's Circular Economy 100 program, to collaborate with like-minded businesses and industries to advance the circular agenda. As part of the CE100, Dell will work with global business leaders to develop new approaches to how companies manufacture goods, identify new partnership opportunities and contribute best practices that help businesses and society accelerate the shift to a circular economy.
Dell hopes to reduce the amount of waste and by-product created from technology manufacturing by reusing materials already in circulation and seeking renewable alternatives where they exist. Since 2013, Dell has incorporated more than 21 million pounds of recycled plastics from sources including water bottles and CD cases as it continues to work towards a goal of using 50 million pounds of recycled materials by 2020.
The transition to a more circular economy not only delivers substantial environmental benefit through reducing waste and reliance on natural resources, it also has an economic impact, with estimates that this shift overtime could create $1 trillion in additional value.
To learn more about Dell's circular economy initiatives and its 2020 Legacy of Good Goals visit www.Dell.com/LegacyofGoodUpdate.