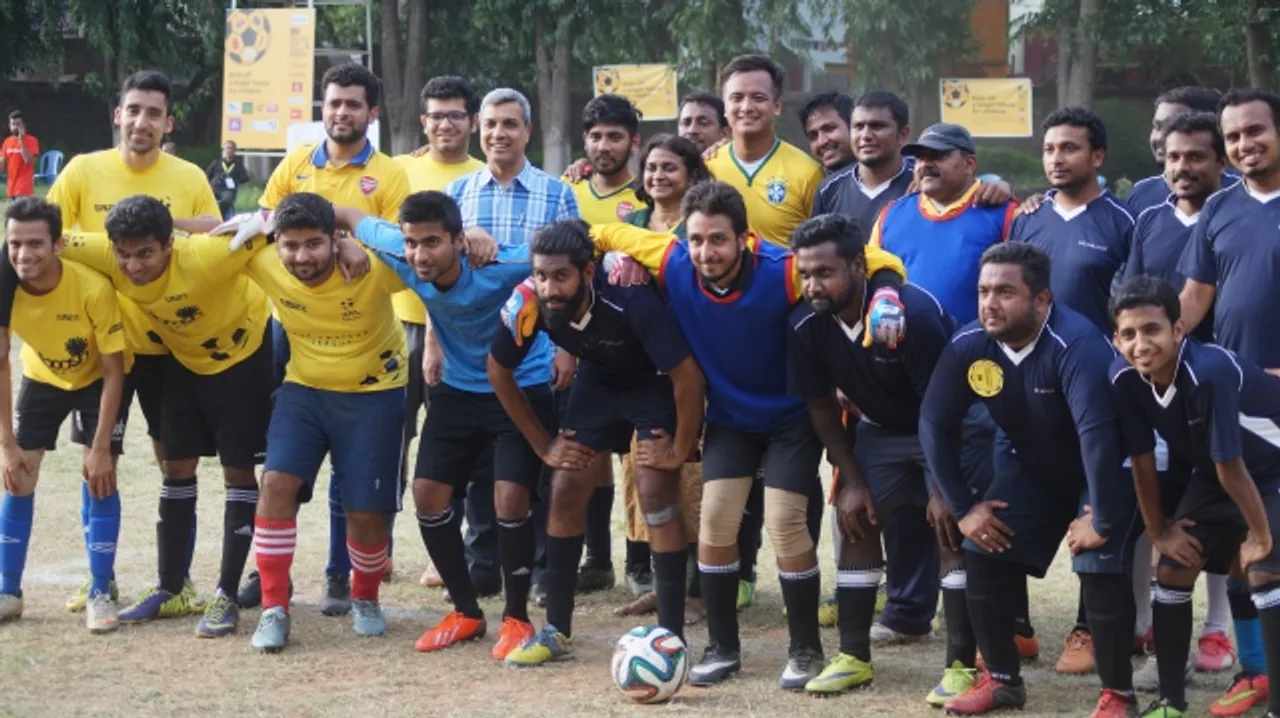 Child rights NGO CRY (Child Rights and You) organized its first edition of 'Soccer for Child Rights' tournament at Bangalore on Saturday, July 16, 2016. "The tournament was conceptualized as a platform for the players from Slum Children Sports Talent Education Development Society (SCSTEDS) to draw inspiration from the lives and achievements of corporate employees which we believed would act as a catalyst for them to study further rather than opting out of the school and plunging into an uncertain future", said Suma Ravi, Regional Director, CRY (South). CSRlive.in extended its support to this initiative by CRY as Online Media Partner for the event. 
CRY had organized its first edition of Soccer for Child Rights at Chennai in 2014 as part of its national campaign, explained Suma Ravi, Regional Director, CRY (South). "The event also aims to sensitize the 'corporate employees and players' on the realities of children from urban deprived communities and learn from the dignified confidence and resilience of the children. The SCSTEDS boys showed immense courage and determination during Chennai floods by reaching out to people who were stranded," Suma Ravi added.
CRY supported partner, Slum Children Sports Talent Education Development Society (SCSTEDS) has effectively used sport as a medium to bring about a progressive change in the lives of children living in slum communities of Vyasarpadi. The project has been a positive influence on many children and prevented several from going astray. Over the years, over 40+ children have played in various district, state, national, and even international tournaments.
Flipkart won the tournament against Microland by 1-0. It came as a pleasant surprise when both the winning teams handed over the prize money Rs 25,000 and Rs 15,000 to CRY.
The title sponsor for the soccer tournament was Shankara Infrastructure. "Shankara, as a company takes up projects which are unique and are not undertaken by large corporate organizations. In that way, CRY's Soccer for Child Rights was an exceptional project and that's why we took it up" said Sukumar Srinivas, Managing Director, Shankara Pipes India Ltd.
Players from SCSTEDS, CRY's team said "This is the first time we have come to Bangalore and the event is very impressive.  A girls' team is also with us and they are eager to play. We are really thankful to all the support extended to us by such events. This has given us immense confidence and we are sure that this will help the players live up to their dreams."
A total of 17 corporate teams including Oracle, PwC, Infosys, Mercedes took part in the tournament against Slum Children Sports Talent Education Development Society (SCSTEDS), which represented CRY. And here's what the Corporate participants had to say about their experience with Soccer for Child Rights.
FLIPKART ( Winner )
We had a good start and as we practice regularly and we have put up a good fight.  The atmosphere was very positive as we all were there for a good cause.
MICROLAND ( Runners Up)
It was a wonderful experience and we had a great start. We took painstaking efforts to form a team. Now that we have one, we will surely make it a point to take part in CRY's Soccer for child rights, each time. CRY should organize many more of such events and stretch it over a weekend. 
ORACLE
Cry has organized the event exceptionally well. The time management was sharp. We have played three matches so far and as of now it is very tiring, but the food and the refreshments provided by CRY are helping us to overcome the fatigue. We are here for a cause but we also expect to win today, make our organization proud.
INFOSYS:
We are really excited with the kind of competition put forward by the opposite teams. The whole event is very well organized. We are ready to associate with CRY for any future work.
Ernst&Young:
We saw some brilliant play on the field, all the teams put up a great show. Some goals especially that of Flipkart was brilliant. We even saw the SCSTEDS team play well and they have a great capacity to perform. Coming from such backgrounds they have surely outshone their competitors.  CRY has organized the event very well and you can surely expect us to participate in the future.