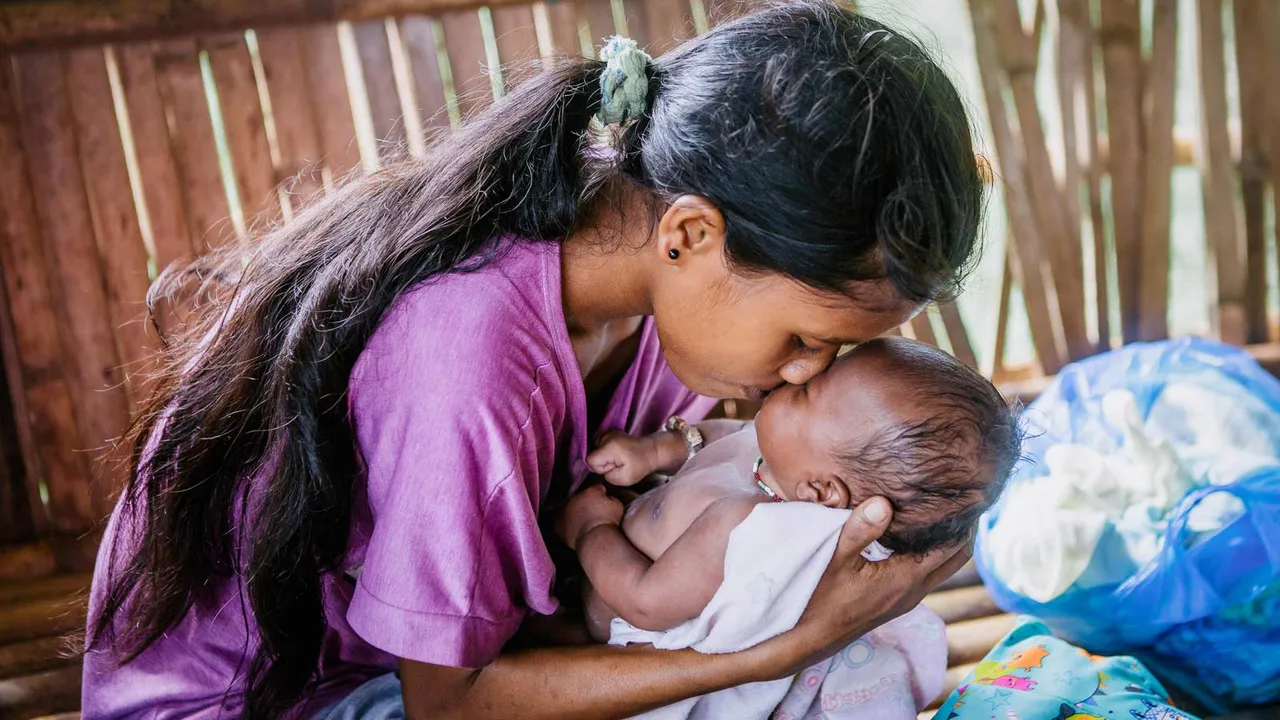 Whether it is buying clothes for a wedding, going to the market, seeking employment, or accessing healthcare, the only way in and out of Palsavade in Maharashtra's Satara district is a milk van. The vehicle comes to the village to collect milk every morning at 8 am and drops those who get abroad the same evening. Miss the van in the morning and the villagers either have to walk for hours or wait until the next day when the van picks them up again.
The cost of using the van to get to the closest town of Parali, 15 kilometers away, and back is Rs. 100 – a steep amount for the migrant worker families that live here. Without the availability of public transport, the milk van becomes a lifeline as the roads leading to the village are rocky and rough. During medical emergencies, however, it is this distance and remoteness that can turn fatal.
Tucked away in the hills of Satara district in south-eastern Maharashtra, India's most prosperous state, Palsavade is a picturesque village surrounded by a forest, water bodies, and the famous Sajjangarh hill, glowing with golden hues as the sun sets each evening. Inhabited by the Dhangar community, a nomadic tribe, this small village has only 20 houses and 95 people, including 15 children aged five and under.
Despite its remoteness, the streetlights scattered around the village have solar panels and all households have electricity. Water is abundant too as a water pipeline from the nearby dam of Palsawade Dharan runs through the village, barring the houses located on top of the hill. In some places, the residents have also created a stream from malfunctioning taps that reroute water to their farmlands and keep the crops well irrigated. 
Nestled far from any town, there are no shops in the village, limiting not just the use of packaged foods but also plastic – making Palsavade almost plastic-free. 
However, with beauty come many, many challenges.
The hilly terrain, access to a water body, and vegetation make Palsavade a haven for wild animals. This poses a major problem as keeping the fields – where villagers grow wheat, paddy, and finger millets – safe from monkeys, wild buffaloes, and wild boars is a major challenge. Whatever is left of the destruction of crops, along with cattle and poultry rearing, is just enough to feed themselves to sustain. Selling cattle milk does not fetch enough income either, making migration a necessity.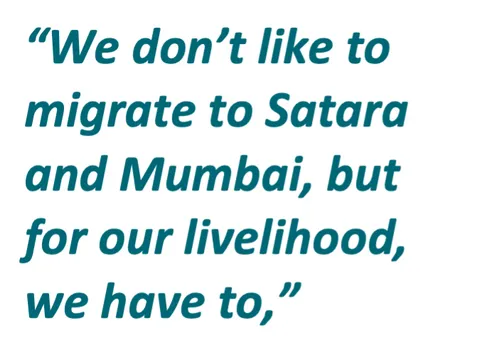 With no jobs available in the village, at least one male member from each household migrates to bigger cities such as Satara, Pune, and Mumbai in search of better prospects.  While most men drive trucks and tempos, some women go with them and work as housemaids in the city. "We don't like to migrate to Satara and Mumbai, but for our livelihood, we have to," says one of the villagers. 
Those who work at Satara visit the village once a week and carry back with them essential items and vegetables from the town. Those who work in Mumbai visit once a month or once every two months. 
For the women who stay back in the village, life in the hills becomes even more difficult as they are forced to shoulder the responsibilities of running the households, caregiving for children and elderly, and cattle rearing and farming. Women living in houses on the higher reaches have to walk down the hill to fetch water from the stream, carrying heavy pots back home, adding to their already growing list of responsibilities.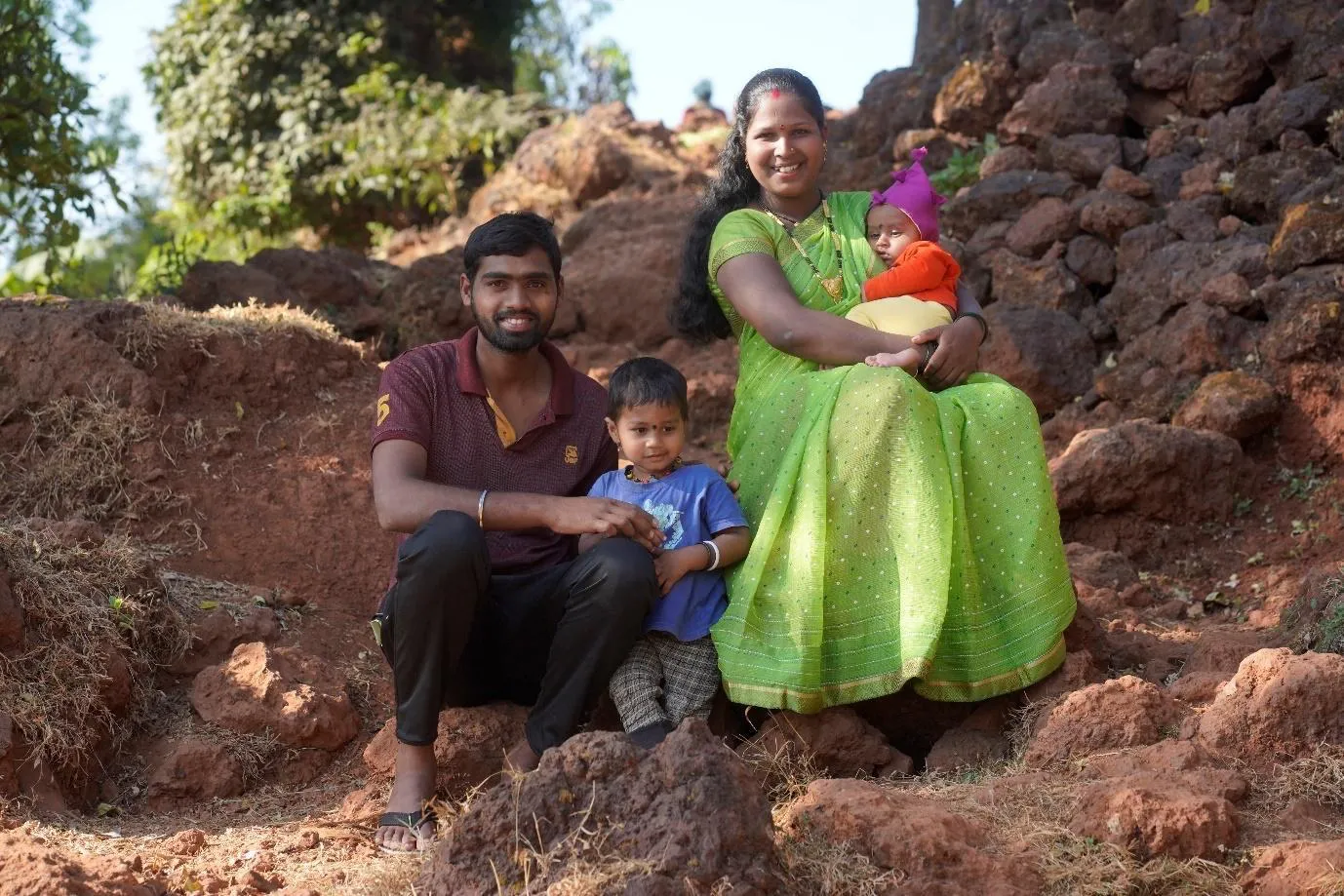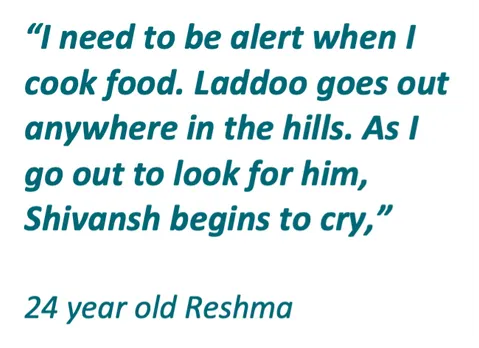 Reshma, 24, with her husband Ramdas, three-month-old son Shivansh, and two-year-old son Rajveer outside her house in Palsavade village in Satara district, Maharashtra.
Palsavade houses an Anganwadi center (rural child-care center) and a Zilla Parishad school (district council-run school) for children studying up till class 7. Both are one room small and located beside each other. Five children are enrolled in the Anganwadi center looked after by two teachers who come to the village from Parali every day.
After class 7, the children go downhill to Parali or other towns in the district. The distance means children are either irregular at school or physically stretch themselves each time they go – both having an impact on their learning and development.
27-year-old Sangeeta's health has taken a backseat in the last few years. Every day, she wakes up early, tends to the cattle, fetches water from the downhill steam, prepares breakfast for her children, two-and-half-year-old Devansh and four-and-a-half-year-old Prince, and gets Prince ready for the Anganwadi center – all in just two to three hours. "I am barely able to take care of myself since my husband is mostly out for work," she says, adding that she has stopped lactating for a while, depriving her younger son of vital nutrients from breast milk. The World Health Organization (WHO) recommends exclusively breastfeeding the baby for the first six months and then continuing to breastfeed for up to two years and beyond.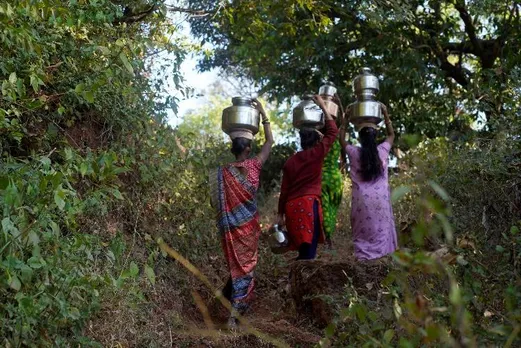 In times of sickness, the villagers often rely on home remedies as reaching government health services requires them to navigate the hilly terrains that are especially dangerous in the monsoon. The closest primary health center is located about 7 km away from this village, while the district hospital is 30 km away. The terrain further impedes the access of ambulances, which are especially critical to ensure safe deliveries and provide emergency care. 
Balanced diets are a challenge
Rice, rice flour bhakris, and wheat flour rotis feature in the daily diets of Palsavade residents. Non-vegetarian populations reported frequent consumption of meat (chicken and mutton) or eggs. Commonly available vegetables, such as cabbage and eggplant, along with locally grown green leafy vegetables and dal (split green gram) feature in some meals. The consumption of fish is relatively low – twice or thrice a month – due to low availability and inaccessibility to the market. 
For breakfast, women make items like rotis, tea, poha, upma, vermicelli, or sheera (semolina boiled with sugar and milk).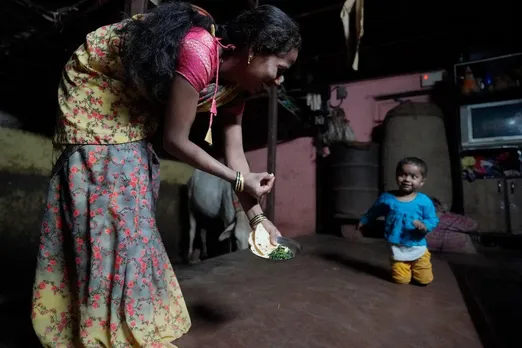 Swati, 29, feeds her two-year-old daughter Pari in Palsavade village in Satara district, Maharashtra. For dinner, she has cooked stir-fried green leafy vegetables with garlic and cumin seeds. She will also serve the leftover potato curry from lunch with rice flour roti and rice.
On the face of it, the residents of Palsavade seem to consume a healthy and nutritious diet, even with the constraints of living in difficult terrain. However, the frequency of achieving a balanced diet remains low.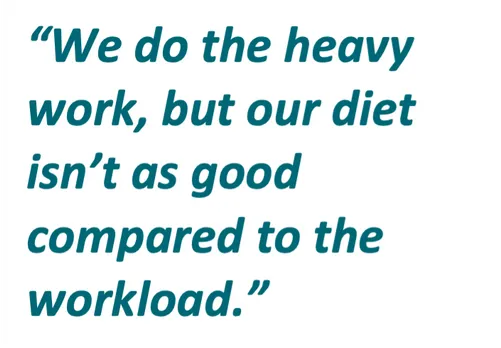 One mother told us, "We do the heavy work, but our diet isn't as good compared to the workload." 
In the fifth round of the National Family Health Survey (NFHS-5), the nutritional indicators of Satara district show that 20% of under-five children are stunted and wasted with only 16% consuming the minimum adequate diet. On the other hand, anemia is prevalent in 50% of all women and 29% of pregnant women aged 15 to 49 years.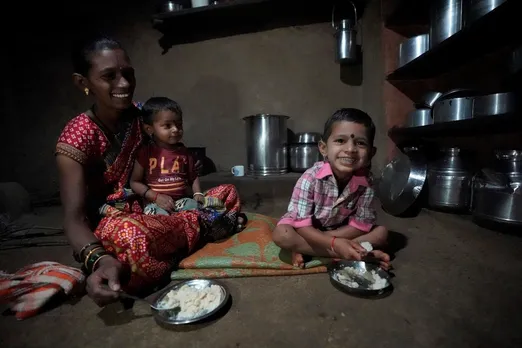 Sangeeta affirmed this point by recalling that when her son Devansh was born, he weighed 2.5 kg while she weighed 55 kg, both less than the healthy range. Now at two-and-a-half years, Devansh weighs 9.6 kg, still less than the ideal weight.
Community health workers pave the way
The role of Anganwadi workers in keeping the indicators from further deteriorating is undeniable. These community health workers play a big role in increasing the uptake of optimal nutritional habits, as they have a deep connection with the community. They serve lunch and snacks to the children coming to the Anganwadi center, provide guidance to mothers on health and sanitation and spread awareness on low-cost food.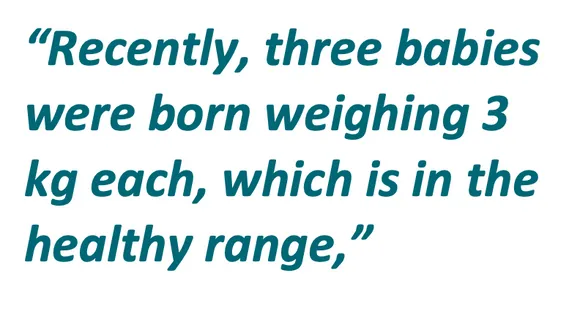 This has reaped some benefits, an Anganwadi worker tells us. "Recently, three babies were born weighing 3 kg each, which is in the healthy range," she says. 
Anganwadi workers also work closely with pregnant women in the village, advising them on timely hospital admission for deliveries. They conduct anthropometric measurements of children and follow recommended referral protocols in case of acute/severe malnutrition. 
During our visit, Parvati, a cook in the Anganwadi center, was learning how to make 'thalipeth' from other Anganwadi workers. Thalipeeth is a type of flatbread made with the flour of lentils, wheat, rice, and sorghum and spices like turmeric powder, cumin seeds, and red chili powder. She told us that she is learning the recipe to introduce mothers and children to a healthy and nutritious dish that they too can cook.
Welcoming the girl child
Among the various programs the Anganwadi workers take up is the promotion of maternal nutrition through the 'Godh Bharai' ceremony under the 'Beti Bachao, Beti Padhao' campaign. In this ceremony, the new mother's closest female family members and friends are invited to celebrate the onset of motherhood, focusing specifically on the birth of a girl child. Performed at the home of the new mother, in the presence of other villagers, the Godh Bharai ceremony involves chanting a prayer for the good health of the child, distributing Information, Education, and Communication (IEC) material on the importance of nutrition, vaccinations, and regular medical check-ups, and clearing the doubts of the new mother.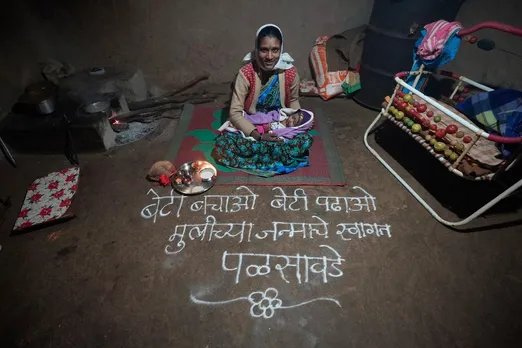 Vaishali and her newborn daughter sit as the Anganwadi workers and villagers perform the 'Godh Bharai' ceremony in Palsavade village in Satara district, Maharashtra.
Reaching the unreached 
Despite the hard-to-reach nature of this village, Vitamin Angels in India with support from partners like OmniActive Health Technologies (OA) reaches these areas through local grassroots NGOs like Swayam Samajik Vikas Sanstha. By providing access to life saving interventions like vitamin A supplementation and deworming at the doorstep, efforts are being made to ensure last mile coverage so that each child has equal opportunities for a healthy, thriving life. 
Disclaimer: This story has not been edited by CSRLive Staff and is auto-generated from news agency feeds |