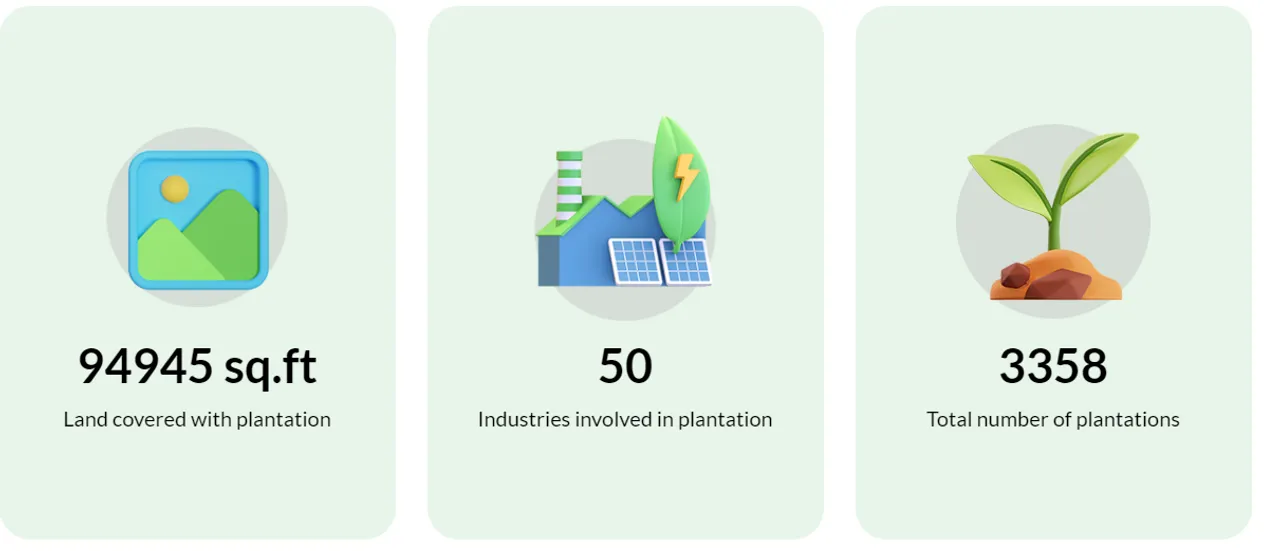 The Raigarh District Administration has launched a sustainable Blockchain Based Monitoring System for tracking industrial Corporate Social Responsibility (CSR) plantation activities in the city. Utilizing NEAR Protocol's  fast and low cost operational platform and the innovative technological offerings of Airchains, a cutting-edge blockchain-based middleware SaaS solution, the administration is determined to make significant elevations to the tree plantation mechanism to enable transparency, traceability, and accountability within the sector and regenerate its lost greenery.
Raigarh as a district is home to several industries, including steel, power, and cement, among others. These industries have been actively engaged in CSR activities, including plantation drives, to contribute to the local community and environment. However, ensuring that industries abide by their commitments and monitor the progress of plantation activities is a daunting task for district administrations. The administration also faces a significant challenge of verifying the accuracy of the reports shared by industries outlining their tree plantation and CSR initiatives which requires serious capital and labour. 
Leveraging blockchain technology that has been increasingly penetrating different sectors due to its secure, transparent, and immutable nature provides for the perfect solution. The blockchain based monitoring system, developed by Airchains, is focused on providing accurate, immutable, verifiable, and real-time information to the stakeholders of the project along with ensuring the listed industries are compliant with the regulations related to the plantation sector. 
"The Raigarh District is elated to partner with NEAR Protocol and Airchains to launch the blockchain based monitoring system. We are committed to the cause of bringing back the flora and fauna of the area and believe that it is pertinent to hold companies accountable to their CSR initiatives in a seamless and transparent manner. This initiative aligns with our commitment to sustainable development and environmental conservation. Furthermore, we can monitor any deviation or delay in our progress and take the required corrective actions within stipulated time." Shri Taran Prakash Sinha, IAS, Collector & District Magistrate commented.
"The initiative to incorporate blockchain technology to enable a trackable and verified system for our industrial CSR efforts is a step forward towards a greener tomorrow. The key problems of the sector can be placated with the use of this immutable tech designed to reduce inefficiencies and capital consumption by providing an automated and accurate alternative. Enabling real time data monitoring and access to the public and any stakeholders, we are nurturing transparency in otherwise opaque administrative processes for the public." Shri Abinash Mishra, IAS , Zilla Panchayat CEO, Raigarh Chhattisgarh added.
The system provides different functionalities including a unique Tree Aadhaar for easy tracking and storing of data, dashboard login for district administration and listed industries, and the latest plantation data covering holistic aspects such as type, location, time, date, number of trees planted. Additionally, the platform has a smooth user interface designed for listed industries to feed information readily into the system and tracks real-time Air Quality Index (AQI) which is accessible to any visitor to depict the direct effect of these afforestation efforts for public and stakeholders consumption.
"We are honoured to partner with the Raigarh District administration to fulfill their sustainability and CSR objectives. Through this system, they  have established a groundbreaking precedence of establishing transparency and traceability to the CSR initiatives in the district and are leading the way with their technological adoption. We believe that this system will set a new standard for sustainable forest management and inspire other governments and organizations to adopt similar initiatives." Ankur Rakhi Sinha, Co-founder and CEO, Airchains
"We are thrilled to be partnering with Raigarh District Administration to empower sustainable development through blockchain technology. As a public sector player in the forefront of innovation for the public good, they are leading the way in India and we are happy to be a positive catalyst to their initiative with our solution." said Arpit Sharma, Managing Director, India, SE Asia, and Middle East.  
The one-of-its-kind project has two phases of implementation with the first phase including the onboarding of industries, verifying data relating to their tree plantation activities, generating a unique Tree Aadhaar for each tree, and monitoring their maintenance.  The second phase aims to monitor the effectiveness of this system for better future planning and geographical assessment. Along with that, the system will further monitor the carbon footprint or lack thereof, to present opportunities for the district administration to leverage carbon credits.