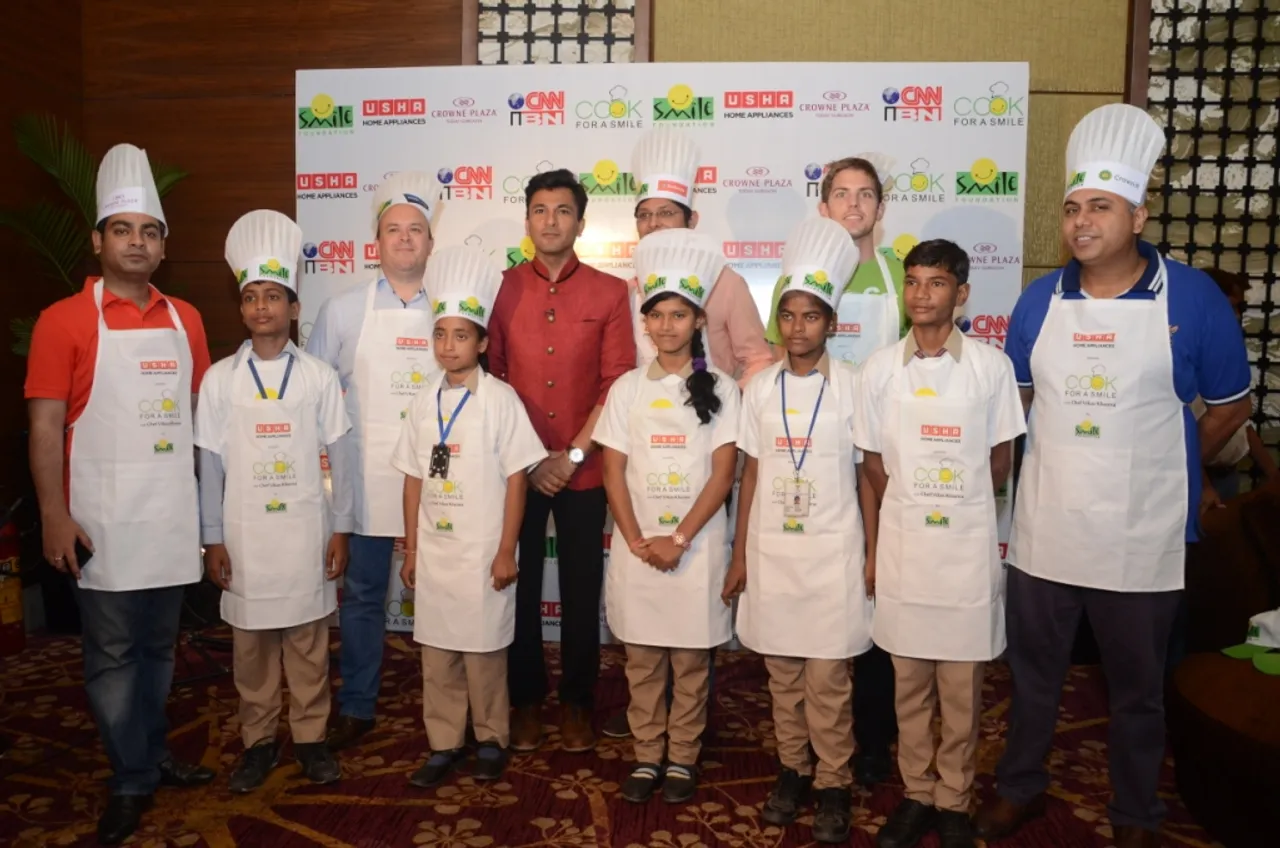 Cook for a Smile is a unique fund raiser to support Nutrition for Education campaign for underprivileged children and is led by four times Michelin starred Chef Vikas Khanna, also the global Ambassador for the cause. Usha International was the main sponsor for the event in Delhi on Sep 6. Funds raised from the campaign will be used to provide education and nutrition for around 2000 children for one year.
Ten corporate leaders took part in this initiative and donned their aprons and cooked their favorite dishes. The CEOs and business leaders were joined by children from Smile Foundation as their "sous chefs". Cook out was a huge success especially since all participants had fun while cooking and Chef Khanna kept the excitement and energy levels high in his inimitable style.
Malnutrition is a silent killer amongst children and one in every three malnourished children in the world is from India. The consequences of malnutrition are long-term and it prevents children's overall growth, learning ability and hence a chance to come out of the vicious cycle of poverty for yet another generation. Smile Foundation's Nutrition Support Programme is directly benefiting over 20,500 children in 21 states across India.
Being conducted under Mission Education programme, the project aims to provide nutrition to the underprivileged children and also sensitize them and their parents towards the importance of nutritious food, leading to better health, education and other opportunities for the children. Within the communities, teachers of Mission Education centres in coordination with qualified dieticians, local leaders and village elders are carrying out awareness sessions on importance of proper nutrition and impact of malnutrition. Under the campaign, awareness is also being created on the importance of antenatal check-ups for expecting mothers and proper diet for mothers and infants. Beyond that, with demonstrations of proper food cooking process, the community people are being introduced to low cost and no cost nutritious food items.
Cook for a Smile is a pioneering initiative by Smile Foundation and I am privileged to be associated with a cause that is very close to my heart - nutrition. Malnutrition is a silent killer in India and I hope that by raising funds we are able to provide food and education for children across the country who don't have access to the same. In the last year itself, Smile has impacted 20000 children in 21 states for nutrition support. Cook for Smile  is a small step but am hoping it will become a movement in the coming years by reaching out to various stakeholders as well as building more advocates for the cause. I congratulate USHA International and all the participants for believing in this cause and becoming a reason for many kids to smile. " Said Chef Vikas Khanna , Goodwill Ambassador –NUTRITION FOR EDUCATION with Smile Foundation
"Malnutrition, especially among children, has become a critical problem in the country and Cook for a Smile is Smile Foundation's step towards combating this problem. Nutrition and good health play a major role in ensuring regular education for children and their overall development. By involving responsible corporate, top leaders and achievers from different industries in the initiative, we are looking towards creating a deeper and long-lasting impact", says Mr. Vikram Singh Verma, Chief Operating Officer, Smile Foundation.
Commenting on Usha's association with the event, Mr. Siddharth Shriram, Advisor Usha International said "Usha's association with Cook for a Smile is a seamless extension of the company's efforts in making a difference to the community. Cooking a really good dish is part art, part technique, part love and part ingredients and very importantly part the cooking surface and environment. The halogen oven by USHA combines the perfect air temperature and movement within the equipment itself to cook neatly, cook perfectly and cook just right expeditiously."
Cook For A Smile as platform was launched in May 2014 with a CEO's & business leaders cook out and since then the platform has also extended its reach amongst cricket players with an event in Chandigarh with Kings X1 Punjab. Going forward, Cook For  A Smile will also build advocacy and hence awareness amongst other influencers like fashion designers, Bollywood in the coming months.
Corporate leaders who participated in the event include Mr. Siddharth Sriram, Advisor, Usha International, Mr. Saurabh Kocchar, India CEO and Global CBO, Foodpanda, Mr. Andy Webster, Global Services Director, Webhelp UK, Mr. Jitesh Mehta, Director Marketing, Avery Dennison, Mr. Greg Moran, CEO and Co-Founder, Zoom Car, Ms. Ratna Chaddha, CEO, Tirun Travel Marketing, Ms. Mamta Wasan, Senior Vice President Human Resources, FIS Global, Mr. Sameer Grover, Founder & CEO, Crown-it, Ms. Jaya Mishra, Fashion Designer and Mr. Abhinav Singh, Director, Sales, Crowne Plaza Today.
To know more, visit: www.cookforsmile.com