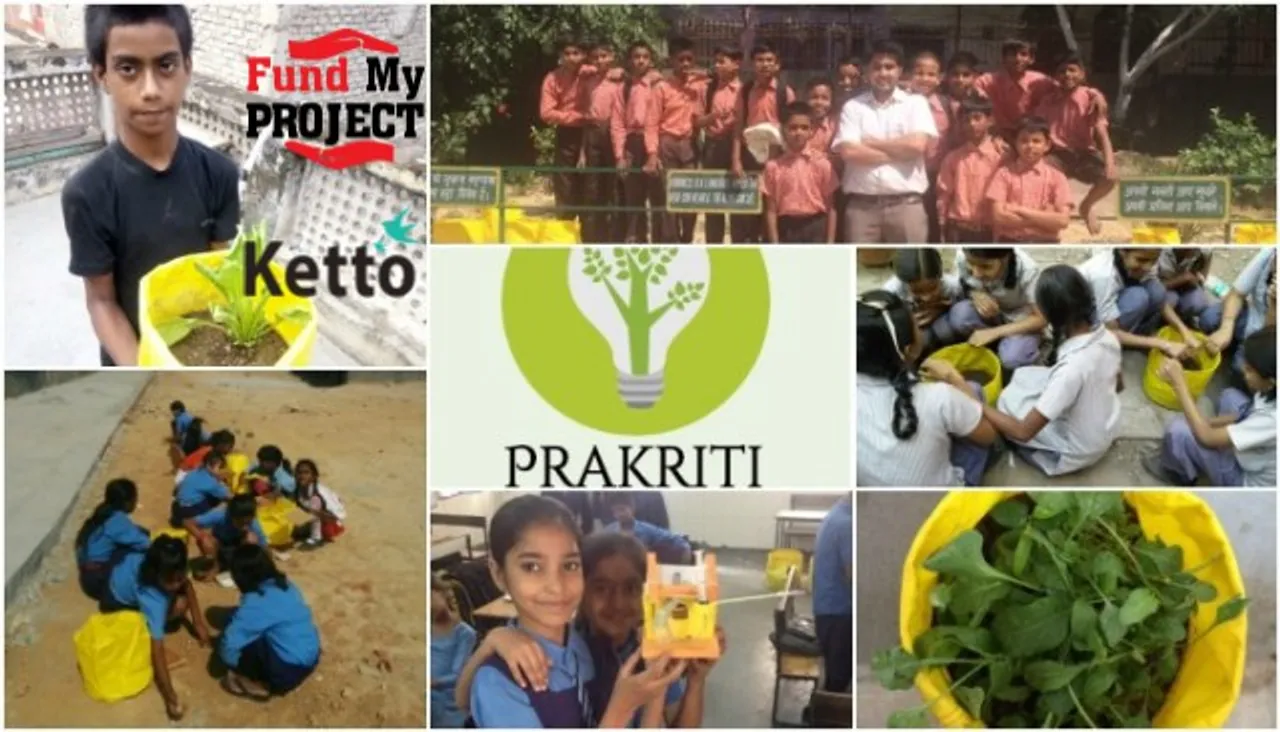 Here's how your CSR Funding can help deliver simple and easily executable solutions to environmental and food scarcity problems in low-income communities of Delhi.
This cause is featured on Fund My Project as part of CSRlive.in's collaboration with Ketto.org
Project by: Prakriti
Funding Required: INR 90,000
Category: Eligible CSR activity as per Companies Act 2013, Schedule VII
(i) eradicating hunger, poverty and malnutrition,... (iv)  ensuring environmental sustainability,...
Here's what the folks at Prakriti have to say about their crowdfunding campaign:
"Food Inflation in India averaged 8.50 percent from 2012 until 2016, reaching an all time high of 14.72 percent in November of 2013"
- http://www.tradingeconomics.com/india/food-inflation
"In India, 47 percent of children under three are underweight or severely underweight, and a further 26 percent are mildly underweight such that, in total, underweight afflicted almost three-quarters of Indian children."
- World Bank report - "Undernourished children - A call for Reform and Action"
We Believe EDUCATION can help put FOOD on table
We have all talked about inflation, rising food prices, agricultural commoditization, good produce being labelled as export quality and many other macro-economic issues that are discussed in editorial columns of newspapers. We think of solutions at macro-economic levels, discuss the right fiscal policy changes that might bring a rise in the GDP and bring food on everyone's table.
The problem of food has become such a major issue. But IS IT?
We got to think of this problem from an educationalist's point of view. If food is one of the biggest problems, then why isn't our education system teaching students how to grow food? Can students be contributors to the food produce in our country? There are 500 million children in India. How many of them are actually producing anything? Is it viable for children to start producing something?
Prakriti is an effort to teach the children what they can really use and actually contribute by bringing their school learning to their homes. THEY CAN GROW.
Growing plants will actually give children a tangible

skill of growing and caring for plants.
Our curriculum would ensure a deep understanding of the knowledge of the subject.
Planting seeds, taking care of them and actually seeing them grow inculcates the value of compassion, discipline, empathy and patience.
Prakriti is a program which aims to deliver simple and easily executable solutions to environmental and food scarcity problems in low-income communities of Delhi.
Currently we are working on green school initiative program. For the later stage of the pilot, we want to explore the possibility of school-wide waste-management program and renewable energy education program.
We create curriculum for children for delivering experiential and hands-on learning. Also, we provide the classrooms with kits; which are economical and easily deployable in under-resourced school settings.
Who are we:
Prakriti is an initiative by Arunav Chauhan, Sachin Bangalore and Anirudh Garg. We are Teach for India alumni from the cohort of 2014. Joined with us in the Prakriti team are 12 fellows from TFI's current cohorts and one alum - Deepali Anand, Anirudh Gupta, Pragya Kapil (alum) , Shruti Sood, Leena Nagrani, Sumit Bidla, Sarve Priya, Prapti Bhasin, Hafsa Bhukhary, Harshit Rana, Arti Dalal, Sushmita Singh and Rekha Rathore.
What we request of you:
Donate now and you will help us bring these skills and values to 3200+ students in 75 classrooms of 32 under-resourced schools in Delhi. The students would go through an extensive hands-on experience where they are growing food and learning about different plants. This curriculum would be designed and administered by the brilliant and passionate fellows of Teach For India.
Things we need help with - the projection of the expenses we'd incur in one cycle:
| | | | | |
| --- | --- | --- | --- | --- |
| Expenses | Purpose | Quantity | Price per piece (in Rs.) | Total Cost (in Rs.) |
| Pots | Pots for growing the plants. | 700 | 40 | 28000 |
| Packets of seeds (for herbs) | The seeds which would be given to students to plant in the pots | 700 (1 packet per pot) | 30 | 21000 |
| Transportation | The costs for transporting all the material to the classrooms | | | 15000 |
| Manure Mix | Manure with soil ensures a healthy growth of plants in the trays | 1kg bag for 8 classrooms `(approx.) – 10 kg manure in total | 100 | 1000 |
| Reward for best growth | We are incentivizing students to grow a produce by giving a reward to the class with best produce. | A class trip to an urban farm - Students get to interact with farmers, ask them questions and understand the aspects of commercial farming | Travel and food expenses | 10000 |
| Miscellaneous charges + Ketto fees (about 10%) | | | | 15000 |
| Total | | | | 90000 |
Hence, the target is a total of Rs. 90,000.
There is a saying, we hope we get it right:
"Give a man a bag of food and you feed him for a day. Teach a man to grow food, and you feed him for a lifetime."
Want to Fund this Project?
Visit Ketto.org here and support the cause.
Looking for funding?
If you have a social project that's high on innovation and impact, but running low on financial fuel, do write in to Nidhi Singh at nidhi@csrlive.in with your proposal, and we'll feature it on FUND MY PROJECT.