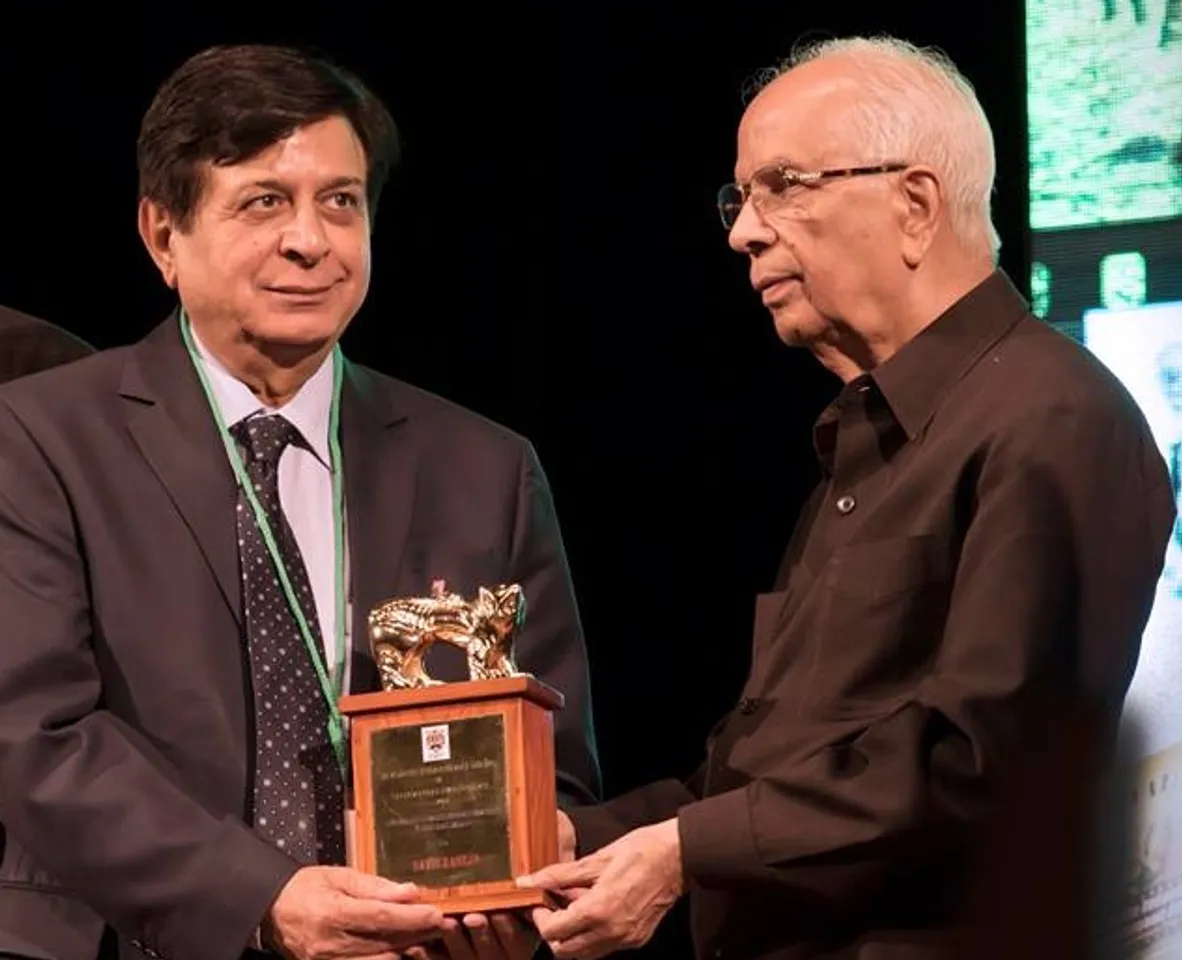 Recepient of the Justice BP Banarjee Green Man Award, Navin Raheja, Chairman of Raheja Developers talks about his passion for wildlife, love for tigers and his philosophy of giving back to the society through CSR in this interview with Nidhi Singh, Executive Editor, CSRlive.in
You have just received the Justice BP Banarjee Green Man Award at the Kolkata International Wildlife & Environment Film Festival as Producer of the Film Ustad. Tell us about the film and why you decided to produce it?
Yes I feel overwhelmed with the honor. Ustad is very special tiger for me. I was following him for the last 7-8 years. He was notorious, fearless and the most photographed Tiger of Ranthambore, in recent times. I was very sad with the relocation of Ustad from the wild to a captive environment which he has been condemned to and so I decided to produce a film for him, for the world to know his side of the story.
You are a wildlife enthusiast and have been supporting Tiger Reserves through various philanthropic initiatives – tell us how this began and in your opinion what current issues faced by wildlife reserves need to be addressed on utmost priority?
I was always been passionate about wildlife especially, Tigers. My first love, of course. I have taken most my life's important decisions in the jungle. You will not believe… after my marriage, my wife and I went to Jungle for holidays. She equally shares my passion. Jungles always attract me.
But today, I am really worried to see the increasing man- animal conflicts all over India.
They bother me a lot. This is the biggest problem our wildlife is facing today. Almost every day, news from some corner of the country about this issue distracts me. Time has come to wake up, to think for these speechless creatures.
What is your philosophy of Corporate Social Responsibility? Do you believe that a strategic intervention with a long term plan is more effective than project based/Chequebook CSR?
My philosophy is to return the society what I have taken from it, and I feel no harm in it. Yes, of course effective project based CSR is far better than Chequebook CSR.
You can of course pay by cheques, but that will never give you inner peace.
Get involved into it; pay little but pay time to it. And that's what matters. When you are not involved, how will you know, what the society needs, what are the problems, what are the solutions and so strategic planning is much more effective. I visit villagers living on the outskirts of Jungles, whenever I have time; though I spend little time with them but that means a lot to them, I listen to their problems and do whatever I can with the help of forest departments or state governments. Similarly, I visit schools whenever I have time.
I have filed a PIL in Supreme Court in the Year 1998 in which I have addressed 19 important issues. The honorable court has picked up ten of those issues and has made them laws. Today many of those clauses are the guidelines for the forest departments.
Tell us about the key CSR projects undertaken by Raheja Developers.
Raheja Developers is very much responsible for the welfare of the society. I always believe in giving back to the society what I have taken from it.
As a part of CSR activity, we are running a School for the unprivileged children. The children of labors at my sites study here for free. Books, other study material and their mid day meals are our responsibility.
With that we have a wing of Raheja Developers, by the name of Raheja Productions. Here we work for the welfare of Wildlife in coordination with forest department. At Bandhavgarh National Park in Madhya Pradesh, we have worked with forest dept for the sake of 3 orphan tiger cubs. We keep doing such work all over India.
Not only this, we have run 112 episodes on DD National on wildlife to create awareness among the masses.
What is your take on the Government's mandatory CSR law? 
Some people do by their choice and others by law. There is no wrong, no harm in it. Who will think for the society if we will not? Those of us who can really do anything for the society, we must do and those who don't then a mandatory law is fine for them.
We think for the well being of our family, without expecting anything in return or profit. Same is the case. After all, we are part of the society.